Islami Bank keeps investors on edge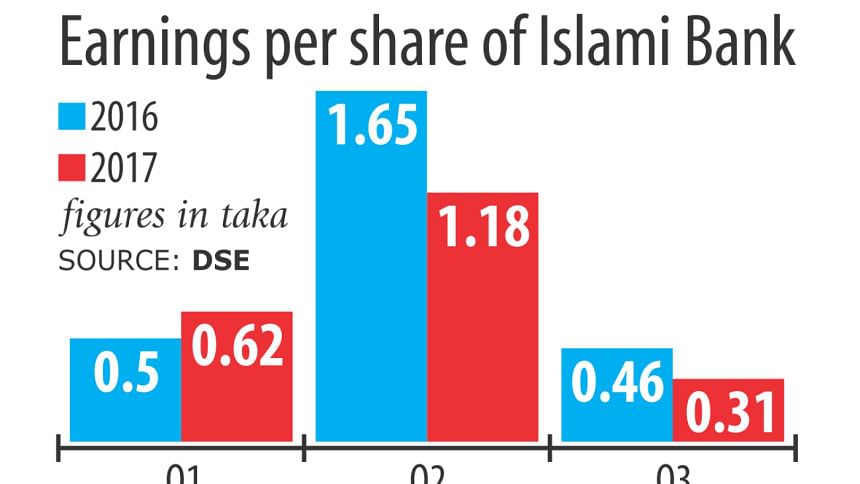 Islami Bank's earnings per share (EPS) has been on the decline this year, making thousands of investors concerned about the goings-on of the country's largest private bank.
The EPS is the portion of a company's profit allocated to each outstanding share of common stock and as a result is an indicator of the company's profitability.
At the end of the third quarter of 2017, Islami Bank's EPS stood at Tk 0.31, down from Tk 1.18 in the second quarter and Tk 0.62 in the first quarter, according to a posting on the Dhaka Stock Exchange website.
The bank earned Tk 2.11 per share during January-September period this year, down from Tk 2.61 a year earlier.
Even though the operating profit surged, the EPS declined as the bank has to maintain huge provisioning against loans that are awaiting the nod from the central bank for rescheduling, said Arastoo Khan, its chairman.
In the first nine months of 2017, Islami Bank's operating profits surged 29.24 percent to Tk 1,569 crore from a year earlier.
Banks usually do not need to maintain provisioning against the loans that have been approved for rescheduling by the board and sent to the central bank for final approval, said a senior Bangladesh Bank official.
But it is different in Islami Bank's case. The observer appointed at Islami Bank by the BB instructed the bank to maintain the provisioning until the approval comes through.
"This caused the fall in EPS," said the Islami Bank chairman, adding that the EPS will bounce back as soon as the central bank gives the green light to the rescheduling proposals. Moreover, the bank had to maintain provisioning of Tk 143 crore against the loans that were awaiting court verdict during the past two years, he said.
"We could have maintained the provisioning at the end of the year, but we did earlier for good measure," Khan said.
The higher provisioning requirement means Islami Bank's net profit in the first nine months of the year came down to Tk 338 crore, down 19 percent from a year earlier.
Islami Bank made headlines in January because of wholesale reshuffling of its management.
Since then, Islami Bank's share price remained subdued. In the last six months, it hovered between Tk 30 and Tk 36. Islami Bank's shares closed at Tk 33.40 yesterday.
Islami Bank has a paid-up capital of Tk 1,610 crore and its market capitalisation is more than Tk 5,683 crore.