Investment hits record high
Private investment still slow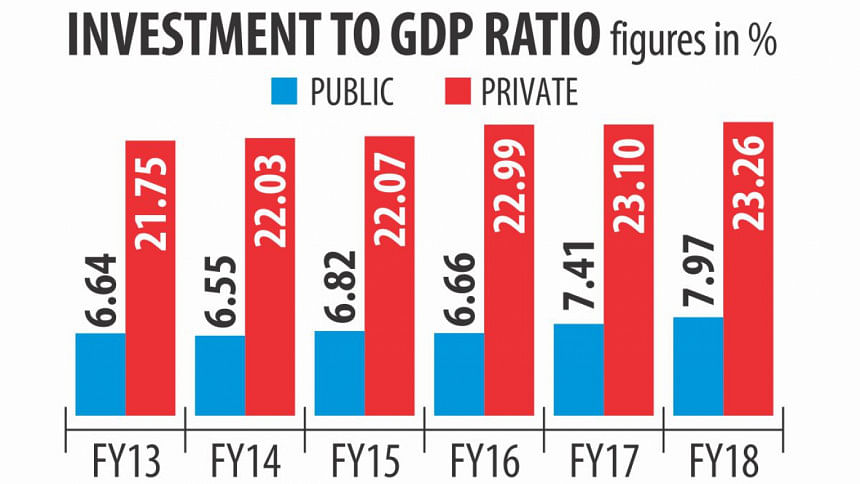 Overall investment crossed 31 percent of GDP for the first time in Bangladesh's history last fiscal year thanks to a spike in public spending on mega infrastructure projects now being implemented.
In fiscal 2017-18, overall investment to gross domestic product ratio stood at 31.23 percent, which was 30.51 percent the previous year, according to data from the Bangladesh Bureau of Statistics.
For about a decade the ratio has been hovering between 27 and 30 percent. But to hit the country's growth ambitions, it can ill afford to hover around the 31 percent-mark. The ratio has to be about 35 percent of GDP, according to economists.
The BBS data showed the slow pace of growth in investment is mainly due to public investment: in fiscal 2017-18, public investment to GDP was 7.97 percent.
On the other hand, private investment was 23.26 percent of GDP, up from 23.10 percent in fiscal 2016-17.
For the last one decade, private investment to GDP ratio has been stuck at 21 to 23 percent.
In November 2016, the excess liquidity in the banking sector was Tk 277,956 crore. In May 2018, it was Tk 79,650 crore, according to data from the Bangladesh Bank.
This suggests, the idle money in the banking sector has shrunk almost 3.5 times in the past one and a half years.
Furthermore, private sector credit growth increased by more than 1 percentage point last fiscal year to 16.94 percent.
And yet, on paper, private investment did not increase at that rate.
Observers though said there are various reasons behind private investment not picking up, such as inadequate gas and electricity connections and poor road communication.
The investment rate has recently increased modestly, driven primarily by the rise in public investment, said Zahid Hussain, lead economist at the World Bank's Dhaka office.
Private investment rose 0.3 percentage points of GDP in the last two years and public investment 1.3 percentage points.
"Two questions immediately come to mind. First, why has the increase in public investment not translated into increases in private investment?
"Second, why the growth of private investment has not outpaced the growth in the size of the economy, as would be expected in an emerging and a highly promising economy such as Bangladesh with a strategic geographic location, a huge potential for demographic dividends and a demonstrated dynamic class of entrepreneurs?" Hussain asked.
The answer to the first question has to do with the fact that the increases in public investment seen recently have mostly come from progress in many ongoing projects, particularly the mega projects, which are still well behind reaching the finish line, he said.
The benefits from the projects, which are expected to induce private investments, cannot accrue until the projects are completed. 
"We can therefore remain optimistic that once these are completed, hopefully sooner than later, private investments will start responding," said Hussain.
Speedy completion of high investment impact projects while ensuring quality will therefore be critical, the economist said.
He said the answer to the second question is well known.
"There are certain binding constraints -- land, energy, trade logistics, access to long-term finance, skills, and regulatory complexity as well as unpredictability -- that make it extremely difficult for existing and potential entrepreneurs to expand existing business or enter into new areas of business."
He said some of these constraints such as land, energy and trade logistics are more binding than others in that if these could be eased, entrepreneurs would find ways of coping with the remaining ones. 
If the efforts to establish special economic zones, liquefied natural gas terminal, base-load power plants, one-stop shop as well as ports upgradation reach fruition expeditiously, private investment will surely break out from the 21-23 percent of GDP trap, he added.