Inflation lowest in 53 months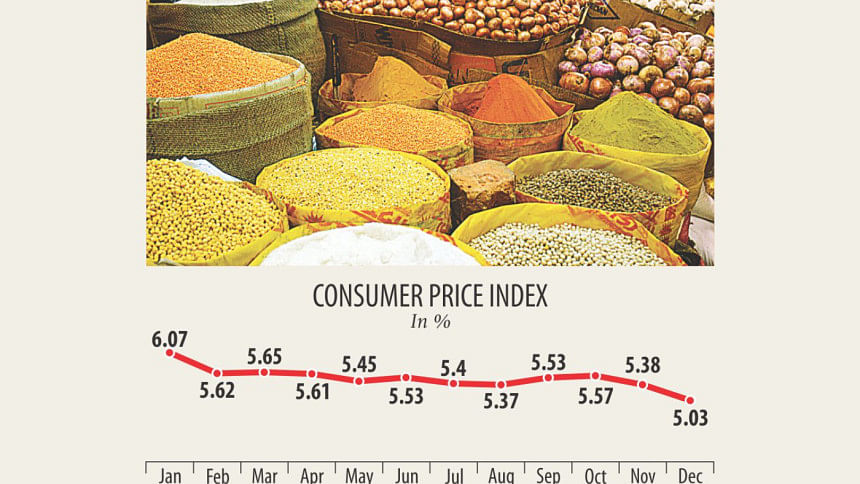 Inflation came down to 5.03 percent in December, the lowest in 53 months, helped by a steady decline in non-food prices since June as well as a lack of supply disruption thanks to a stable political environment.
"Political stability played a key role in reducing consumer prices," said Planning Minister AHM Mustafa Kamal as he disclosed the inflation figures at the Planning Commission in the capital.
Overall, inflation went down 35 basis points in the last month of the year from November's 5.38 percent, according to official statistics. 
This was led by the fall in non-food inflation, which dropped to 4.49 percent in December, a decline of 88 basis points from 5.33 percent a month earlier.
Food inflation fell slightly to 5.38 percent from 5.41 percent in November.
The steady decline in non-food inflation since June 2016 through December 2016 has to do with the weakening of aggregate demand caused by a large decline in remittances, said Zahid Hussain, lead economist of the World Bank in Dhaka.
The fall in remittance has reduced the purchasing power in both rural and urban areas significantly, he said.
Remittance inflow slumped by about $2 billion in 2016 from a year earlier despite a 35 percent increase in migrant worker outflow during the period.
In addition, there were no upward adjustments in the administered prices of gas and electricity that could sustain the cost push impact of the earlier increases in these prices, he said.
The other good news in the December inflation number is the stabilisation of food inflation following continuous increase from June onwards.
This hopefully will not change as rice prices stabilise with the harvesting of the aman crop, Hussain said.
There was also a sharp drop in inflation in rural areas, dropping to 4.46 percent in December from 4.75 percent a month ago, which is far below the national average.
Although the inflation in the cities went down by nearly half a percentage point to 6.07 percent in December compared to November, the figure is still much above the national general inflation.
The government has aimed to keep the inflation rate within 5.8 percent in the current fiscal year.
Official documents show the fall in prices of lentils, vegetables, onions and garlic help bring down food inflation.
The cost of clothes, fuel, accommodation, furniture, healthcare, transport and educational materials increased in December from November.
In its latest monetary policy, the central bank aimed at keeping the inflation rate within the budgetary target, and the recent trend showed that it is in a safe zone.