Cricket World Cup: Brands expect higher TV sales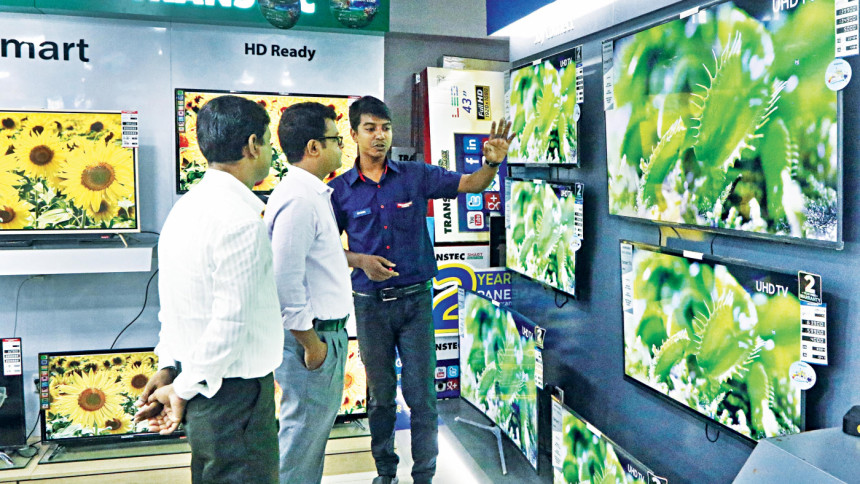 Television brands and retailers are expecting good sales in the run up to the ICC Cricket World Cup, which is all set to begin in England and Wales on May 30.  
Cricket fans in Bangladesh will be glued to TV sets to watch live their beloved national team compete with the big teams in the sport's flagship tournament, which will run until July 14.
TV sales will receive a further boost riding on attractive offers and discounts already announced by brands and retailers as well as service-holders getting festival bonus on the occasion of Eid-ul-Fitr, which is only two weeks away.  
"The sales of TV sets have increased on the occasion of Eid and the World Cup," said Mirajul Haque, chief executive officer of bagdoom.com, an e-commerce site. 
In order to cash in on the higher demand, companies such as Samsung, Walton, Transcom Digital and Singer have come up with lucrative offers to attract customers.
Transcom Digital is handing cashbacks of Tk 2,000 to Tk 200,000, said Md Nahid Hassan, marketing manager of the company. 
It is also allowing customers to exchange their old TV with a new set and get a discount of Tk 5,000 to Tk 15,000 on the price of the latter.
Besides, customers will get a chance to win a brand new 1,200cc Mitsubishi car as the top prize with the purchase of any product from Transcom Digital, according to Hassan.
Thanks to Walton's cashback offer, the price of a 24-inch LED TV has come down to Tk 8,990 from its regular price of Tk 12,990, 32-inch LED TV to Tk 12,990 from Tk 17,500, and 32-inch smart TV to Tk 18,990 from Tk 22,900.
The local company's 39-inch smart TV is available at Tk 19,990 against the regular price of Tk 33,900 and 43-inch smart TV at Tk 22,990 instead of its regular price of Tk 36,900. 
Samsung has announced discounts for its TV range, handing up to Tk 200,000 in cashback on selected models. 
With a combo purchase of one TV set and either one refrigerator or one washing machine, customers will get 5 percent cashback. On a combo purchase of two TV sets and either one refrigerator or one washing machine, the cashback will be 8 percent. 
"At Samsung, we always look for ways to enhance user experience and drive consumer delight. Keeping the Cricket World Cup in mind, we have announced our exciting new offers on home appliances, especially on TV early to double the happiness of our valued customers," Shahriar Bin Lutfor, head of business for consumer electronics at Samsung Bangladesh.
Apart from the guaranteed cashbacks, customers will get exchange offers of up to Tk 35,000. Additionally, with a purchase of 7100 and 7470 UHD TV, customers are entitled to scratch cards that offer them the chance to get cashbacks of up to Tk 50,000.
The company's Real 4K UHD TVs are available at a promotional price of Tk 57,900 to Tk 199,900, smart TV at Tk 32,900 to Tk 75,900, Concert TV at Tk 26,900 to Tk 44,000, and LED TV at Tk 24,900 to Tk 36,900. 
During the campaign, customers may win a brand new Mitsubishi car as the top prize through lottery draws. 
On May 3, Vision Emporium, a retail chain shop of electronics products, launched "Super-Hit offer", under which customers will get a scratch card after they buy a TV priced between Tk 11,800 and Tk 360,000. The lucky 300 winners will get LED TVs. 
Customers will be given Tk 1,000 to Tk 10,000 in cashbacks for every purchase of LED TV, according to Kamruzzaman Kamal, director for marketing at Pran-RFL Group, the owning company of Vision Emporium. 
Singer Bangladesh has launched a Singer Super Sixer campaign, which is allowing customers to buy a 32-inch Singer TV at Tk 19,990 with a down payment of Tk 4,400. The rest can be paid in equated monthly installment through credit cards. 
Besides, consumers will receive up to Tk 7,000 in discount with a purchase of Singer TV. Two Singer Voice Control 4K TVs will be given through a lottery draw every week. 
Customers will also get a Tk 15,000 discount on a new TV if they buy it by exchanging their old ones. Furthermore, consumers will receive a free router and free installation on selected models of smart TVs. 
To facilitate ease of payments on purchase of TVs, Singer is offering zero interest in up to six months on credit cards. Customers will enjoy warranty for three years on all Singer TVs.