Growth in garment sector hinges on transparency in supply chain: Dutch minister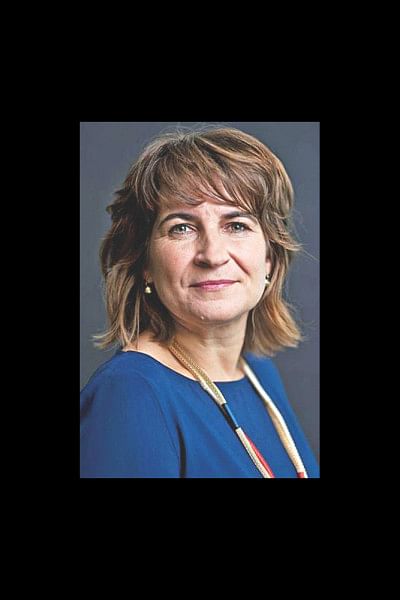 More transparency is needed in the supply chain for fair and sustainable sourcing of apparel goods so that everyone is benefitted, Lilianne Ploumen, minister for foreign trade and development cooperation of the Netherlands, said yesterday.
With more transparency, all stakeholders in the supply chain, such as retailers, producers and workers, would be benefited equally, Ploumen said at a press conference in Dhaka.
"Some companies are still cutting corners on the three Ps -- people, planet and profit. We need to talk a lot about the Ps. Cutthroat competition on retail prices means that many brands are trying to cut the production costs."
Producers in Bangladesh have brought an expensive improvement to their factories but a study shows that retailers' payments to the garment makers rose only 1 percent in 2015 compared with 2012, she said.
"Clearly this is intolerable."
"Low prices of goods lead to unsustainable sourcing of goods. Unfortunately, this is in practice. I want to see a different purchasing practice," she said.
Everyone should count the working hours, realistic prices, and how much water is used in production, Ploumen said. It would be a decent business model if those are practised, and only then it would benefit all, she said.
"Findings of the ILO and independent research show that long-term better working conditions do not increase costs."
After the Rana Plaza disaster in 2013, the government of Bangladesh, buyers, producers, the governments of the Netherlands and other countries and industries worked to improve the conditions of the garment industry here.
"We have seen a lot of progress in the workplace safety in Bangladesh, minimum wage has been raised, recruitment of labour inspectors completed, inspections have been carried out in the garment factories," Ploumen said.
"We made a lot of improvement and we need to continue this improvement."
The prices of products have not been raised, although a lot of investment has been made to make the improvement, Ploumen said.
The procurement process needs to be reorganised, because under the existing system a lot of orders are cancelled at the last moment or orders are needed to be produced in a very short time, she said.
Ploumen praised the government's efforts to combat terrorism after the recent terror attack in Dhaka that shocked the international communities and Bangladeshi people.
"We have seen the government of Bangladesh together with international partners taking the accurate measures to ensure security."
"I think all of us can agree that terrorism is something that is needed to combat jointly, not one country can do it by itself."
"All of us are committed to working with the government and people of Bangladesh to stabilise the security situation and I think the government of Bangladesh has been doing and is doing its utmost giving a lot of efforts to make sure the security is established."
"A good business climate is defined in many factors, of course it's about rule of law, it's about workers conditions and workers' rights," she said.
"I think the government of Bangladesh has been working on investment climate for a long time and we have seen economic growth of Bangladesh over the past years."
"In terms of security, of course, many countries in the world also in the EU and in Europe, we are very concerned about radicalisation and terror attacks."
"Bangladesh and its international partners are working very hard to stablilise the situation and make sure there is the security not only for investors, but also for all citizens. I think in the past months or weeks many steps have been taken by the government of Bangladesh."
"After the Rana Plaza, I think there was a wake-up call to the garment sector in Bangladesh and also the globe because many retailers and brands realised that this situation was unsustainable."
Bangladesh together with international partners like the ILO, other governments, buyers and the factory owners has made a lot of progress, she said.
Bangladesh has two challenges in the garment sector: investing more in green technology and increasing the salaries of workers from the minimum wage to the living wage, she said.
"We have done a lot of work to improve workplace safety. A total of 3,700 garment factories have been inspected by the Accord, Alliance and government. Operations in only 39 factories were suspended," Commerce Minister Tofail Ahmed said at the press meet.
The government has also taken a lot of measures to tackle terrorist attacks, Ahmed said.
"Bangladesh's exports were not hampered due to Holey Artisan attacks. Our exports have been growing," the minister said.
Many foreigners are now visiting Bangladesh with the return of normalcy in the country because of the strong security measures taken by the government, the minister said.