GP profit rises 21.4pc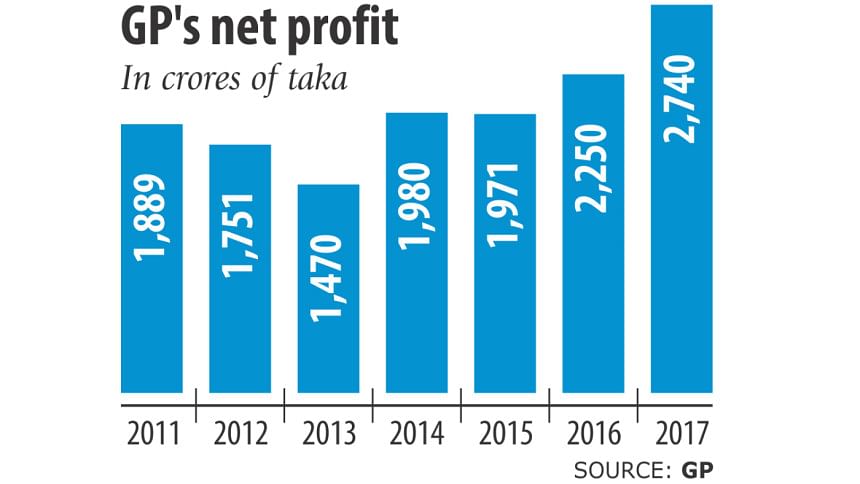 Grameenphone's net profit rose 21.4 percent year-on-year to Tk 2,740 crore in 2017 -- the highest in its 21 years of operations in Bangladesh -- thanks to rising data revenue and subscribers.
"In 2017, we delivered a strong business performance amid a very competitive environment," said Michael Patrick Foley, chief executive of the mobile operator, while disclosing the fourth quarter and full-year financial results at their headquarters in Dhaka yesterday.
"We were able to achieve this growth through the focus on the strategic ambitions and solid execution in the market," he said in a statement. 
GP's revenue grew 11.8 percent year-on-year to Tk 12,840 crore in 2017. Data revenue rose 46.4 percent and voice revenue 9.5 percent. In the fourth quarter, total revenue went up 8 percent.
The operator acquired 74 lakh new subscribers in the year, registering 12.7 percent growth. 
It also added 66 lakh internet users. At present, 47.7 percent of the operator's subscribers enjoy internet services.
Last year, the operator's market share in terms of subscriber base was 45.4 percent.
Higher revenue and operating efficiency helped log Tk 7,620 crore in earnings before interest, tax, depreciation and amortisation (EBITDA), an indicator of financial performance. Earnings per share for the year were Tk 20.31.
Karl Erik Broten, chief financial officer of the operator, said GP completed another strong year with improved top-line growth and profitability and this was mainly driven by healthy growth in subscriber base and corresponding usage.
"We experienced competitive pressure on pricing, especially in the data segment. Our operational efficiency initiatives helped us improve our profitability further," he said. 
Broten said the company is optimistic about delivering profitable growth going forward, riding on the growth potential of the market and the ongoing focus on efficiency and simplification initiatives.
About future plans, Foley said: "We will bring in more agility and speed in our execution machinery with a sharper focus on our proven strategic priorities to create more value for our shareholders."
GP invested Tk 1,450 crore last year and paid Tk 6,180 crore in taxes and licence fees.
The board of directors recommended a final dividend of Tk 10 per share for its shareholders for July to December of 2017. The full-year dividend was recommended at Tk 20.5 per share at a meeting on Monday.
Foley said a lot of regulatory initiatives regarding 4G operating licence, spectrum auction and technology neutrality, tower company licensing and mobile number portability services are in the pipeline for implementation in 2018.