Exports slump in Sep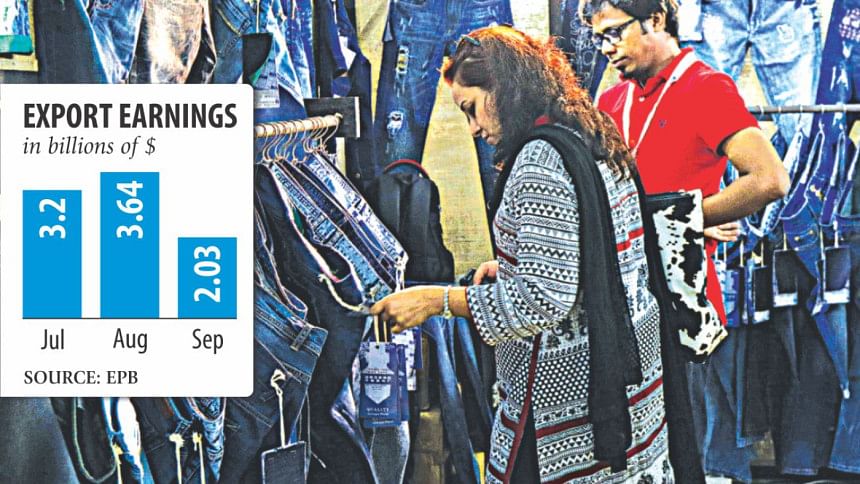 Export receipts came crashing down in the month of September on the back of lower shipments of garment products, after registering a record high in the previous month.
Last month, exports raked in $2.03 billion, down 10.18 percent from a year earlier and 44.23 percent from August that saw the highest receipts in a single month in Bangladesh's history.
September's earnings missed the monthly target set by the commerce ministry by $750 million, according to data from the Export Promotion Bureau.
Lower shipments of garment products, which typically account for 80 percent of the total export receipts, have been blamed for the slump in September's export earnings.
Garment shipments brought home $1.62 billion in September, down 11.48 percent year-on-year and 46.71 percent from the previous month.
One of the reasons for the slowdown in garment exports last month is that it coincided with Eid-ul-Azha, so the factories remained shut for a long stretch, said Siddiqur Rahman, president of the Bangladesh Garment Manufacturers and Exporters Association.
"Production was on pause for a while," he said, adding that the congestion at the Chittagong port meant that lesser number of consignments could be sent.
The appreciation of the taka against the dollar also had a part to play in the lower garment export receipts, Rahman added.
Meanwhile, September's takings mean a total of $8.66 billion was received from shipments in the first quarter of fiscal 2017-18, which is an increase of 7.18 percent from a year earlier.
It, however, fell short of its target by $253.27 million.
During the July-September period, export of frozen and live fish and shrimp soared 23.08 percent year-on-year to $168.27 million, and agricultural products 20.94 percent to $147.90 million.
Export of pharmaceutical products surged 18.68 percent to $23.95 million, and leather and leather goods 1.74 percent to $324.62 million.
Shipment of jute and jute goods grew 15.46 percent to $236.12 million, which is 5.87 percent below the target for the July-September period.
Home textile export grew 23.81 percent during July-September to $193.69 million, according to EPB data.