Export growth dips to 15-year low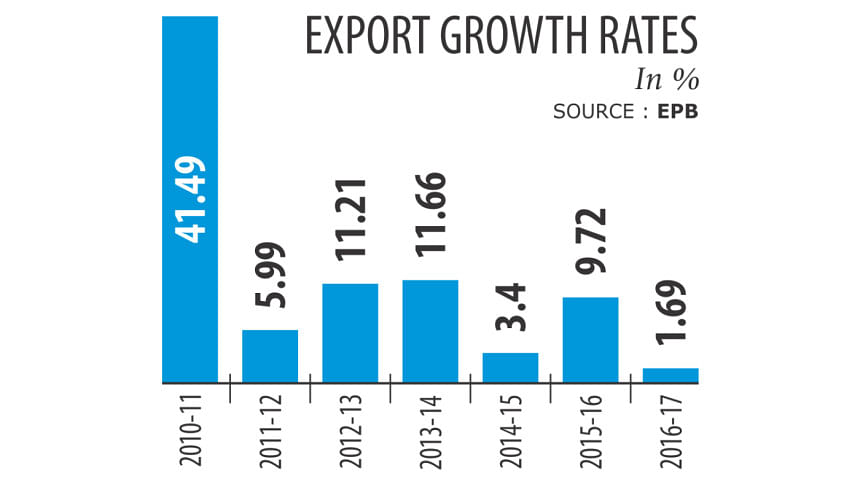 A massive drop in shipment of garment items has caused Bangladesh's export growth to nosedive to a 15-year low in the just-concluded fiscal year.
Exporters racked up $34.83 billion in 2016-17, an increase of only 1.69 percent year-on-year, according to the Export Promotion Bureau (EPB). The earning is 5.85 percent less than the government's annual target of $37 billion.
June's export receipts fell by 15.27 percent to $3.04 billion from the previous month, which is again 16.52 percent lower than the monthly target of $3.64 billion.
EPB Vice Chairman Bijoy Bhattacharjee said they are scrutinising reasons for the decline in exports to major markets. One reason might be the volatility of exchange rates, he said while making public the official export data at the EPB office in Dhaka.
"We also need to find out whether the unit price of exportable items has declined," said Bhattacharjee.
The taka appreciated nearly 8 percent against the US dollar.
Annual growth of garment exports, which account for 82 percent of the national exports, was also the lowest in the past 15 years. Garment exports increased 0.20 percent year-on-year to $28.14 billion, 7.34 percent below the target of $30.37 billion.
Knitwear accounted for $13.75 billion while woven garment $14.39 billion.
Over the past 10 years, garment exports had been increasing at a year-on-year rate of over 13 percent.
"We need to find out the reasons for the slowdown in garment exports," said Faruque Hassan, vice-president of the Bangladesh Garment Manufacturers and Exporters Association.
He said Bangladesh should focus more on producing value-added garment items so that earnings grow while production costs stay the same.
Exporters said Brexit has had a negative impact for the depreciation of the pound against the dollar.
The UK is the third largest export destination for Bangladesh, importing products worth over $3 billion a year.
Exporters pointed out two other reasons -- declining consumption of apparel items in the wake of rising spending for electronic gadgets and unhealthy price competitions among buyers and local manufacturers. Moreover, general election this year in major countries like the Netherlands, France and the UK had an impact on trade as consumers were cautious in their spending.
"We are losing our competitiveness to some countries such as India, Vietnam and Pakistan as they have some advantages [such as government incentives and locally grown raw materials]," Hassan said.
Some other sectors also saw a decline in their year-on-year export performance.
They include frozen and live fish, vegetables, fruits, flowers and dry foods (by 1.74 percent to $526.45 million); petroleum by-products (by 17.93 percent to $243.77 million); leather (by 16.30 percent to $232.61 million); and bicycles (by 16.83 percent to $82.46 million).
On the other hand, leather and leather goods exports grew by 6.29 percent to $1.23 billion, jute and jute goods by 4.66 percent to $962.42 million and footwear by 9.90 percent to $240.88 million.