Egg farmers in dire straits
They suffer losses for falling prices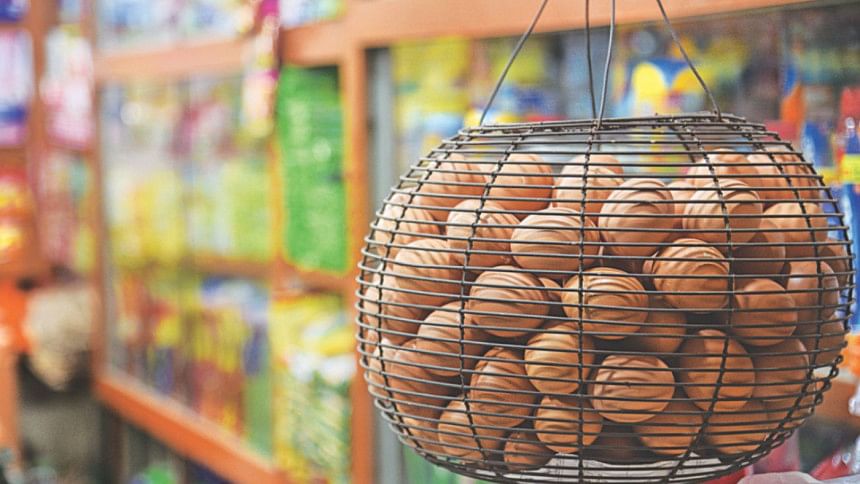 Farmers are suffering losses for falling prices of eggs owing to increased production and high feed cost.
At the farm gates, each egg is now selling for Tk 4.10-4.70 -- much lower than the production cost of Tk 5.5, said a number of producers and traders.
The prices of eggs have remained low as production is higher than demand, said Mohammad Hasibul Alam, owner of Desh Poultry Farm in Rajshahi.
At present, about 4.5 crore eggs are produced every day, said Md Kayser Ahmed, managing director of Diamond Egg and Protein House, which together produce 18 lakh eggs daily.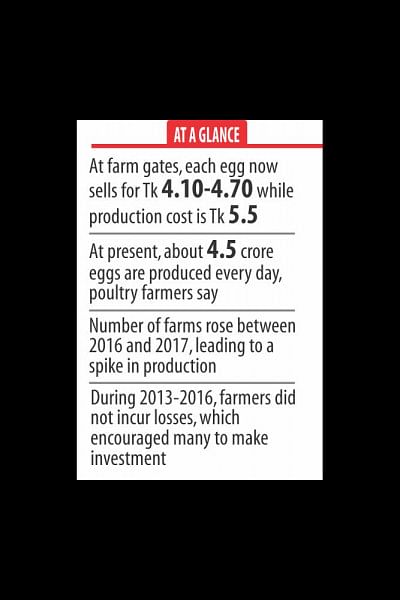 At the end of 2016, the daily production of chicken eggs was about 2.25 crore, according to the Bangladesh Poultry Industries Central Council, the apex body of poultry associations.
The number of farms rose between mid-2016 and early 2017, leading to a spike in production of the protein source, Ahmed said.
"Yet, consumption has not increased to keep pace with the supply."
But the cost of production has gone up, particularly of feed.
In 2016, eggs were sold from his farms at Tk 6.47 each when prices of feed were Tk 30 per kilogram, Ahmed said.
The following year, his farms could sell egg at Tk 5.46 each, 15 percent less than the previous year's.
Feed costs rose 7 percent to Tk 30 each kilogram in 2017 from a year earlier. And in January this year, the cost of feed went up 10 percent to Tk 33 per kilogram.
On the other hand, the average prices of eggs declined to Tk 5.35 each, according to Ahmed.
One bird lays seven eggs by taking one kilogram of feeds. In addition, Tk 0.50 and Tk 0.35 are added to the total production cost as inventory and other costs, he said.
Between 2013 and 2016, farmers did not incur losses as prices were higher than production costs.
"This encouraged many to invest. But a section of small farmers have started pulling out," Ahmed said.
The prices of eggs had been dull during the whole of 2017 because of oversupply, said Nurul Islam, a wholesaler of egg at Dhaka's Tejgaon, one of the biggest wholesale hubs in the country.
About 50 lakh eggs are brought to Tejgaon daily now, up from about 35 lakh pieces couple of years ago, he said.
On February 19, the wholesale price of eggs was Tk 4.90 each, he said, adding that prices of eggs dropped to as low as Tk 3.80 during Ramadan last year.
At the retail level in Dhaka, prices declined 5 percent to Tk 25-28 for four pieces of eggs yesterday from a month ago.
The prices were 11 percent less than a year ago, according to market data by the Trading Corporation of Bangladesh.
"Farmers are really in a dire condition," Islam said.
The prices of various types of fish and vegetables are reasonable. "So a section of people prefer fish to eggs," said Taher Ahmed Siddiqui, president of the Bangladesh Egg Producers Association.
This appears to be a reason for the low prices of eggs, which has forced many to quit farming, he added. Abdul Awwal Haq, a farmer in Rajshahi, is one of them.
"We had to shut down our layer farm in June last year in the face of continued losses," said Haq, who has been engaged in poultry farming for three decades. 
He had 16,000 birds when he closed down the farm.
"Although farmers are in a tight corner, middlemen are fine. They are taking their margins as usual," he said, adding that egg is selling at Tk 5.50-Tk 6.75 at the retail level now in Rajshahi city. Haq now plans to go for broiler farming for meat production.
Yet Alam, owner of Desh Poultry Farm, is continuing. "We are running the farm with hopes that the prices will rebound sometime in the future.
The waiting time is getting longer and the burden of loans on our shoulder is rising," said Alam, who rears 12,000 layer chickens in his Desh Poultry.
But the situation of small farmers, especially those who have borrowed from microfinance institutions at higher interest rates than banks, is bad, he added.