Stocks rebound amid higher trading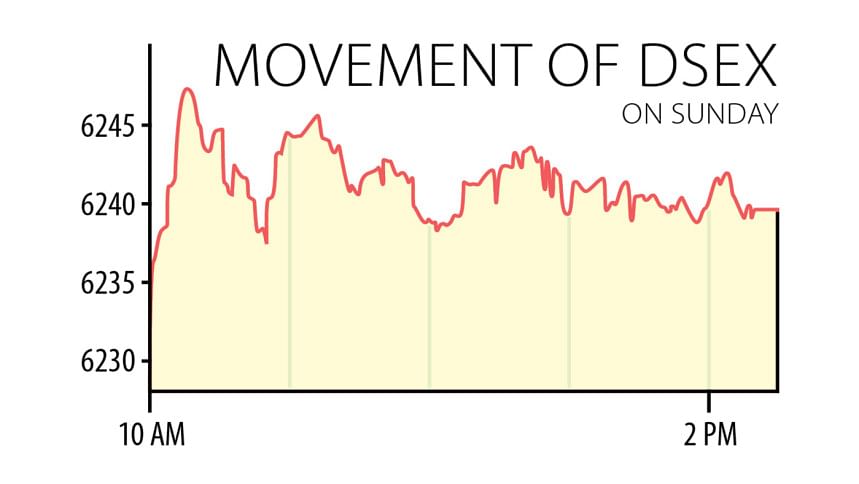 All indexes of the Dhaka Stock Exchange (DSE) ended in positive territory yesterday on the back of an increase in trading activity by investors.
The DSEX, the benchmark index of the premier bourse of Bangladesh, added 11 points, or 0.19 per cent, to close at 6,239.
The DS30, the blue-chip index, rose 0.08 per cent to 2,205 while the DSES, the index that represents shariah-based companies, was up 0.18 per cent at 1,364.
Of the issues that traded on the DSE, 63 went up, eight were down, and 243 did not see any change.
The Dhaka stocks rebounded after a single session of modest correction as bargain hunters showed their buying appetite on sector-specific issues. The optimistic investors were active on the trading floor as the regulator urged insurers to come up with fresh investments, said International Leasing Securities Limited in its daily market analysis.
"Moreover, the Capital Market Stabilisation Fund provided Tk 20 crore in capital support to tackle the liquidity crisis in the market. All the events created a positive sentiment among the investors as they increased participation in the market."
Thus, turnover rose to Tk 414 crore, up 40 per cent from the previous session.
Among the sectors, jute rose 7.1 per cent, IT edged up 1.8 per cent and services went up by 1.3 per cent. The tannery sector fell 0.3 per cent.
Investors' activity was mostly centred on pharmaceuticals, which accounted for 28.6 per cent of the day's turnover. The IT sector made up 14.1 per cent of the turnover and the fuel and power sector represented 11.1 per cent.
Intraco Refueling Station topped the gainers' list, advancing 10 per cent, while Sonali Aansh Industries and Aamra Technologies rose more than 8 per cent.
Ambee Pharmaceuticals, Bata Shoe Company (Bangladesh), Sonali Paper & Board Mills, Berger Paints Bangladesh, Eastern Cables, Crystal Insurance Company, Bangladesh General Insurance Company, and Beacon Pharmaceuticals were the stocks that declined on the DSE on the day.
Salvo Chemical Industry was the most-traded stock with its shares worth Tk 40 crore changing hands. Other companies that saw significant turnover included Intraco Refueling Station, Bangladesh Shipping Corporation, Genex Infosys, and Beximco Pharmaceuticals.
The Caspi, the all-share index of the Chattogram Stock Exchange, added 33 points, or 0.18 per cent, to end the day at 18,371.
Only 97 securities traded on the bourse in the port city on the day, with 38 advancing, 12 declining, and 47 showing no price movement.
Turnover, however, dipped more than 44 per cent to Tk 4.71 crore. It was Tk 8.46 crore on Thursday.