Wheat flour prices hit 15-year high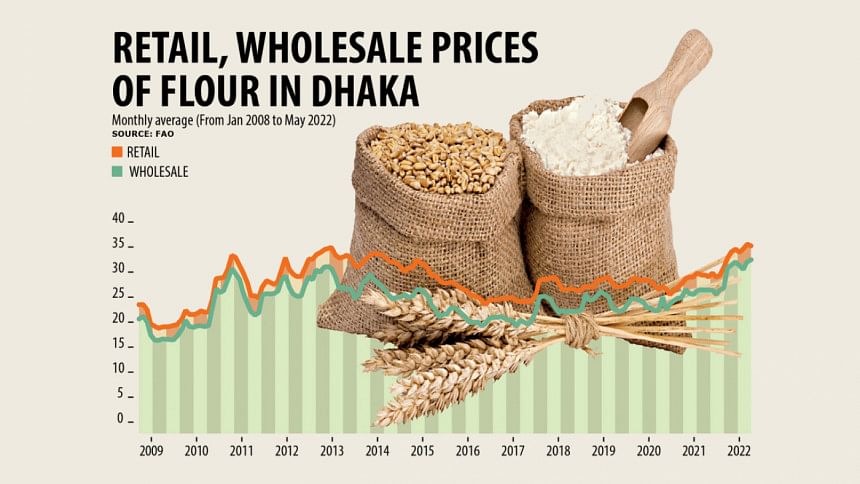 Retail prices of wheat flour recently shot up to a 15-year high amid concerns of a supply shortage in local markets after India banned exports of the staple food in order to ensure its availability at home in the face of rising global costs due to Russia's war on Ukraine.
In July 2008, consumers in Dhaka had to pay about Tk 37.8 per kilogramme (kg) for flour while it was Tk 29 per kg in 2021 and Tk 38.4 per kg in 2022, shows data from the Food and Agriculture Organisation.
The retail price of flour in local markets has been increasing since September 2021, which is discouraging for price-sensitive consumers.
Traders say that the war between Russia and Ukraine alongside India's ban on exports have pushed up flour prices at both the wholesale and retail levels.
According to data from the Trading Corporation of Bangladesh (TCB), loose flour sold for between Tk 46-50 per kg yesterday, up 31 per cent from Tk 38-45 a month ago.
Similarly, TCB data shows that packaged flour is being sold at Tk 48-50 per kg, up 6 per cent from Tk 44-48 a week ago.
Asaduzzaman, owner of the New Sheetal Flour Mill in Narayanganj, said flour prices are increasing every day. One maund (37 kgs) of flour used to cost Tk 900 but the same amount is now priced at about Tk 1,600.
He said that Russia's invasion of Ukraine coupled with India's ban on exports has created a huge pressure on local importers as well as the global market.
Karim Ali, proprietor of Rashid Traders in Mohammadpur's Krishi Market, said a 50-kg sack of flour would cost Tk 3,000 at wholesale just a week ago but the same amount is now being sold for Tk 3,200-3,300.
"Considering the current situation though, prices are expected to rise further," he added.
Other than the war, there are some other reasons behind the increase in flour prices, said Afsar Uddin Ahmed, an importer of Rupali Traders at the Khatunganj market in Chattogram, a wholesale hub for essential commodities.
He went on to say that alongside disruptions to the supply chain, increased transportation costs and lead time are also affecting prices.
Another reason behind the rising cost of flour is that the Covid-19 pandemic raised fears of food shortages in many countries and so, several large nations are stockpiling necessities such as this.
Abul Bashar Chowdhury, chairman of leading food importer BSM Group, informed that India had said it would look at its neighbouring countries under a different light when considering flour exports.
For example, letters of credit that were opened before May 12 will be scrutinised before a decision is reached on whether to export or not.
"But it's not yet clear how they'll deliver the product. Nothing can be said until we are sure how India will give wheat flour," Chowdhury said.
The price of flour had increased by more than Tk 4 per kg at wholesale the very day that India announced it would halt all exports of the product.
Yesterday though, the price dropped by Tk 2 at wholesale.
"If India supplies flour for letters of credit opened before May 12, then the stock would last for two to three months and therefore, there would be no crisis," Chowdhury added.
In fiscal year 2020-21, Bangladesh imported about 53.42 lakh tonnes of flour. In the ten months of the ongoing fiscal leading up to May, the country imported around 34 lakh tonnes of the staple food.
It should be mentioned that all the wheat grown locally this year (10 lakh tonnes) was already harvested by March.