VAT reduction extended for cylinder makers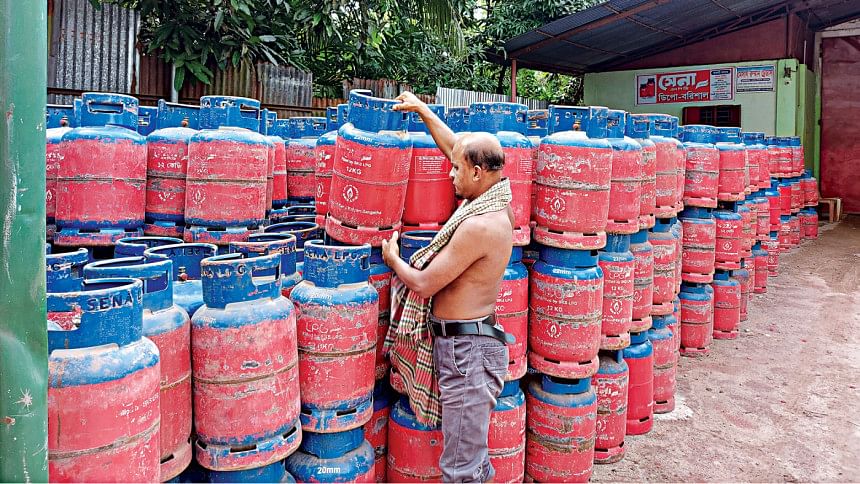 The National Board of Revenue (NBR) has extended for another year a value added tax (VAT) reduction for local liquefied petroleum gas (LPG) cylinder manufacturers, who believe it would help keep fuel prices low against rising demand.
The NBR reduced VAT on domestic manufacturing of LPG cylinders to 5 per cent from 15 per cent in September 2020 in response to demands from manufacturers seeking to better compete with imported cylinders.
The benefit was set to expire on June 30 this year.
"The extension of the support will help the industry grow further," said Azam J Chowdhury, chairman of East Coast Group, which has an LPG cylinder production plant.
He said LPG prices were spiralling globally, exceeding the purchasing capacity of many families, and so extending the reduction would enable keeping prices low.
"We have been demanding that the government continue it until the market grows and comes to a size. But if the price goes beyond the purchasing power of the people, then the market will not grow anymore. It is good that the government has accepted our request," he added.
Officials of the NBR said the market for LPG, now used in both urban and rural areas, had been growing fast over the last couple of years thanks to the entry of private investors.
Bangladesh has over 25 LPG operators and the country annually uses nearly 14 lakh tonnes of LPG. The amount of consumption was nearly 3 lakh tonnes in fiscal year 2015-16, according to industry insiders.
Currently three companies make LPG cylinders and 35 lakh cylinders were produced locally in fiscal year 2020-21, up 68 per cent year-on-year, according to data of the Department of Explosives.
Import of LPG cylinders, reaching as high as 39.6 lakh units in fiscal year 2017-18, dropped by more than half to 6.13 lakh units in fiscal year 2020-21 from that in the previous year.
Jakaria Jalal, head of division at Bashundhara LP Gas, said they had urged the government to provide a full exemption for a period of time as LPG prices were high in the international market.
First introduced for domestic purposes by state-owned Bangladesh Petroleum Company in 1978, LPG gained popularity since 2008 after the government stopped providing new gas connections to households due to dwindling reserves of natural gas.
LPG is any of several liquid mixtures of volatile hydrocarbons propene, propane, butene, and butane while natural gas is a highly flammable gaseous hydrocarbon consisting primarily of methane and ethane, according to Britannica.