Tulip cultivation expanding as demand rises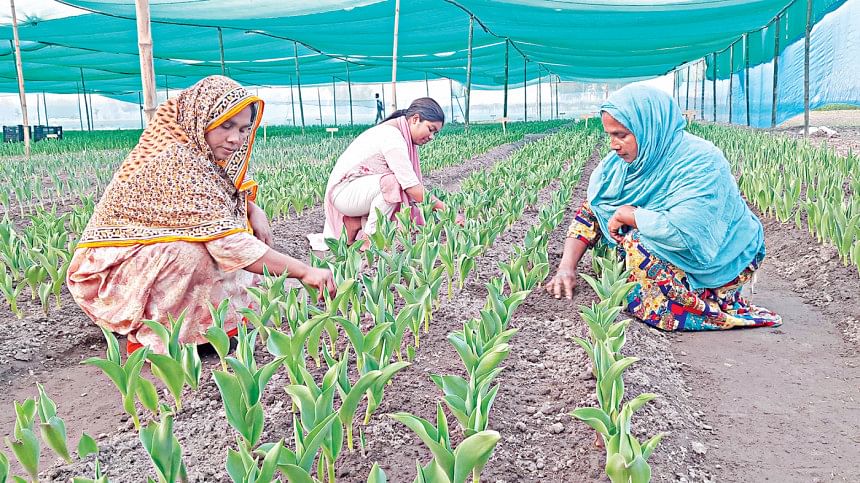 Encouraged by their success in tulip cultivation last year, farmers across Bangladesh have sown the decorative plant in more areas of the country this winter season, especially in Tentulia upazila of Panchagarh.
After observing the high demand of foreign flower in local markets, Delwar Hossain, an agro-entrepreneur, imported about two lakh tulip bulbs from the Netherlands this season while the number was 80,000 in 2022.
Tentulia accounts for a majority of the acreage with at least one lakh bulbs having been sown in Darjeepara village alone, according to Hossain.
About two years ago, Hossain became the first to bloom tulips in Bangladesh when he sprouted the cold-weather crop in Gazipur's Sreepur upazila.
Seeing his success, the Eco Social Development Organisation (ESDO) recruited eight marginal farmers in 2022 to grow the flower on 40 decimals of land across Tentulia considering the region's conducive soil and weather conditions.
The project was financially supported by the state-run Palli Karma-Sahayak Foundation and the International Fund for Agricultural Development.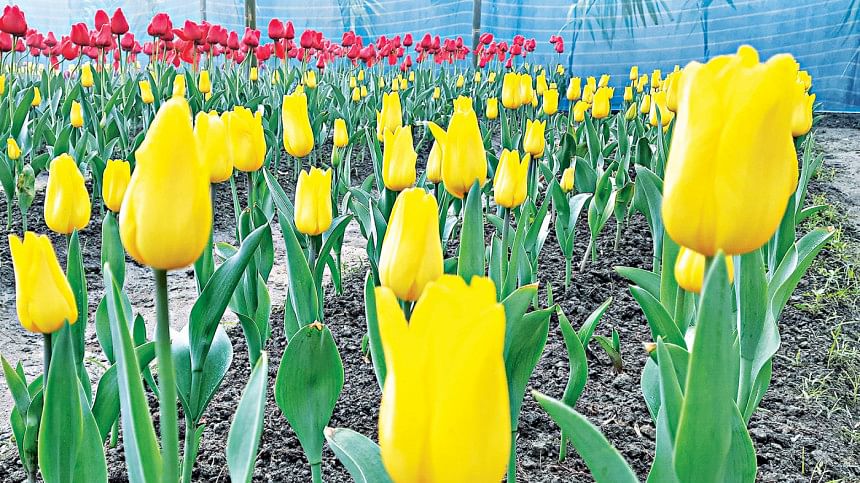 This year, a total of 20 marginal farmers are cultivating tulips on two acres of land, where they collectively sowed 86,000 bulbs on January 11 in hopes of blooming the plant within a couple of days, said Aynul Haque, project coordinator of the ESDO.
Around 16,000 bulbs were also sown in tubs so that buyers can easily keep them as decorative pieces at home or work.
Tulips of ten colours were planted this season, including the Antarctica (white), Denmark (orange), Lalibela (red), Dutch Sunrise (yellow), Strong Gold (yellow), Zantupink (pink), White Marvel (white), Mystic van Eijk (pink), Happy Generation (white-red) and Golden Ticket (yellow) varieties.
Tulip cultivation is being encouraged in Tentulia mainly to add to the region's scenic beauty and develop its economy by attracting more tourism.
With the peak of Kanchenjunga, the world's third highest mountain peak, being visible on clear days, Tentulia also boasts vast plains of greenery and archaeological sites, including Bhitargar, Imambara Mosque and Bodeswari Temple.
Three farmers of Darjeepara village -- Hosne Ara Begum, Morsheda Begum and Monowara Begum -- said they collectively cultivated 20,000 tulips on 20 decimals of land last year to get a profit of Tk 70,000 per person.
Md Jahangir Alam, upazila agriculture officer of Tentulia, said the country's weather is generally not suitable for cultivating tulips.
However, the temperature in Tentulia stays at around 20 degrees Celsius in daytime, showing promise of successful cultivation, he added.
Alam then said that acidic, sandy-loamy soil with a pH of six-seven is ideal for growing tulips, which require a daytime temperature of within 20 degrees Celsius and night-temperature of five to 12 degree Celsius during the growth period. 
Direct sunlight in the mornings and evenings is also beneficial for improving the flower's quality while partial shade, such as nets, are required during mid-day.
Limited use of chemical fertilisers along with enough organic manure is needed for preparing the soil as well, he added.
Hossain sells the tulip bulbs he brings from the Netherlands at a cost Tk 62 per piece in different districts in the country.  
"The growers who became successful by cultivating tulips last year bought more bulbs this season," he added.
For example, an entrepreneur of Rajshahi's De Marche Garden who cultivated 1,000 plants last year, bought 5,000 bulbs this season.
Hossain cultivated about 70,000 bulbs in Sreepur upazila this year while it was 30,000 in 2021. 
He also supplied around 5,000 bulbs to farmers in Jashore's Gadkhali, 6,000 bulbs to those in Rangamati, 500 in Bagherhat, 500 in Natore and 300 in Cumilla, among other districts.
Hossain then said the domestic demand for tulips is growing fast.
"Higher quality flowers are currently imported but if we can continue cultivation, local currency would be saved," he added. 
Hossain emphasised on government cooperation for the expansion of high-value flower cultivation, adding that if the government comes forward in this regard, it will create employment opportunities for youths all over the country.
He went on to say that as cut tulips can survive for around 30 days, the current harvest will be available in local markets from December 15 to February 15.
Md Shahid Uz Zaman, executive director of the ESDO, said a good number of visitors from different parts of the country have come to Tentulia to catch a glimpse of Kanchenjunga in recent years.
"So, if tulip cultivation goes as planned, it would be an additional attraction and promote the northern region's tourism sector, which will play a vital role in improving the lives of locals," he added.
Zaman then said that as winter lasts for about four months in Tentulia, the temperature is almost perfect for tulip cultivation.
Not only is the ESDO helping growers supply their produce to various flower markets, it also plans to help them cultivate other flowers during the rest of the year, he added.
Md Jahurul Islam, deputy commissioner of Panchagarh, said they have taken different initiatives to extend all-out support to small entrepreneurs for the sake of developing the district's economy and tourism.