Stocks hit 8-month high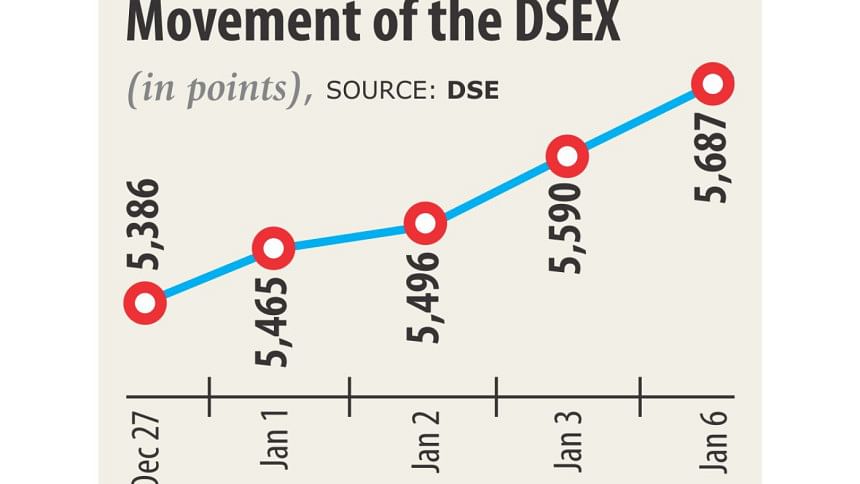 The stockmarket has continued to maintain its post-election rally, reaching an eight-month high of 5,687 points yesterday.
Turnover has also been increasing since the national polls held on December 30. 
The key index of the Dhaka Stock Exchange, DSEX, increased 300 points in just five sessions. It rose 96.53 points, or 1.72 percent, yesterday. Turnover crossed Tk 1,000 crore after four months.
"Investors' confidence bounced back after a peaceful election and they are investing," said a leading merchant bank's managing director preferring anonymity. He said the index was also going up for the same reason.
Market capitalisation of the DSE crossed Tk 4 lakh crore after eight and a half months. It was Tk 4,04,667.64 crore on April 26 last year.
The merchant banker said many stocks remained lucrative despite the rally so there was no major cause for concern till now. However, the rampant rise of junk stocks, which more surprisingly made their way to the top gainers' list, was disquieting.
"These stocks may turn to dust in the investors' portfolio, so investors should be careful," he suggested.
Four junk stocks were in the top gainers' list yesterday.
BBS Cables dominated the turnover chart with 28.32 lakh shares worth Tk 31.07 crore changing hands, followed by Paramount Textile, Beximco, VFS Thread Dyeing and Brac Bank.
Savar Refractories, one of the junk stocks, topped the gainers' list rising 10 percent to Tk 146.3. Sonargaon Textile was the top loser shedding 6.72 percent.
Chittagong stocks also rose with the bourse's benchmark index, CSCX, increasing 163.79 points, or 1.57 percent, to finish the day at 10,531.43.
Gainers beat losers as 202 advanced and 53 declined while 18 finished unchanged on the Chittagong Stock Exchange. The port city bourse traded 2.14 crore shares and mutual fund units worth Tk 33.17 crore.