Small, light engineering industries in Saidpur abuzz
Produce 2,000 types of machinery; annual turnover stands at Tk 100 crore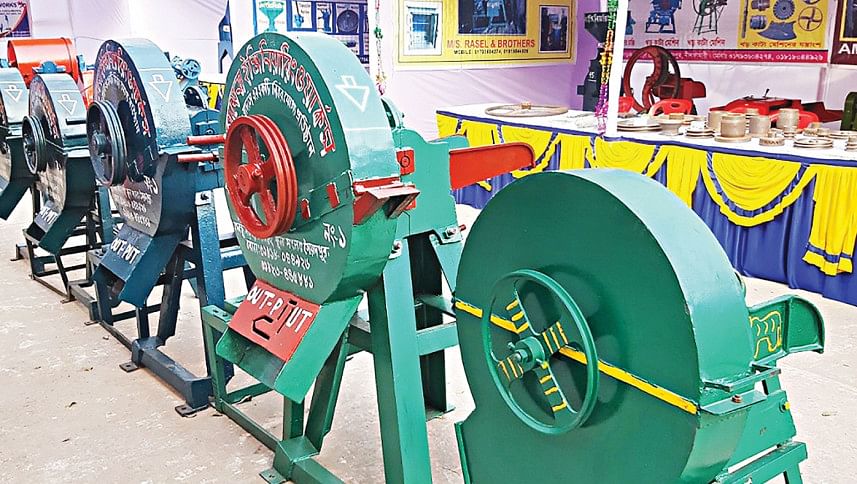 Small and light engineering industries in Saidpur have helped the railway town emerge as a hub for producing valuable machinery and spare parts consumed by various sectors, thus cutting dependence on imports, saving foreign currencies and generating jobs for thousands.
There are 500 large and small workshops in Saidpur under Nilphamari and they produce 2,000 types of machinery and spare parts and clock an annual turnover of Tk 100 crore.
At least 5,000 people are employed in the industries, according to sources.
The country's largest railway workshop situated in Saidpur used to employ thousands of skilled workers in its smithy, foundry, mechanical, and various other units at the time of Bangladesh's independence. This was the time when local small and light engineering industries also emerged.
One of the early initiators was late Mohammad Abbas, a former employee of a smithy shop in the railways. He established a foundry factory, SML Metal, in the Bangalipur area.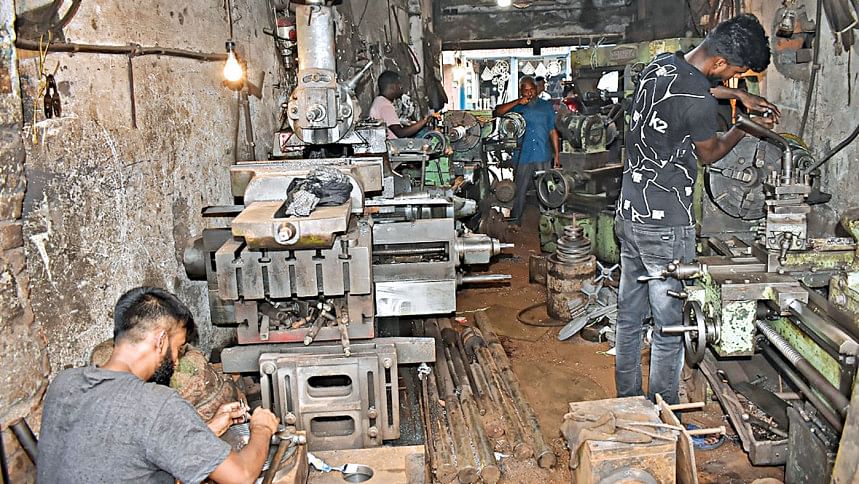 The factory is now one of the biggest tube-well manufacturing factories in the area and is run by his successors.
Another pioneer was late Nazir Ahmed, who after his retirement set up Two Star Engineering Works in the Munshipara area with only a few thousand taka he received as the retirement benefit.
Thanks to perseverance and hard work, Ahmed went to achieve huge success. His sons now run the workshop.
Entrepreneurs say when rice husking mills, irrigation pumps, buses and trucks went out of order 50 years ago, mechanists and imported spare parts had to be brought from Dhaka to repair them.
To ease suffering, some railway employees used their leisure time and innovation to start making valuable parts, reducing the cost by 60 per cent.
"This innovation opened a new horizon and entrepreneurs started setting up workshops, turning it into a flourishing sector," said Nuruddin Dulal, secretary of the Small and Light Engineering Industries Owners Association in Saidpur.
He says industries produce chopper machines that are used to cut straws into small pieces paving the way for easy consumption of cattle at the farm and household level. The workshops meet half of the country's requirement for chopper machines, which have already gained traction.
Valuable spare parts for jute mills, rice husking mills, sawmills, flour mills, and ceramics factories are widely produced at the hub.
The machinery of consumer goods factories, which make ice cream, noodles, vermicelli, juice, popcorn, potato chips and cookery items, is also produced in Saidpur.
Spare parts for irrigation pumps, buses, trucks, tractors, and motorbikes are also made and factories have the reputation of making mixture machines to blend sand, cement and stone chips for use in construction works and jaw crushers to crush stone bolder.
Khorshed Alam, the owner of Two Star Engineering Works in the Munshipara area and the son of Ahmed, said, "We even produce 200 kinds of equipment mostly used in trains."
Some of the products are signal lights, compartment handles, footboards, metallic windows, bathroom fittings, pandle clips, brake shoes, and special nuts and bolts, many of which had to be imported previously, he said.
He alleges that there are middlemen in the supply chain.
"If we get direct work order from the railways, a good amount of foreign currencies could be saved and our factories would also be benefitted."
Ershad Alam Pappu, president of the Saidpur unit of the Small and Light Engineering Factories Owners Association, called for setting up a separate industrial zone since workshops have to operate in a congested area. 
"We also need adequate long-term bank loans at lower interest rates."
Pappu says local industries could even go for exports if the government extends facilities to entrepreneurs in order to help them set up heat treatment plants and buy automatic tempering machines and ultra-modern CNC lathes.
A CNC lathe is a machine tool where the material or part is held in place and rotated by the main spindle as the cutting tool that works on the material is mounted and moved on various axes.
Pappu also called for the supply of gas.
SM Shafiqul Alam, president of the Nilphamari Chamber of Commerce and Industries, says local small and light engineering industries that use traditional tools face competition from foreign factories having modern machinery.
"The government should provide technical and financial support as well as adequate training to help them survive."
Khondokar Yasir Arefin, deputy commissioner of Nilphamari, says the government is always helpful for the expansion of the small and light engineering sector in Saidpur.
"Setting up of an economic zone in the district is in process and genuine entrepreneurs will get privileges in setting up of factories."