Profits drive cattle fattening in Bangladesh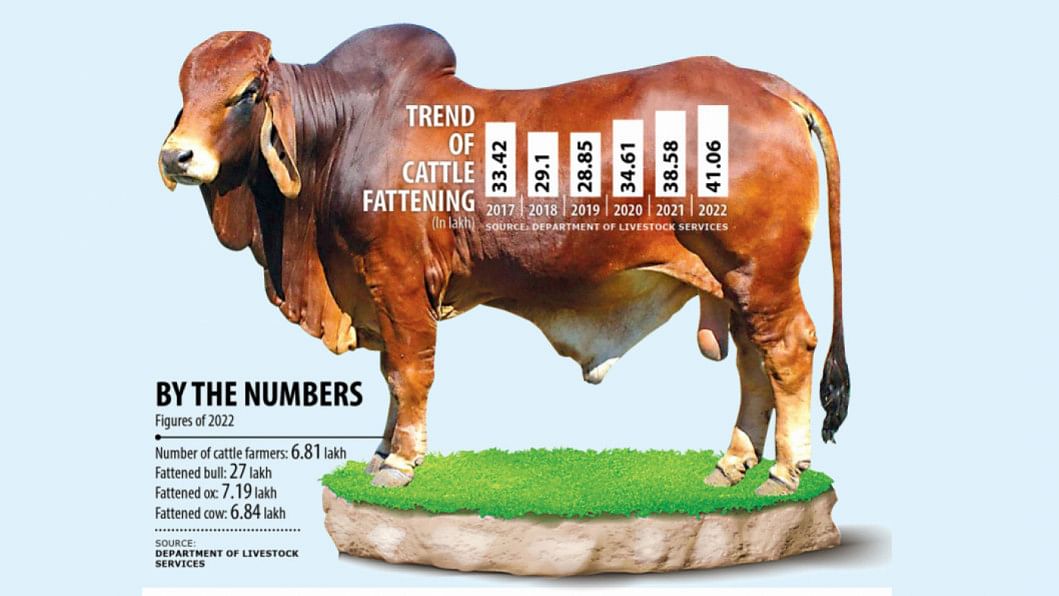 There has been growing interest among farmers in Bangladesh at rearing and fattening bulls, encouraged by high domestic prices which enable making a profit alongside an Indian clampdown on illegal inflows of cattle.
Over the past five years, the number of farmers engaged in the practice has risen alongside the number of bulls.
In 2017, there were 33.42 lakh cattle under the special regime, which involves nutritious diets and movement restrictions, according to the Department of Livestock Services (DLS).
At present, farmers are rearing 41 lakh cattle which are likely to be brought to markets for sale ahead of Eid-ul-Azha, when Muslims around the world sacrifice cattle as a part of their religious practice, causing demand to surge.
Of all the cattle processed for meat round the year, half are slaughtered during Eid-ul-Azha, when a big portion of the fattened bulls are sold.
This also provides supplies of hide and skins, the key raw materials for leather used by the export-oriented leather and footwear industry which fetches nearly $1 billion a year.
Farmers and livestock officials said investment in dairy and cattle fattening increased in recent years after India embarked on a crackdown on cattle smuggled into Bangladesh since 2014.
The restriction resulted in a slump in the supply of the livestock from India, which was a source of 20 lakh cattle a year for Bangladesh earlier.
Cattle farming gained ground particularly among literate youths as beef prices jumped in the face of the plunge in the inflow of cattle from India.
For example, retail prices of beef shot up to Tk 400 per kilogramme in August 2015 in Dhaka city from Tk 280 to Tk 300 per kg in April of the same year.
"Many people invested in dairy farming after the cattle influx from India stopped," said Mohammad Shah Emran, general secretary of Bangladesh Dairy Farmers' Association(BDFA).
Besides, awareness and training on cattle farming by the BDFA through social media encouraged many to sign up for dairy farming.
"We showed through social media how we did well; what we were doing. This gave a lot of impetus to this sector," he said.
Since then, beef prices have doubled in Dhaka.
Zeenat Sultana, deputy director (farms) of the DLS, said the department also provided training to farmers on rearing and fattening techniques. Better prices of beef are another reason behind the interest in fattening cattle, she said.
Jahangir Alam Khan, an agricultural economist, echoed her.
"The current prices give guaranteed profit to growers. This has fuelled interest," he said.
Low-cost loan facilities provided by Bangladesh Bank also encouraged many people to take up dairy farming.
"We see a reflection of that during Eid-ul-Azha now. Several years ago, it was tough to meet the domestic requirement for sacrificial animals in absence of cattle from India," said Khan.
"Now local production meets our demand for Eid-ul-Azha," said Khan, also a former director general of Bangladesh Livestock Research Institute, Savar, Dhaka.