Staying a day at Kamalapur station to buy advance tickets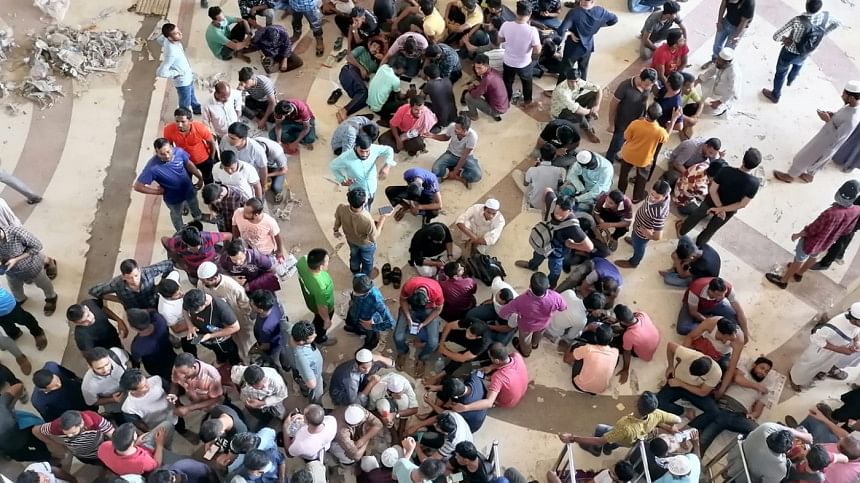 Abdus Sabur Sarkar, employee of a private bank, came to Dhaka's Kamalapur Railway Station from Narayanganj's Fatullah around 6am today (July 2, 2022) to buy advance train tickets.
He and his three family members want to go to their village home in Kurigram for Eid-ul-Azha.
He arrived at the station two hours before ticket counters would open. The ticket counters were scheduled to sell advance train tickets for July 6. 
Interestingly, he was aware of this. He actually came to the station to buy advance tickets for July 7, which will be sold from 8am tomorrow – around 26 hours since his arrival at Kamalapur station.
So, he brought a lungi with him, to change into, for taking a bath there.
"Before last Eid, I was able to procure tickets on the third day of attempts. From that experience, I've come here (to the station) a day ahead, and brought this lungi with me. There's a place for taking bath here. I'll have my meal here too," Sabur said.
Sabur is still in doubt whether he will get tickets tomorrow.
"My serial number is 22. Last time (before Eid-ul-Fitr), only the first 20 people got tickets. I'm not sure whether I will get tickets tomorrow," he told this correspondent around 1pm.
Not only Sabur, around 400-500 people gathered at Kamalapur Station in the capital around 1pm to buy train tickets for July 7. Some of them were seen seated on the floor while some were sleeping. Train tickets for northern districts are being sold from the main counters of Kamalapur Station.
WHY ARE PEOPLE SO DESPERATE FOR TRAIN TICKETS?
Sabur mentioned two reasons – comparatively less fare and certainty of reaching on time.
"Before coming to the station today, I talked to a bus company. They sought Tk 1,500 for each ticket while train fare is only Tk 510. Besides, once I board the train, I know for sure that I will reach home on time," said Sabur, adding that there is fear of traffic congestion on the road.
Except few, most trains ran on time before last Eid.
"I prefer trains over buses, though I know the hassles of buying tickets," he added.
Although, people's journey towards northern districts on road was relatively smooth before last Eid due to some measures taken by the authorities, it often turns difficult. People have to spend hours on roads due to traffic congestion caused by huge pressure of vehicles.
Joynal Abedin (not his real name), a low-level staffer of a government agency, came to Sahartoli platform of the station to buy tickets for his boss and family members.
Tickets for Khulna and Rajshahi bound trains are being sold here.
"I came to the station around 10am to buy train tickets for tomorrow. I got my serial at number 40," he said, adding, "Today is our weekly day off. But sir asked me to buy tickets. What can I do?"
RAIL MINISTER FINDS THIS NORMAL
Railways Minister Nurul Islam Sujan visited the station today after taking part in a programme there. He said they have taken several measures to make ticketing services easy. Tickets are being sold from seven points, he added.
"But many people are not getting tickets, which is normal. Because, media has already reported that around two lakh people gathered to jossle over only 6,000 tickets," he told reporters.
"We don't have the capacity to meet the demands. So, we have to accept it," he said adding, "We are trying to improve the situation."
Bangladesh Railway (BR) sells around 27,000-28,000 advance tickets of intercity trains every day – 50 percent from counters and 50 percent from website and app.
In total, 12,566 advance tickets were sold online while 10,271 from counters in between 8am and 11:35am today, an official of Shohoz, which is providing ticketing services on behalf of BR, said.