Cattle traders expect good business this Eid-ul-Azha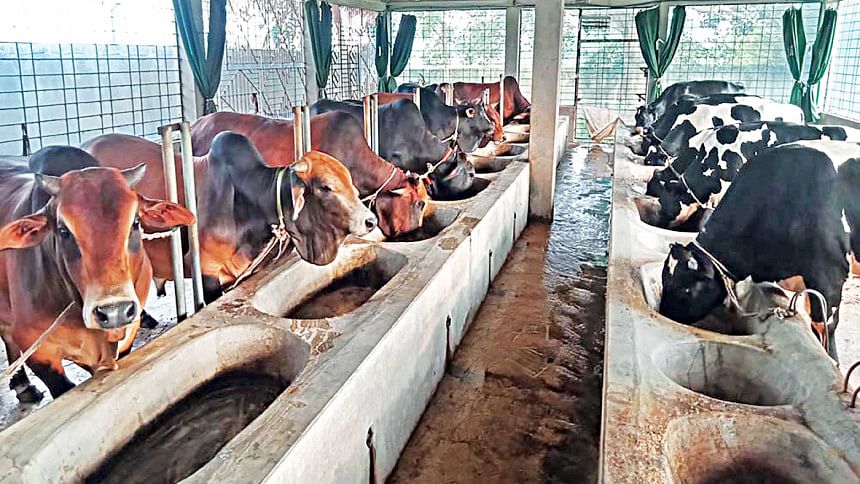 The alarming Covid-19 situation had badly hampered the sacrificial animal market for Eid-ul-Azha in the last couple of years but cattle farmers are anticipating good business this time around as the situation has greatly improved.
Approximately 1.21 crore sacrificial animals have been prepared this year, which is 33 per cent higher than last year's total sales, according to the Department of Livestock Services (DLS).
"Last year, traders sold a total of 90.83 lakh sacrificial animals for Eid-ul-Azha, including 40.53 lakh cows and buffalos, and 50.28 lakh goats and lambs, to get business worth Tk 46,000 crore amid the pandemic," Zinat Sultana, deputy director (farm) of the DLS, told The Daily Star.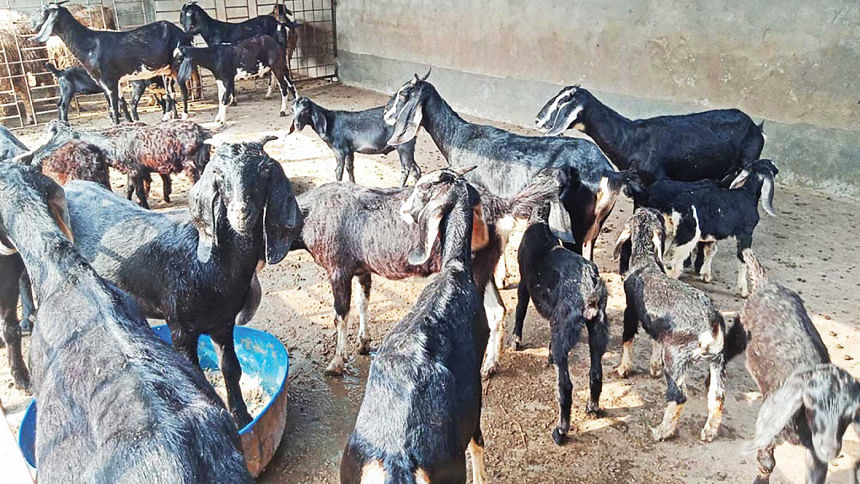 "As the pandemic threat is ending, we are expecting much better festival sales and so, additional animals are being prepared," she said.
"More than 1 crore animals may be sold this year with traders expecting to get more than Tk 50,000 crore collectively from the festival market," Sultana added.
Of the 1.21 crore prepared for sacrifice, around 46.11 lakh are cows and buffalos while 75.11 lakh are goats and lambs.
The DLS deputy director went on to say that the Eid market is the biggest opportunity to do business for cattle farmers, who fatten up their herds ahead of the festival season each year.
"Buyers want to get good looking animals for sacrificing in the festival so the fattened animal business hits its peak ahead of Eid," Sultana said.
Around 42.40 lakh of the 46.11 lakh cows and buffalos are fattened while 33.48 lakh of the 75.11 lakh goats and lambs have been similarly plumped.
"Local production will meet the demand this year as additional animals have been prepared," she added.
Of the country's total production, Pabna and Sirajganj are the biggest sources of fattened animals, as per DLS data.
"This year, a total of 172,729 cows, 111,325 of which are fattened, have been prepared for sale in the festival market," said Krishno Mohon Haldar, district livestock officer of Pabna.
In total, 605,774 sacrificial animals have prepared in the district, he added.
Similarly, a total of 3.91 lakh sacrificial animals have prepared in Sirajganj, of which 1.71 lakh are cattle, according to Gourango Kumar Talukder, the district livestock officer of Sirajganj.
Of the cattle prepared, around 1.21 lakh are fattened, he added.
Cattle fattening gets costly as feed prices soar.
Md Habib in Pabna's Balarampur village started cattle farming a couple of years ago as a hobby but now, it is one of his biggest businesses.
"This year, I have prepared 31 cows for sale with 22 of them weighting between 600 and 900 kilogrammes," he said.
Habib bought the cows after Eid-ul-Azha last year and followed a sufficiently organic nursing method to rear the cattle.
"But now I am worried about getting the expected prices," said Habib, who bought each cow for Tk 1.2 lakh to Tk 1.5 lakh and spent a further Tk 70,000 to Tk 1.25 lakh on nursing each of them for the last 11 months.
The businessman said he used various nutritious food ingredients with timely medical care following the guidelines of veterinarians so that his cattle could grow up without disease.
Habib himself made mixed food powders comprised of wheat, peas, lentils and corn to ensure proper nutrition for his animals.
He also gave them straw and grass regularly.
"I need Tk 200 to Tk 225 for feed and labour costs of a middle-sized cow each day while it costs Tk 300 to Tk 325 for big cows as the price of dairy feed has been soaring rapidly in the last few months," Habib said.
Other than meeting their nutritional needs, he also gave the cattle various vitamin and vaccine shots so that they could stay healthy.
"But fattening costs have ballooned by 30 to 40 per cent this year due to soaring feed prices," he added.
Each bag of wheat bran is currently selling for Tk 1,900 to Tk 1,950, lentils Tk 1,800 to Tk 1,850, lentil bran Tk 1,300, pea bran Tk 2000 and rice bran Tk 700.
"The price of all kinds of dairy feed has jumped by Tk 200 to Tk 400 in the last couple of months and so, fattening costs have risen by 30 to 40 per cent compared to last year," said Raju Ahmed, a cattle farmer of Ramkharua village in Sirajganj's Shahzadpur upazila.
Raju was forced to sell six of his cows a month ago after failing to bear the burden of excessive maintenance costs.
"Although I started fattening the six cows in anticipation of a handsome profit in the festival market, I had to sell them beforehand," he said.
Md Saiful Islam, secretary of the Bangladesh Dairy Farmers' Association (Pabna unit), said each maund (37 kilogrammes) of dairy meat is selling for about Tk 25,000 at present, which is not enough for fattened animals.
"Due to excessive maintenance costs for increasing feed prices, the fattening cost of each maund of meat reaches about Tk 25,000. So, farmers can only make a profit by selling the fattened cows at a minimum of Tk 30,000 per maund," Islam added.
However, livestock officials claimed the price of sacrificial animals is never fixed as it depends on supply, demand and choice of the customers.
Meanwhile, farmers will have the opportunity for online marketing this year, they said.