Pathao introduces Bangladesh to 'Pay Later' feature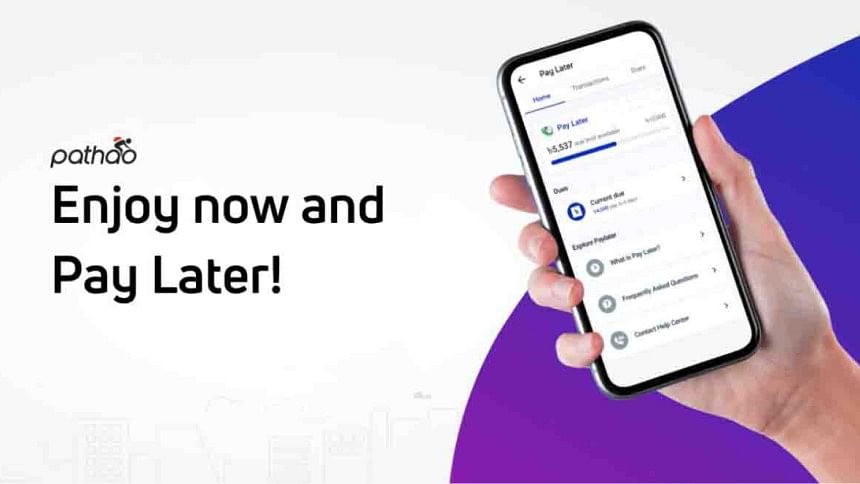 Bangladeshi consumers can now get a taste of the global 'Buy Now, Pay Later' (BNPL) phenomenon thanks to the digital services platform Pathao, which is rolling out the feature today on a test basis.
Globally, BNPL has exploded in popularity over the past year thanks to the pandemic-driven boom in online shopping.
The feature allows shoppers to split the cost of goods into instalments with no interest but a late fee if payments are missed. In so doing, it offers consumers more purchasing power without pressuring their finances.
Over in neighbouring India, BNPL has dragged e-commerce sales out of the pandemic slump during Diwali, the peak shopping season.
Globally, the industry is dominated by Sweden's Klarna -- Europe's heftiest fintech unicorn at a valuation of over $45 billion -- and Sydney-based AfterPay, which in August was acquired by Twitter founder Jack Dorsey's Square for $29 billion, the largest takeover in Australia's history.
Even traditional payment service providers like Mastercard are jostling for a slice of the fast-growing pie, which is based on an emerging thesis that millennials and Gen Z consumers distrust credit but still want to borrow money to buy goods.
For Pathao, which has a sizeable population of young users for its ride-hailing, food delivery and logistics services, the feature makes the perfect business case: it offers an excellent route for accelerating customer acquisition, according to Redburn, a British equity research house.
Currently, Pathao Food users can choose 'Pay Later' as their payment method to complete their order with a single tap.  The initial spending limit is Tk 2,000, which will be replenished upon repayment.
Pathao will not charge the user for the 'Pay Later' feature. The full amount is due within 30 days of the end of a 15-day spending period after which there will be a late charge of up to Tk 200. Pathao would send regular reminders as repayments become due.
Repayment must be made using any digital payment method, and users can pay in parts within the 30-day window.
The feature is currently available to Pathao Food's most loyal users, determined with the platform's advanced data and analytics engine.
It will be expanded to those who qualify and to other services in stages from the first quarter of 2022.
"The time is now for consumers in Bangladesh to get the ease-of-use one expects in developed countries.  The launch of the 'Pay Later' feature is the first of many steps in that direction," said Fahim Ahmed, the newly-appointed chief executive officer and managing director of Pathao.
There is an entire generation in Bangladesh that is young, upwardly mobile and digital native, the company said in a statement yesterday.
They qualify for and need access to credit and yet face an unreasonably high barrier.
Recent data shows that Bangladesh is one of the countries with the lowest credit card penetration in South and Southeast Asia, with about 1 per cent of the population owning a credit card, the statement said.
In addition, the credit gap and lack of knowledge about digital payments are a challenge in the country and have resulted in the majority of transactions being carried out in cash.
Pathao, by leveraging its advanced technological capabilities and partnering with financial institutions, can unlock new opportunities in the realm of digital credit.
"With this, we believe we can catalyse an important growth stage of the Bangladesh economy," Ahmed added.
At present, business-to-business e-commerce platform Shopup has the BNPL option but only for small retailers and not consumers.