Padma Bridge to reduce industry, tech gaps in south
Entrepreneurs say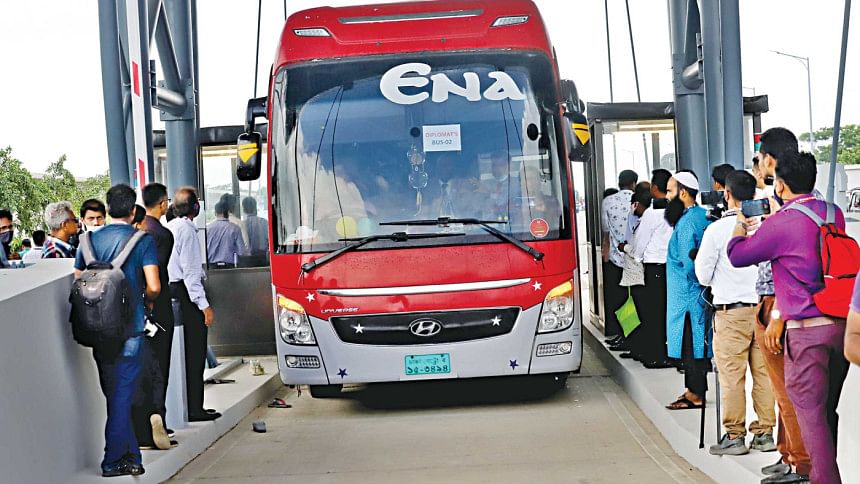 Padma Bridge will not only increase connectivity in Bangladesh, but also revolutionise the industrial landscape in southern parts of the country by creating new business avenue of opportunities, according to various entrepreneurs.
The 6.15-kilometre steel truss bridge officially opened for public use yesterday and at present, an average of about 24,000 vehicles will use it daily but the number is projected to hit 67,000 by 2050.
"Padma Bridge delivers a huge boost to connectivity by enabling our products to reach southern parts of Bangladesh at a much faster pace," said M Anis Ud Dowla, chairman of ACI Group.
His comments came after Prime Minister Sheikh Hasina inaugurated the country's longest multipurpose bridge yesterday.
"It will cut down travel time, which is a boon for the entire country, and it is really a matter of pride that we were able to build it with our own resources," he added.
Dowla went on to say that many agro-processing companies will now expand their businesses into southern districts while a number of new ventures of the sort are sure to pop up as well thanks to the region's increased connectivity with the rest of Bangladesh.
"It is better to build agro-processing businesses in agricultural zones but despite having the right conditions, such units have not been developed much due to the previous lack of connectivity," he said.
"Now this problem is solved."
Besides, low-income people will have more job opportunities as the increased connectivity will spur industrial growth in the region, Dowla added.
Md Jashim Uddin, president of the Federation of Bangladesh Chambers of Commerce and Industry, said Padma Bridge will contribute to the country's overall gross domestic product (GDP) growth by creating both domestic and international trade opportunities, especially in South Asia.
It is expected that Padma Bridge will add 1.5 per cent to the GDP and change the lives of more than 3 crore people in the country.
Several other development projects were also undertaken centring Padma Bridge and so, the completion of all these initiatives will lead to extensive development in the country's infrastructure.
With the construction of this bridge, southwestern districts, which are lacking in technology and industry, will be able to catch up with other parts of the country, and regional trade will flourish.
The president of Bangladesh's apex trade body said the bridge will make significant contributions towards agriculture, industry and communication in the region.
Besides, the regional education and healthcare systems will also be developed.
"This will result in enhancing the socio-economic conditions and living standards of southwestern people."
Padma Bridge, which will connect southwestern districts with the capital, will bring a revolutionary change in the agriculture industry of Khulna as it would reduce transportation costs and save time.
"I think the inauguration of Padma Bridge will result in the setting up of new industries, economic zones, high-tech parks and multiple tourist spots," Uddin said.
Investors will be more motivated to expand their businesses in the region as Padma Bridge will increase the ease of doing business and reduce the travel time to other parts of the country.
With the launch of Padma Bridge, an integrated communication system will be developed across Bangladesh. Padma Bridge will revolutionise industries by connecting the Mongla and Payra ports.
The land ports will gain huge benefits from the bridge by handling increased trade between India and Bangladesh. Export and import through Mongla land port are expected to gain pace now that Padma Bridge is open.
This is because imported goods can reach Dhaka within three-and-a-half to four hours from Mongla port due to the wider roads and rail connectivity.
But to ensure that this does indeed occur, the capacity and services of the ports need to be enhanced and improved, Uddin added.
Firoj Alam, chief marketing officer of Walton Hi-Tech Industries PLC, said Padma Bridge will greatly contribute to the country's overall economic development and that it is definitely a positive for companies like his.
"It will be easier and faster to transport our goods to southwestern districts because of this bridge," he added.
Mostafa Kamal, chairman of Meghna Group of Industries, said Padma Bridge will be helpful in facilitating poverty alleviation through economic growth starting in the southern region.
Kamal said Bangladesh's economy has undergone major changes in the last 10 years.
"Economic activities have increased much more than before. In view of this, the significance of Padma Bridge is now much more," he said.
The major aspect of Padma Bridge is that it will save time, fuel consumption and labour hours for people in the mid-west, southwest and southern regions, Kamal added.
Humayun Rashid, managing director of Energypac Power Generation, said the high voltage transmission lines that run along Padma bridge will transmit electricity generated in southern districts, especially by the Payra power plant, to the rest of the country.
He said Padma bridge can help offset certain worries for export oriented-industries if Chittagong Port becomes dysfunctional due to any natural disaster as products could still be shipped through Payra port.
"Khulna was once an industrial zone and this bridge will help revive that past glory," he added.