Non-leather footwear exports can reach $1b by 2025
As per a market assessment of Bida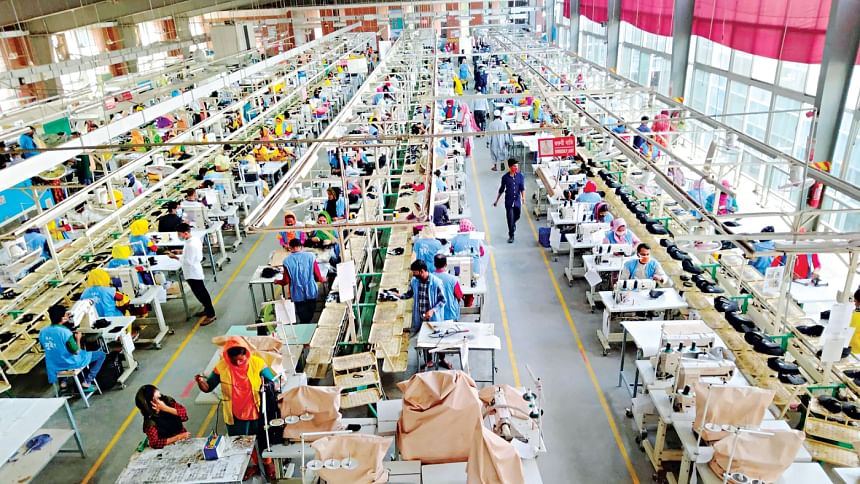 Exports and domestic sales of Bangladesh's synthetic and athletic footwear sector have been witnessing some of the highest growths among those of other sectors, according to a market assessment of Bangladesh Investment Development Authority (Bida).
Exports have been increasing at an average annual rate of about 20 per cent over the last six years thanks to increased demand from global brands, said insiders of the industry and Export Promotion Bureau.
During the July-November period of the current financial year, non-leather footwear shipments bagged $209.50 million in export earnings, up by roughly 19.44 per cent year-on-year.
The industry's annual export earnings reached $449.15 million last year, a year-on-year gain of a whopping 30.39 per cent, shows data from the Export Promotion Bureau.
Footwear sales amount to $550 million, accounting for the largest share in non-leather goods, and have created employment for 165,000 people, according to Bida.
The growth in shipments is due to increasing work orders from renowned international buyers and brands such as H&M, Puma, Decathlon, FILA and Kappa, it said.
The products being sourced include sandals, flip-flops, boots, jute-based espadrilles, canvas or rubber shoes, sneakers and molded polyurethane and PVC shoes.
The main export destinations are Spain, France, the Netherlands, South Korea, India, Italy and Germany.
Due to increasing global preference for environment and animal-friendly products, consumers across the world are switching to products like jute, plastics, textile and polyurethane leather.
Bangladesh has a robust ecosystem for manufacturing synthetic textiles and enjoys the availability of skilled and economical human capital, said the government's investment promotion entity.
Besides, the government designated it as a highest priority sector in its export policy, it said.
Regarding investment potentials of the sector, Bida said there was duty-free access to 52 countries, including the European Union under a generalized system of preference (GSP) framework for suppliers of non-leather goods.
Investors from Taiwan and China have already showed interest to invest in the non-leather footwear sector through joint ventures with local investors, said Lokman Hossain Miah, executive chairman of Bida.
"We have discussed with local investors about potentials of the sector. There is the potential to increase exports to $1 billion by 2025 and $2 billion by 2030," he said.
Bida said it was ready to cooperate with investors from home and abroad to promote the sector and increase foreign direct investment to develop the backward linkage industry.
The buyers realised the capacity and quality of the products which prompted them to place orders, said Riad Mahmud, managing director of Shoeniverse Footwear.
Besides, the buyers are shifting their focus from China to reduce dependency on a single, which is helping to the sector grow rapidly, he said.
"We are also able to offer competitive prices of synthetic shoes…which helped to attract globally renowned brands and new buyers," he noted.
Shoeniverse Footwear has taken up an initiative to build up a "shoe city" focusing supply of all accessories to reduce lead times, he said.
"I discussed with buyers to invest in this sector which would help the sector grow significantly," he said.
"If the plan materialises, shipments will also thrive rapidly as we will get raw materials, necessary accessories and designers under one umbrella," he said.
According to him, manufacturers now have to spend at least three and a half months to negotiate and ensure an export order.
The exporters get a cash incentive of only 4 per cent while the leather footwear sector receives 15 per cent, he said.
He also said synthetic footwear was now a major industry in spite of the presence of very few large-scale companies as a very small amount of investment was needed to set up an export-oriented factory.
"We need more skilled designers and locally made raw materials," Mahmud said.
Maf Shoes is another company that receives a huge number of orders from European buyers, according to Executive Director Mohammad Shahadat Ullah.
This wholly export-oriented sister concern of TK Group has a capacity to produce 50,000 pairs of shoes daily.
Maf Shoes has taken up an initiative to invest Tk 1,118 crore to establish an export-oriented footwear manufacturing unit alongside other backward linkage industries at Bangabandhu Sheikh Mujib Shilpa Nagar in Chattogram.
Ullah is hoping to get 50 acres of land from Bangladesh Economic Zones Authority.
"We need to expand manufacturing capacity to increase growing exports and provide backward linkage products to local footwear manufacturers," he said.
However, he said, at this moment exports have slightly come down due to the Russia-Ukraine war.
He said if the situation does not improve, the company would be able make to ship out at best 1.5 crore pairs, equal to that of 2021.