MFS helping Bangladesh become digital economy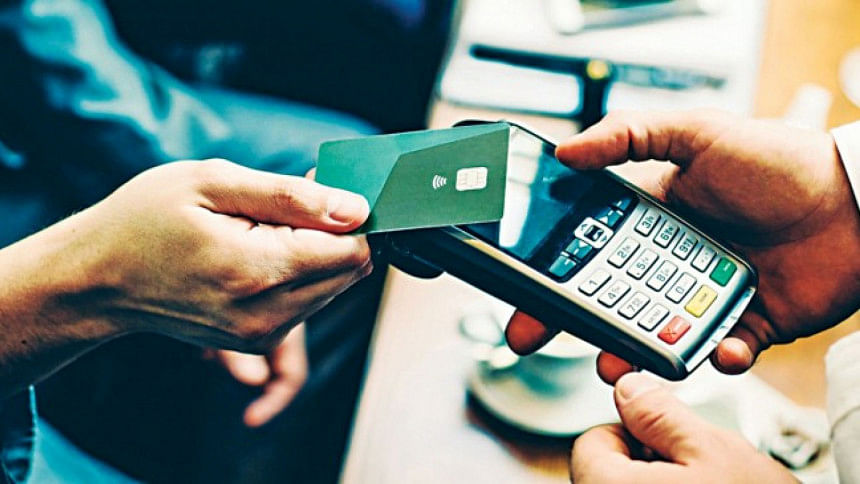 Vision 2021, commonly known as Digital Bangladesh, one of the long-term socioeconomic development goals of the country, was unveiled more than a decade ago, and initiatives were taken accordingly by the government.
As part of the efforts, the Bangladesh Bank issued licences for mobile financial service (MFS). It aimed to bring the unbanked people into the formal financial sector and lead to greater financial intermediation and contribute to growth.
MFS is revolutionising the traditional money transaction process and within a very short period of time, it was widely accepted thanks to affordability and the secure medium of transaction. Tech-savvy population, mobile connection, and internet penetration have played an active role for the bullish growth of the MFS sector since its inception.
In July 2021, the number of registered MFS users reached 10.27 crore. It grew 159 per cent in the last four years.  The number of monthly MFS transactions was 32.64 crore in July.
In recent years, Bangladesh has witnessed a rapid growth of digitalisation, which is slowly changing the shape of the country's socioeconomic parameters and pushing it towards the digital age. MFS operators are contributing to transforming Bangladesh into a digital economy.
Over the last couple of years, Bangladesh has remarkable progress in enhancing financial inclusion. And as a key driver, MFS has played an active role. In 2013, the financial inclusion rate was 20 per cent. It rose to 55 per cent in 2019. 
In parallel with the growth of digital payment, the e-commerce sector's expansion has exceeded all expectations.
From January 2020, retail e-commerce has been growing at 72 per cent a month on an average, and is projected to cross Tk 25,500 crore by 2023, powered by easy digital payment gateway through MFS platform and internet penetration.
Going cashless has multiple micro- and macro-level advantages. It not only eases one's life, it also helps reduce paper currency production cost.
Digital payments have been growing steadily in Bangladesh for the last several years, thus helping the country boost revenue collection.
As per Bangladesh Bank statistics, monthly transaction volume grew more than 50 per cent year-on-year to Tk 62,230 crore in August 2021, which was Tk 41,403 crore in the same month last year.
In 2017, the Economist published a widely referenced article claiming that oil had been replaced as the world's most valuable resource by data. Data is the raw product for a digital economy. In Bangladesh, one of the biggest sources of financial information is MFS.
Decision-makers, both in public and private sectors, rely on data to make decisions. Using artificial intelligence and machine learning technology, the 10.27 crore customers' transaction trend and numbers can be a potential source of information for effective disaster and pandemic relief management and running government safety nets, social welfare and other development programmes.
The government's decision to distribute the fund under its social safety net programmes through MFS will ensure faster execution and transparency and bring more unbanked people under the formal financial system.
Currently, Bangladesh runs more than 125 social protection programmes through 20 ministries and divisions. The government has allocated Tk 95,570 crore for social protection purposes in the current fiscal year.
The MFS sector plays a key role in supporting the government's policy to transfer benefits digitally instead of cash payments. One of the most significant applications is taking place in case of the Primary Education Stipend Programme. Some 13 million primary-level students get government stipends amounting a total of Tk 4,000 crore through MFS.
During the pandemic, the use of MFS has increased in the education sector, from paying college admission and tuition fees to disbursement of salaries. This is directly contributing to transforming digital education. 
Over the last four years, inward remittance through MFS increased by 3,569 per cent. Recently, Bangladesh has recorded its first block chain-based instant cross-border remittance service. The feat was made possible thanks to a partnership between Standard Chartered Bank, bKash of Bangladesh, and Valyou of Malaysia.
Digital bill payments through MFS are becoming popular. In August, bills paid totaled Tk 1,323 crore, which was Tk 225.49 crore in September 2016.
Merchant payment rose three times to Tk 3,465 crore in August, which was Tk 1,062 crore in the same month last year, and salary disbursement through the MFS system almost doubled to Tk 1,903 crore from Tk 1,063 crore in August last year.
In Bangladesh, people are often compelled to take loans from informal sources due to complex terms and conditions along with longer lead time to meet their emergency needs. Recently, City Bank and bKash rolled out digital lending on a pilot basis.
Now, loan-seekers no longer need to go through a completely physical process to secure a loan. This will bring transformative change to the life of marginalised people, micro-entrepreneurs, and students to meet their emergency personal or business needs.
Also, some financial organisations are collecting loans and deposit pension scheme instalments through MFS. Insurance companies are also shifting their focus to digital system to accelerate collection and improve customer payment journey.
The government's recent initiative to allow micro-businesses to receive payment through digital means is indeed a very positive move for our digital economy.
Industry experts believe that cashless society is an indispensable part to achieve further economic growth, and having access to digital financial services and enhancement of digital financial inclusion will help drive economic development.
The government and corporations have already started taking steps towards digital financial inclusion and digital finance, and such initiatives are giving hope for a better future. This will directly contribute to achieving our next two targets: an upper-middle-income country by 2031 and a developed country by 2041.
The author is the head of supply chain and procurement at bKash.