Local airlines look to rebound from pandemic losses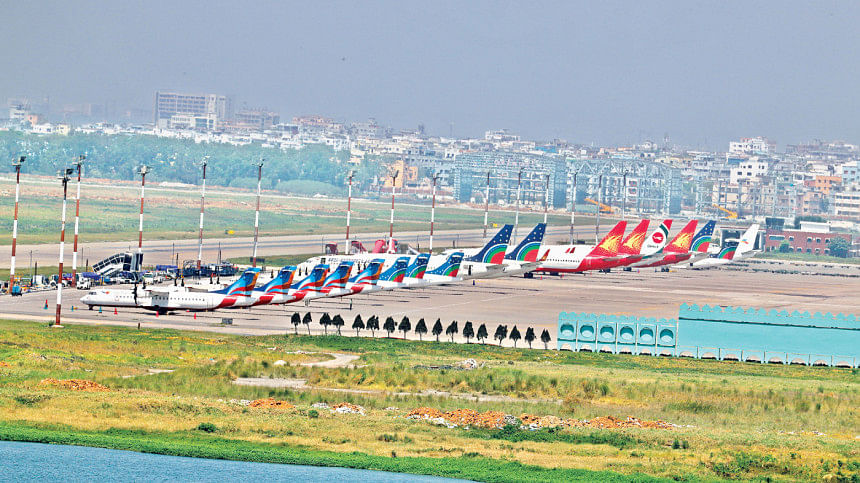 The year 2022 had been a good year for Bangladesh's two local airlines thanks to increased flow of travellers after the authorities lifted pandemic-related restrictions.
The operators said the rise in passengers helped them narrow down severe losses they had suffered because of the halt in carrying passengers.
And if the trend continues in 2023, they would be able to do better.
The reaction of the local airlines is similar to the views of International Air Transport Association (IATA).
In early December of 2022, it said to have expected a return to profitability for the global airline industry in 2023 as airlines continued to cut losses stemming from the effects of the pandemic to their business in 2022.
And in spite of the growing economic uncertainties with a slowdown in global gross domestic product (GDP) growth, airlines are expected to post a small net profit of $4.7 billion in 2023, it said.
It will be generated on the back of a lower oil price, inflation and continued prevalence of pent-up demand which should help keep costs in check as the strong growth trend continued, it said.
In spite of the growing economic uncertainties with a slowdown in global gross domestic product growth, airlines are expected to post a small net profit of $4.7 billion in 2023, said International Air Transport Association
Locally, state-owned Biman Bangladesh Airlines had carried around 16.35 lakh passengers in the July-December period of the year 2022, said a top official of Biman.
It is almost double the 9 lakh passengers it transported on the international and domestic routes during the same period a year ago, he said.
He said the national flag carrier fetched Tk 3,800 crore in revenue in the six months, up 80 per cent year-on-year.
Including Biman, Bangladesh has four local airlines now in operation while another one, Fly Dhaka is likely to start operation. Four other local airlines are now grounded.
Besides, nearly 30 foreign carriers are operating flights to and from Bangladesh registering roughly 80 lakh domestic and international travellers annually, with migrant workers being the main passengers.
Kamrul Islam, general manager, public relations at US-Bangla Airlines, said the airline had 90 per cent of its seats occupied on some routes last year.
US Bangla Airlines operates flights on all 10 domestic airports, and a number of international destinations namely Kolkata, Chennai, Sharjah, Doha, Muscat, Kuala Lumpur and Singapore.
"We could not fly between domestic destinations for a long time owing to restrictions. After lifting of the restrictions in 2022, we have been able to recover a lot," he said.
Islam said overall, seat occupancy rate grew to 85 per cent in flights last year, up from 60 per cent in 2021.
"The year 2022 was the period of recovery for us. The year 2023 is expected to be good. If so, we will be able to recover from the losses we suffered for coronavirus pandemic," he said.
He said airlines could not operate fully in 2020 and in part during the year 2021 because of the Covid-induced restrictions on air travel both inside and out of the country.
Yet, carriers had to face increased operational cost. One of the reasons is an increase in jet fuel prices.
Jet fuel was Tk 46 per litre in the October-November period of 2020 and has risen 172 per cent to Tk 125 per litre now, said Kamrul Islam, general manager, public relations at US-Bangla Airlines.
"Fuel cost accounts for nearly half of our operational cost," he said.
For Novoair, the year 2022 however was not a good year compared to the previous year of 2021, said Managing Director Mofizur Rahman.
"After the global Covid-19 pandemic, we passed a good year in 2021. The number of passengers were good in between January and March, 2021," he said, adding that the number of passengers later decreased.
And the number of passengers decreased by 30 per cent to 35 per cent in 2022 compared to that in 2021, he said.
Usually, the number of passengers remain high during the period of November and December, he said.
"But in this year, we were forced to cancel many flights during this time due to a shortage of passengers," said the chief of Novoair which launched commercial operations a decade ago.
The airline currently operates flights to all domestic destinations, except Barishal. Its lone international destination is Kolkata.
Imran Asif, chief executive officer at Air Astra, a newly launched domestic airline, said domestic air travel was the primary driver of recovery of the airline industry globally.
"In case of Bangladesh, domestic air travel recovered at a quicker pace than other countries. This is because of resilience of the people of Bangladesh," he said.
"Besides, Bangladesh's economy grew even during the pandemic when countries suffered contraction," he said.
Movement of people engaged in mega projects implemented by the government also supported the recovery, he said.
"And although a number of projects is going to be completed, we will reap the benefits as the projects will drive economic growth once these become operational," he said.
"As a result, air travel will increase as economic growth is one of the drivers of airline industry," Asif said.
Bangladesh's air transport industry has created 17,000 jobs and it contributed $769 million to the country's GDP, according to an estimate by the IATA in 2018.
Passenger numbers are expected to reach 1.93 crore by 2038, it predicted at that time.
Asif said the projection was made before the pandemic and air transport prospects would be better if the assessment was conducted now.
To facilitate the growth of the local airlines, he urged the government to ensure purchase of fuel at competitive rates.
Jet fuel prices should be equal for all operators. It should not be abnormally high that affects competitiveness of local airlines, he said.
Asif said local carriers bring in foreign currencies as opposed to international airlines. "So, the government should give us an easy solution so that we can make payments for our purchases and leases and compete," he added. 
Kazi Wahidul Alam, editor of the Bangladesh Monitor, a tourism and aviation industry fortnightly, said local airlines could turn around to a great extent because of the recovery in air travels in 2021 and 2022.
International travel increased a lot in 2022 for recovery in travels, and Bangladeshi airlines, especially Biman and US Bangla, have got a fair share from the spike. The prospect for local airlines looks great, he said.