LC opening for most commodities, machinery dips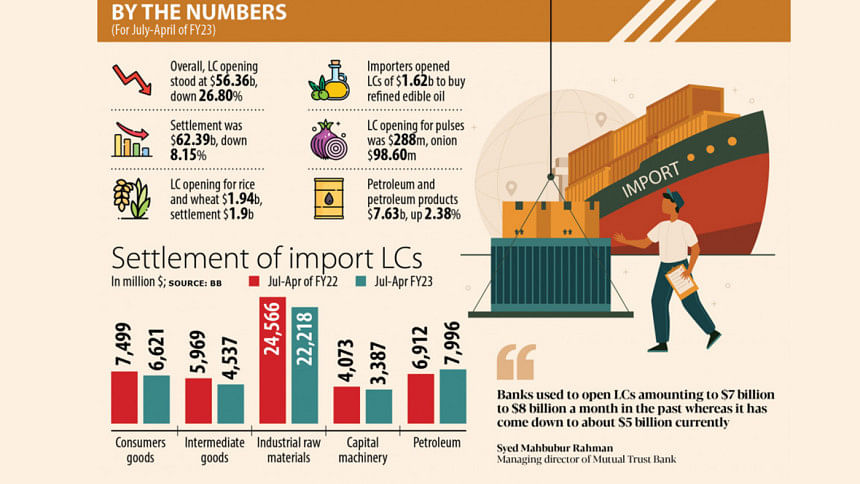 Importers opened a lower volume of letters of credits (LCs) in July-April for the purchase of essential commodities such as rice, wheat, sugar, crude edible oil as well as raw materials and machinery key to the industrial sector, figures from the central bank showed.
On the other hand, the LC opening for pulses, spices, coal and petroleum products went up in the first 10 months of 2022-23, according to the monthly update of various economic indicators.
Overall, the opening and settlement of LCs fell 26.80 per cent and 8.15 per cent year-on-year in July-April owing to import controls enforced by the government and the central bank with a view to stopping the erosion of the foreign currency reserves. 
Owing to higher commodity prices in the global market, the forex reserve has fallen by about 28 per cent in the past one year, sliding to $30.35 billion on May 10 from $41.95 billion on the same day last year.
BB data showed the LC opening stood at $56.36 billion in July-April, down from $76.99 billion from a year ago. The settlement fell to $62.39 billion from $67.93 billion. 
Ahsan H Mansur, executive director of the Policy Research Institute of Bangladesh, thinks the LC opening has dropped owing to both price adjustments and volume adjustments.
He explained that globally, commodity prices have fallen compared to the pre-war level. "So, we are being able to purchase commodities at reduced costs. This is good for us. But the import might have fallen in terms of volume as well, which is not good for us."
The former official of the International Monetary Fund says owing to the US dollar crisis, many businesses are not being able to import.
Central bank data showed that the opening of LCs for rice and wheat stood at $1.94 billion in July-April, down 14.38 per cent from a year ago. The settlement fell 11.21 per cent to $1.9 billion.
LCs worth $880 million were opened to procure sugar and salt from international markets, a decrease of 8.45 per cent from $961 million during the same period last year.
The settlement declined 17.19 per cent to $688 million.
Banks processed LCs amounting to $1.62 billion to help businesses buy refined edible oil in the first 10 months of FY23, an increase of 14.88 per cent from $1.41 billion a year earlier. The settlement surged nearly 50 per cent to $1.74 billion.
Syed Mahbubur Rahman, managing director of Mutual Trust Bank, said banks used to open LCs amounting to $7 billion to $8 billion a month in the past whereas it has come down to about $5 billion currently.
He, however, questioned whether Bangladesh would able to keep the imports at the current level since it is related to the economic growth, job creation and investments.
"Bangladesh is an import-dependent nation and we will have to ensure adequate imports to keep the wheels of the economy running."
Overall, the opening of LCs for consumer goods fell 18.19 per cent to $6.68 billion. It was $4.49 billion for intermediate goods, a drop of 31.39 per cent.
The LC opening for industrial raw materials went down by 31.85 per cent to $19.22 billion.
The LC opening for textile fabrics declined 28.85 per cent to $7.76 billion. Similarly, importers opened 42.52 per cent lower LCs at $2.02 billion to buy raw cotton and 53.73 per cent lower at $1.39 billion for cotton yarn.  
Importers opened LCs amounting to $2.45 billion for capital machinery, a fall of 56.91 per cent from a year earlier, according to the central bank's monthly report.
The LC opening and settlement for fruit imports fell 34.56 per cent and 35.90 per cent to $294.70 million and $251.40 million, respectively, between July and April. 
Banks opened the instruments amounting to $288 million to help traders import pulses, which were 30.48 per cent higher than a year ago. LCs worth $278 million were opened for spices, up 25.19 per cent year-on-year, while it fell 35.28 per cent to $98.6 million for onion.
The LC opening for the import of petroleum and petroleum products rose 2.38 per cent to $7.63 billion in July-April, driven by a large increase for the purchase of refined items.
LCs valued at $3.91 billion were opened to buy refined petroleum products, up nearly 30 per cent from a year ago. The settlement surged 58.87 per cent to $4.2 billion.
The opening of LCs for bringing in capital machinery for textile, leather, jute, garment, pharmaceuticals and packaging industries fell between 40 per cent and 70 per cent. 
The LC opening for crude edible oil dropped 12.06 per cent to $388 million. Traders opened 30.48 per cent higher LCs for pulses at $288 million.
Rahman thinks there is no alternative to bringing the financial account of the balance of payments to the positive territory by the way of accelerating export and remittance earnings and attracting foreign portfolio investments and foreign direct investments. 
The financial account covers claims or liabilities to non-residents concerning financial assets. Between July and March of 2022-23, the financial account registered a deficit of $2.21 billion in contrast to a surplus of $11.92 billion a year ago.
Historically the financial account of Bangladesh has experienced a surplus almost every year.
"There is no other way but to increase the supply of US dollars," Mansur said.
"We are getting some dollars from development partners. But the volume is not adequate. So, we will have to go for the floating exchange rate to improve the supply situation of the American greenback."