Exports dip in first half of current fiscal year
Dollar crisis leads to problem in import of raw materials, production fall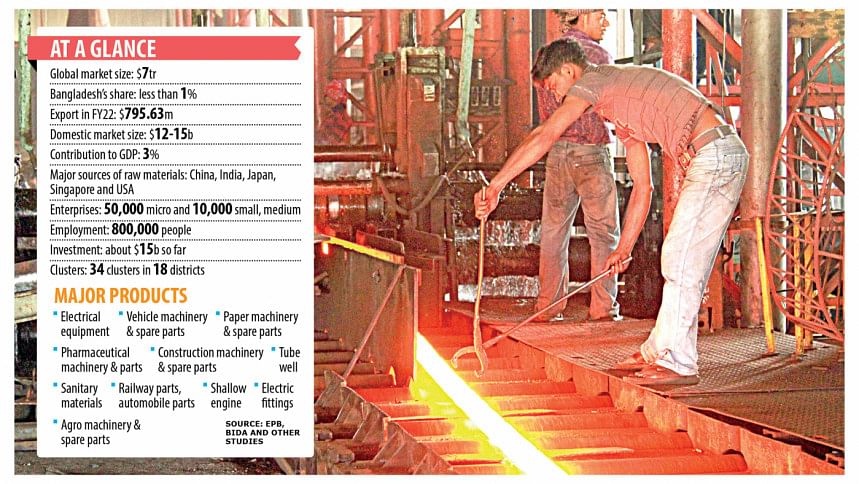 Exports of light engineering equipment, including stainless-steel and iron ware, from Bangladesh have decreased in the first six months of the current fiscal year compared to the same period the year before.
Businesspeople say the sector's export volume has decreased due to difficulties in opening letters of credit (LC) for importing raw materials amid the ongoing dollar shortage, resulting in lower production.
The decrease in investments in the infrastructure sector in different countries worldwide in the post-coronavirus period and current global economic crisis has reduced the volume of exports, they said.
Not being able to compete with the prices offered by China is another reason behind the decline in exports.
Besides, the global economy continues to face steep challenges stemming from Russia's invasion of Ukraine and a cost-of-living crisis caused by persistent and broadening inflation pressures, which are affecting exports as well, they added.
The decrease in investments in the infrastructure sector in different countries in the post-coronavirus period and current global economic crisis have also reduced the volume of exports
According to data from the Export Promotion Bureau, engineering equipment exports amounted to $54.56 million in the first half of fiscal 2022-23.
However, the sector had exported goods worth $175.94 million during the same period in fiscal 2021-22.
Apart from this, some $1.11 million worth of stainless-steel ware were exported in the last six months ending with December while it was $2.49 million in the same period of the previous fiscal year.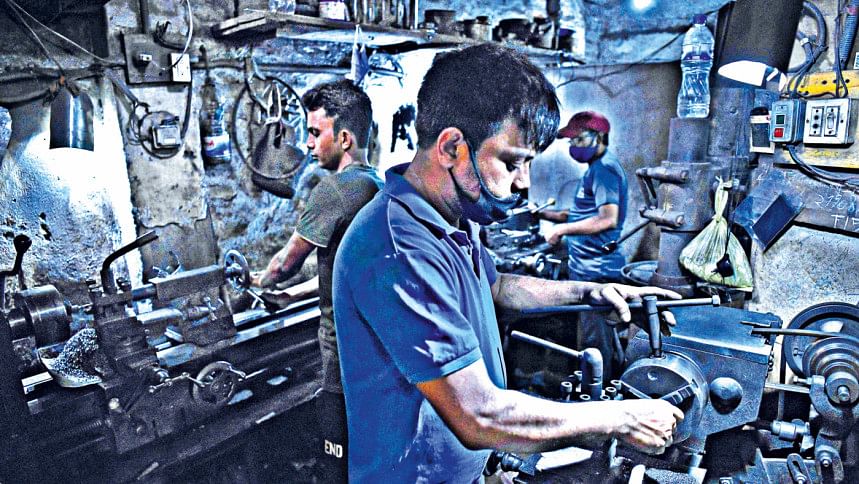 Similarly, ironware worth $33.12 million was exported at the same time compared to $81.51 million the year before.
Sohel Rana, chief business officer of electrical appliances at Walton Hi-Tech Industries, said they exported fans, LED lights and switch sockets to Nepal, Bhutan, India, Uganda, East Timor, Mali, Yemen and Sri Lanka.
He then said they are not being able to properly open letters of credit due to the US dollar shortage and price fluctuations.
For example, the price of raw materials such as resin has increased.
The resin that used to be bought at Tk 150 per kilogramme (kg) about a year ago is now being bought at Tk 250 per kg.
"At the same time, there is a raw material crisis," Rana added.
He believes that Bangladesh's inability to compete with China on prices is also one of the reasons behind the decline in exports.
Humayun Rashid, managing director and chief executive officer of Energypac Power Generation, said investments in the infrastructural sector has decreased in many countries in the post-coronavirus period due to increased investments in the health sector.
"This has had a negative impact on exports of engineering-based products from Bangladesh," he added.
Exporting engineering products from Bangladesh is tough as there is a roughly 35 per cent duty on raw material imports.
"It takes at least a year to get this duty back and so, the policy needs to be changed," Rashid said.
He went on to say that letters of credit for importing scrap, graded steel and other raw materials cannot be opened amid the US dollar shortage.
In addition, the prices of various raw materials have increased by 32 to 60 per cent on average, Rashid added.
The sea carries more than 80 per cent of the world's traded goods, according to data from the International Monetary Fund.
In Bangladesh, many businesspeople and entrepreneurs are concerned about the rising cost of sea freight per container.
Due to the impact of Covid-19, the rent of container transportation around the world has been increasing since last year.
The rent has risen by five to ten times compared to normal times and this has affected business a lot, ‍said Abdur Razzaque, president of the Bangladesh Engineering Industry Owners Association.
He then said the country's engineering industry is facing various crises, including raw material shortages, increased import costs and lower production.
"This has had a bad impact on exports," Razzaque added.