IT export to Japan surges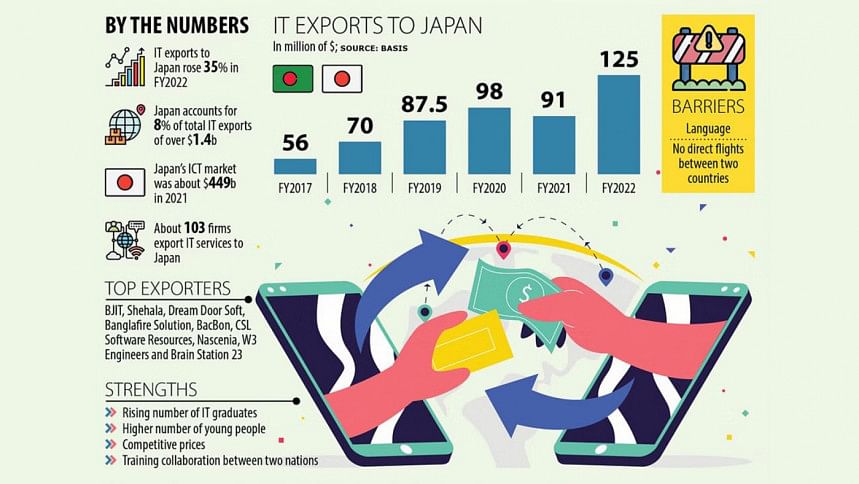 Local software and other information technology-enabled services (ITES) exports to Japan have witnessed a surge in recent times as Bangladeshi companies have established a foothold in the East Asian country. 
Export of information technology to Japan jumped by over 35 per cent to $120 million year-on-year in fiscal year 2021-22, according to the Bangladesh Association of Software and Information Services (BASIS). In 2016-17, it was at only $56 million.
Japan accounts for about 8 per cent of Bangladesh's total annual IT exports of over $1.4 billion, according to the top trade body for software and ITES industry of Bangladesh.
Industry people said local engineers' hard work, quality and commitment have led to the opening of the IT export opportunities to Japan.
Japan had one of the biggest IT markets in the world in 2021 with an estimated value of $449 billion, said market research firm Research and Markets.
Besides, affordable prices compared to other competitors also created the opportunity, said the industry people.
Industry people say local engineers' hard work, quality and commitment have led to the opening of the IT export opportunities in Japan
"The Japanese IT community now knows Bangladesh as a solid IT exporting nation," said Russell T Ahmed, president of the BASIS.
"When Japanese companies look for outsourcing any IT services, Bangladesh comes on their maps," he added.
Now about 23 firms directly export IT services to Japan and another 80 firms indirectly.
BJIT Group, which was established in 2001, was one of the pioneers in IT exports to Japan with some 10 to 12 engineers.
Now the company has about 80 engineers directly working from Japan while 350 more engineers are working for Japan projects as offshore developers from Dhaka, said its chief operations officer, Masud Mehedi.
It has a total of 800-strong workforce.
"Initially, it was very tough to make them understand that there are IT outsourcing opportunities in Bangladesh."
The general impression of Japanese clients about Bangladesh is that it is a flood-prone country with a lot of garment workers, he said.
But the BJIT adopted a strategy -- it started inviting Japanese firms' officials to Bangladesh, he said.
"Then, we gave them very welcoming receptions. And when they met with our engineers, confidence in Bangladesh started to grow and relations were built," he added.
After 2012, other companies ventured into the market and it has now become much easier to onboard a Japanese firm, said Mehedi.
Earlier, the market was mainly centred in Tokyo and now it has extended to Miyazaki, Hokkaido prefectures and other cities, he said.
According to him, the Japanese have a perfectionist mentality, which is the primary barrier for any company aspiring to make exports.
"You have to complete the task with over 100 per cent perfection, no 99 per cent applicable for Japanese," he added.
"Our engineers can understand them after working on a few projects. Once the relationship is built and Japanese clients trust you, you will get a lot of orders. Face value is important there, which is somehow also exist in our society too," he said.
Other top local IT firms exporting to Japan are Shehala, Dream Door Soft, Banglafire Solution, BacBon, CSL Software Resources, Nascenia, W3 Engineers and Brain Station 23.
In early April, a 27-member delegation comprising representatives from 15 Bangladeshi IT companies took part in a three-day Japan IT Week 2023 at convention centre Tokyo Big Sight.
One of them was Brain Station 23, which has around 700 employees.
"We got more than 30 leads from the IT week. Two more companies got more leads. Besides, I got to know more about Japan by talking to Bangladeshi engineers in Japan," said its co-founder and CEO, Raisul Kabir.
"The language remains a key barrier in Japan, but it is slowly dissipating, since there are now many Bangladeshi people there who know English and they are available as translators or as bridge makers. As a result, there is now more opportunity to work than before," he added.
Now Japan's first choice is Vietnam because of the Japanese language skills among their IT engineers. To get more work in Japan, Bangladesh needs to focus on the Japanese language like the Vietnamese, he added.
Kabir also urged the government to start a direct flight from Dhaka to Japan at least twice a week.
"It now takes a full day to get to Japan where it can be reached in just six hours from Vietnam. If the direct flight is launched, many Japanese people will be able to come to Bangladesh easily and Bangladeshi companies will also be able to go to Japan easily," he added.
Despite the growth, the footprint of local companies in Japan is just the tip of the iceberg since Japan has a mammoth IT market, said industry people.
As the population of Japan is going down, the country has a shortage of over 8 lakh engineers, said Ahmed, the BASIS president.
He thinks Japan's IT industry should invest in Bangladesh and Bangladesh's fast-moving IT and ITES sector was poised to open new opportunities for Japanese ICT entrepreneurs and investors.
The BASIS and Japan Information Technology Services Industry Association signed a memorandum of understanding to increase collaboration during the Bangladesh prime minister's visit to the country in late April.
"This will create a huge opportunity for industry-to-industry communication and give a boost to the local ICT sector," he added.