Shipbuilding sector: Investment rises despite gloom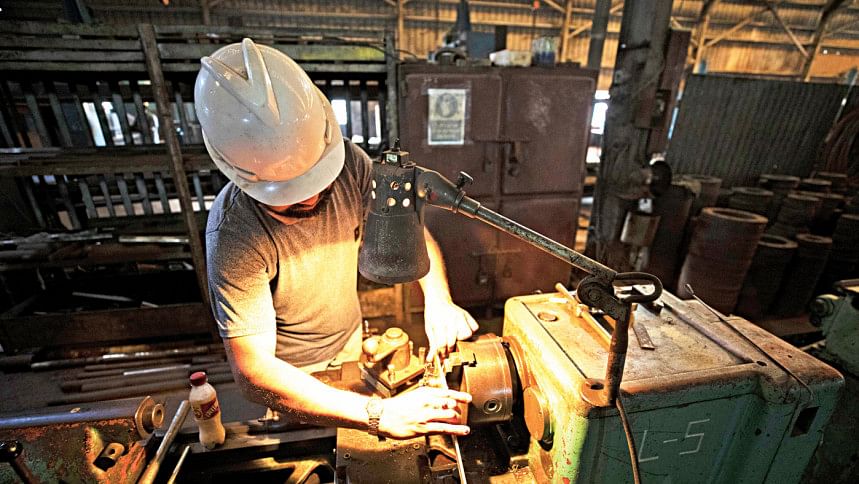 Entrepreneurs in Bangladesh have pumped billions of dollars into the shipbuilding sector in recent years to meet their own demand for vessels as well as regain the international market.
Their entry came despite sinking ship exports from Bangladesh, driven by the global financial crisis of 2007-2008, collapse in demand, and failure to maintain international standards and deliver vessels on time.
Ship exporters fetched only $0.2 million in the last fiscal year, the lowest in a decade, according to data from the Export Promotion Bureau.
Export proceeds stood at $0.18 million in the July-April period of the current fiscal year, slightly up from $0.16 million during the same period a year ago.
Although the ship export is in a tight spot, a big market has been created, thanks to Bangladesh's fast-expanding international trade through sea routes.
More than 90 per cent of the country's $110 billion international trade takes place through seas. Hundreds of ships are needed every year to provide the service.
Today, Bangladesh has more than 100 shipbuilding yards, with most serving the local market, worth more than Tk 3,000 crore.
According to the latest report of the United Nations Conference on Trade and Development, Bangladesh has moved 13 places up to 14th in the shipbuilding industry in a span of five years, ahead of the US, India, Singapore, and Spain.
The success has been achieved by major industrial groups, including Meghna Group, City Group, and Delta Shipyard, a joint investment of TK Group and Seacom Group.
Meghna Group has so far manufactured the highest number of ships of international standards.
The group started investing in the sector in 2008 and has built 110 ships so far at the Meghna Shipbuilders & Dockyard, a subsidiary of the group, at Meghnaghat in Sonargaon of Narayanganj.
In the last three years, the company has produced 45 ships operating in coastal areas.
"In order to bring raw materials from the Chattogram port to factories or warehouses by inland waterways, a larger ship is needed instead of a lighter ship," said Mostafa Kamal, chairman and managing director of Meghna Group, recently. 
"As the movement of goods is increasing, it is not possible to handle them in small ships. So, I've invested a lot in building relatively large ships."
The group has invested Tk 700-800 crore so far and employs more than 1,200 people.
"After meeting our own needs, we are now ready to export ships," Kamal said.
City Group, one of the largest commodity processors in Bangladesh, made its foray into the sector in 1996 to carry goods and raw materials from Chattogram to Dhaka.
It had a shipbuilding yard in Rupganj of Narayanganj that has now been shifted to Meghnaghat.
So far, it has built 60-65 ships. Another 20-25 ships are being built currently, said Biswajit Saha, director for corporate and regulatory affairs of the group, recently. 
It has pumped about Tk 2,000 crore into the sector and employs 4,000-5,000 people.
Despite sluggish business, shipbuilders are expected to continue their investment spree because of the local industry's potential.
Another reason is the market leaders of the global shipbuilding sector are not interested in producing small-sized ships of less than 25,000 DWT (deadweight tonnage) where Bangladesh can lead the way.
Globally, the market size of the shipbuilding sector is $1,600 billion whereas the small ships' market is worth around $400 billion.
If Bangladesh can grab 1 per cent of the market, the amount will be $4 billion, according to Prof NM Golam Zakaria, head of the naval architecture and marine engineering department at the Bangladesh University of Engineering and Technology.
Recently, the government signed a contract with two foreign companies to set up a shipbuilding facility at the Payra seaport in Patuakhali with an investment of $1.58 billion to cut import dependence for vessels and market ships globally.
State-run Bangladesh Steel and Engineering Corporation under the industries ministry will provide land to Gentium Solutions, a Singapore and Australia-based company, and Damen Shipyards Group, a Dutch company, to construct the shipyard.