Bangladesh emerged as a shipbuilding nation in 2008 when it exported its first ocean-going vessel to a Danish company and suddenly there were talks about the sector's immense potential and the country capturing a major share of the global shipbuilding market.
Ananda Shipyard & Slipways Ltd became the first shipbuilder to achieve the feat of exporting sea-going ships from Bangladesh, in a display of the country's growing manufacturing prowess.
Soon, existing companies pumped hundreds of crores of taka into expanding their footprint. New shipbuilders also sprang up.
But, within a few years, the momentum was lost as demand from western buyers, hit by the dragging impacts of the global financial crisis, evaporated. On the domestic front, local entrepreneurs failed to build on the initial success, maintain international standards and deliver vessels on time, denting the confidence of buyers.
A liquidity crunch and higher interest rates on industrial loans also contributed to the decline.
Subsequently, ship exports from the country started to fall. Exporters fetched only $0.2 million in the last fiscal year, the lowest in a decade, according to data from the Export Promotion Bureau.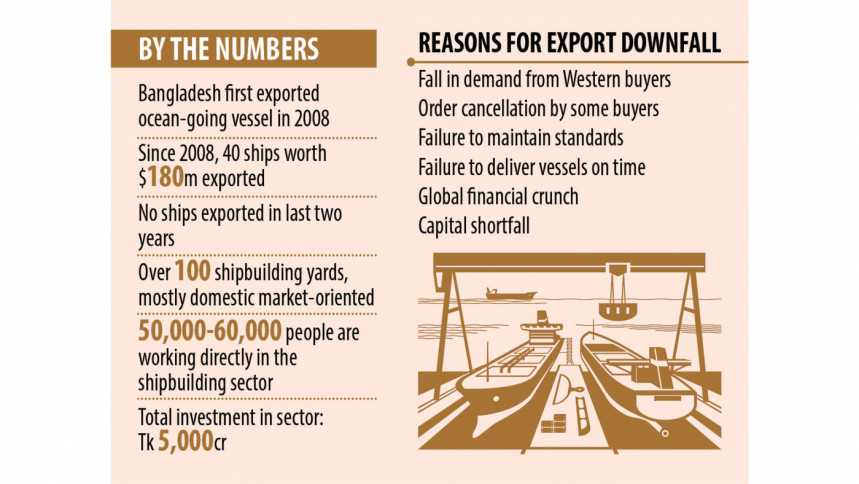 Export proceeds stood at $0.18 million in the July-April period of the current fiscal year, slightly up from $0.16 million during the same period a year ago.
Since 2008, Bangladesh earned around $180 million by exporting 40 ships to several countries in Europe, Africa, and Asia. However, no sea-going ships were exported in the last two years.
The last ships were exported in January of 2020 when Western Marine delivered two ships to Jindal Steel Works of India.
Bangladesh has more than 100 shipbuilding yards, with most serving the local market.
RIDDLED WITH CHALLENGES
Shipbuilders have to import around 50-60 per cent of raw materials since there is no backward linkage industry. As a result, it takes additional time to build a ship in Bangladesh compared to global competitors.
Vietnam takes one and a half years to build a ship, whereas Bangladesh takes two years to two and a half years. "So, buyers are shying away," said Sohail Hasan, managing director of Western Marine Shipyard Ltd.
In Bangladesh, there is no facility for designing international standard ships. The design work has to be done in Singapore, China, Europe, or India.
Until recently, a model ship could not be tested in Bangladesh as well.
A shipbuilder says they are facing a fund crisis as banks usually don't want to extend loans to them. Five to six companies that jumped into the bandwagon of building ships relying on bank loans are now unable to repay because of a lack of a steady revenue stream.
"It has created a negative impression among lenders," he said. 
M Abdur Rashid, managing director of Karnaphuli Ship Builders Ltd, which makes both ocean-going and inland vessels, says negative perception about Bangladesh among foreign buyers is hampering the industry.
According to Abdullahel Bari, president of the Association of Export-Oriented Shipbuilding Industry of Bangladesh (AEOSIB), exporters lost capital. Later, the coronavirus pandemic exacerbated the situation.
"We repeatedly demanded from the government a guaranteed reserve fund of $500 million to provide capital to the shipbuilding industry. We did not receive it. Nobody is paying attention to our demands."
Ananda Shipyard and Slipways Ltd, where Bari is the chairman, is set to send a ship to Germany with an export value of $7-8 million.
Uttam Ghosh, a deputy general manager of FMC Group of Companies, says the cost of building ships in Bangladesh is 15-20 per cent higher than in other countries such as China, Korea, Japan, and India.
Taxes on the imported spare parts have further increased the cost of manufacturing ships.
Prof NM Golam Zakaria, head of the naval architecture and marine engineering department at the Bangladesh University of Engineering and Technology, says the backward linkage industry has not been developed in Bangladesh despite its huge potential.
SADDLING WITH DEBTS
Because of the high-interest rate of bank loans, the sector has been in a severe financial crisis since 2010.
Shipbuilders borrowed Tk 1,500 crore at high interest rates. As a result, they are now saddled with interests and debts.
Shipbuilders were particularly hard hit by the global recession a decade ago. Some European buyers cancelled several export orders handing a huge loss to the entrepreneurs. As a result, some completed ships could not be exported.
Thereby, they were unable to repay the loan, and the debt has now grown to be around Tk 5,500 crore, Bari said.
Ananda Shipyard saw the creation of forced loans of Tk 620 crore with a bank in 2008. Now, the company owes around Tk 1,400 crore to the bank.
Western Marine Shipyard said it borrowed Tk 350 crore from various banks and leasing companies between 2009 and 2014. It now owes Tk 1,600-1,700 crore to the lenders.
WHAT DID GOVT PROMISE AND DID
In January, the cabinet approved the Shipbuilding Industry Development Policy 2020 to facilitate the growth of the labour-intensive sector and generate export earnings. The policy aims to fetch $4 billion through ship exports by 2025.
Under the policy, benefits and loans can be accessed by shipbuilders. This will also help create more jobs and reduce the country's import dependence.
In order to implement the policy, there are plans to reduce taxes and VAT as well as provide long-term loans to public and private shipbuilders.
Wishing anonymity, an official of the industries ministry said, "We met with the concerned stakeholders on several occasions. But no dedicated funds have been formed yet. We are working on it and trying to find out any alternatives to resolve the issue."
Prof Zakaria says the government has adopted many plans for the industry. But implementation is very slow.
He says the testing of model ships has started at the Buet.
In early 2021, the AEOSIB requested the finance and commerce ministries to form a Tk 6,000 crore refinancing fund. However, no progress has been made yet to this effect, Bari said. 
Recently, the central bank moved to unveil a Tk 2,000 crore refinance scheme for the sector.
The matter is at the final stage, said Md Sirajul Islam, an executive director and spokesperson of the Bangladesh Bank, in April. 
The AEOSIB has sought the refinancing facility at a 4 per cent interest rate.
A building to carry out the testing of a ship's model has been constructed at the Buet at a cost of around Tk 50 crore. The facility will help see whether a ship has been properly designed or not and find out the ship's performance, said Prof Zakaria.
He points out that the country's infrastructure needs to be improved to attract orders for new ships.
"Investment is needed in research and development to take the industry to the next level and build bigger ocean-going vessels."