Heat, red spider mites threaten tea yields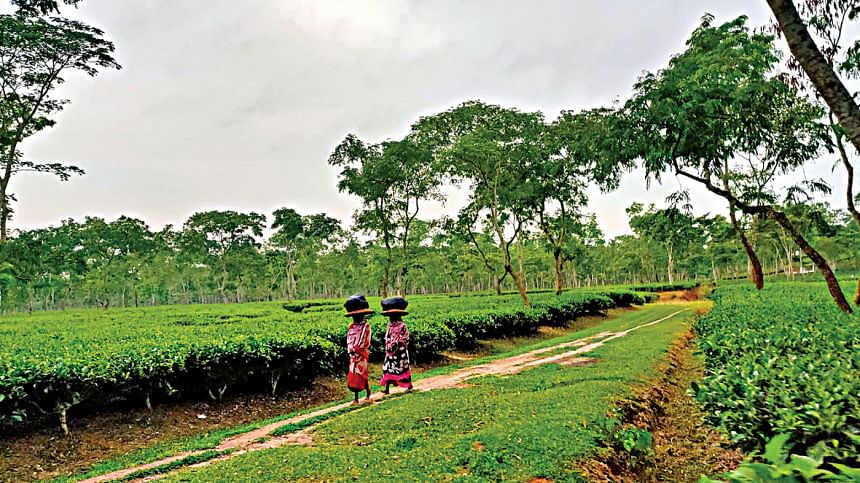 Tea farmers in Moulvibazar might not get the expected yield this year as they are struggling to irrigate their plantations in the face of inadequate rainfall, which has also given rise to a red spider mite infestation that is eating away at the crops.
About 90 of the 166 tea estates across Bangladesh are placed in Moulvibazar, which accounts for 55 per cent of the country's annual tea production, making it the largest tea producing district, according to the Bangladesh Tea Association (BTA).
Red spider mites attack plants when the weather is hot and dry, as is the current climate. As such, farmers been forced to stop picking tea leaves from afflicted areas.
So, experts fear that if there is insufficient rainfall in the next few days, it may cause colossal damage to tea production in the district.
Other than the red spider mites, the scorching sun is drying out tea plants as it is not possible to irrigate different gardens simultaneously due to the fall in natural water levels.
Sources say the infestation has spread to a majority of the tea gardens amid the current heatwave even though plantation authorities are applying the appropriate pesticides.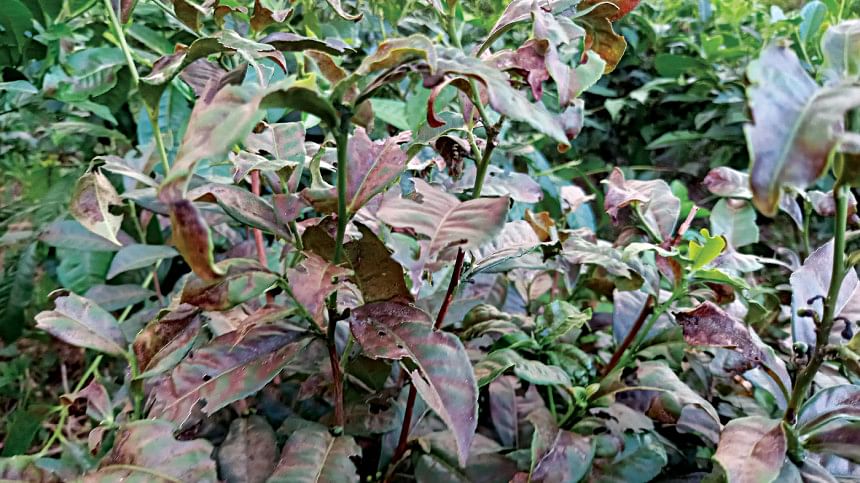 Echoing the same, Md Sirajuddaula, manager of the Mathiura Tea Garden in Rajnagar upazila, told this correspondent that they are regularly spraying insecticides to keep the pest attack under control.
"This virus will not come under control unless the weather changes as red spider mites breed at high rates during times of severe drought," he added.
Adil Ahmed, assistant manager of the Eta Tea Garden in the same upazila, said conditions were conducive for tea production at the beginning of the year but heavy rainfall in June spelled disaster.
Shortly after, severe droughts struck in July and these two adverse weather conditions are unfavourable for tea production, he added.
The prevalence of this disease is high in gardens where cattle are present as the animals help red spider mites spread rapidly.
Tea expert GM Shibli, chairman of the BTA's Sylhet branch, told this correspondent that tea leaves stop growing if the temperature is above 25-30 degrees Celsius.
"Besides, the red spider mites suck and eat the buds that grow," he said.
The outbreak of red spider mites was initially restricted to certain areas but it has since spread across the region.
"This will disrupt tea production," Shibli added.
Echoing the same, AKM Rafiqul Haque, director of the project development unit of Bangladesh Tea Board, said new saplings of tea plants are dying out amid the unbearable heat and pest infestation.
Tea saplings were growing fast when rainfall was moderate earlier this year.
"So, the rain is important for tea gardens," he added.
Haque went on to say that to alleviate the situation, tea garden managers are irrigating their lands in sections, diverting rivers, rivulets and canals to flow through their plantations, building water reservoirs and providing shade for tea plants.
A member of the BTA, which represents tea garden owners, said on condition of anonymity that the tea plants are being severely affected by changes in weather and other ailments.
"Red spider mites hamper production but the problem can be controlled with chemicals," he added.
"There is tension over whether the production target will be met or not but it is too early to tell because it is just the month of July. However, production may be less in affected gardens."
On the other hand, an official of the Bangladesh Tea Research Institute (BTRI) said no such situation has been brought to their attention as of yet.
"But if such an incident is occurring, appropriate action will be taken," he added.
Mohammad Shameem Al Mamun, senior scientific officer of the BTRI sub-station in Panchagarh, said a red spider infestation broke out at a number of gardens in April but with advice from the BTRI, farmers were able to handle the situation.
"Whenever red spider mites attack a garden, the yields tend to drop by an average of 10 to 15 per cent," he added.