Health insurance getting popular among local firms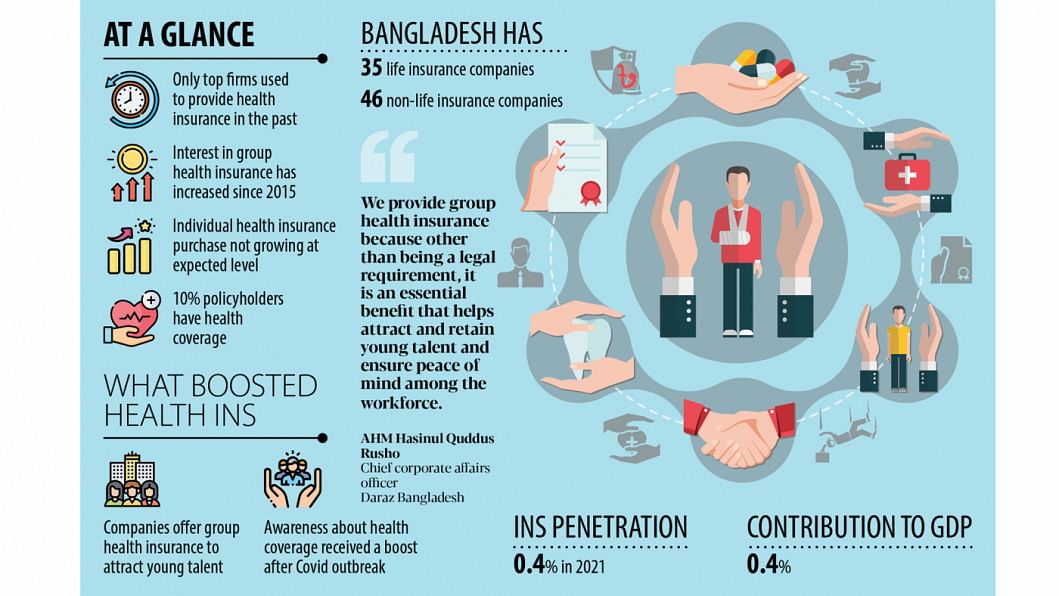 Many companies in Bangladesh now offer group health insurance benefits to their employees in a bid to attract young talents, survive in the competition and comply with regulations, according to industry people. 
Health insurance is a must nowadays as Covid-19 has taught that anyone could require urgent medical attention without prior notice, draining them of all savings in the blink of an eye.
"We provide group health insurance because other than being a legal requirement, it is an essential benefit that helps attract and retain young talent and ensure peace of mind among the workforce," said AHM Hasinul Quddus Rusho, chief corporate affairs officer of Daraz Bangladesh.
Having begun operations in the country in September 2014, Daraz brought its employees under a group insurance scheme in April 2022.
Group health insurance is a type of health plan that offers coverage to a group of individuals who belong to a business, organisation or association that avails the scheme.
Those covered by such plans usually receive insurance at a reduced cost as the insurer's risk is spread across a group of policyholders, according to Investopedia.
Edison Real Estate Limited began its journey at the end of 2015. It started offering group health insurance in October last year.
Rezwan Chowdhury, assistant general manager in the company's human resource department, says it is offering the benefit as a part of the employee wellbeing initiative.
ShareTrip, the country's leading online travel aggregator, started operations in 2019. It has been offering insurance facilities to its more than 180 employees since the middle of 2022.
"We want our top talents to be stress-free as it eventually fosters loyalty and long-term commitments towards the company," said Sadia Haque, co-founder and chief executive officer of ShareTrip.
According to Guardian Life Insurance Limited, only 50 companies used to avail group health insurance plans from Guardian Life Insurance about five years ago. Today, more than 400 firms are subscribing to the same benefit.
Sheikh Rakibul Karim, CEO of Guardian Life Insurance, said only top multinationals and select local companies used to provide group health insurance benefits but the scenario has changed over the past few years.
"Firms are increasingly understanding the importance of group health coverage because of Covid-19."
Companies place a lot of importance on compliance these days and they need to pull and retain talented employees by offering better benefits in order to survive competition, said Kawser Hossain, head of the health insurance department of Pragati Life Insurance Limited, one of the top group insurance providers in Bangladesh.
The company settled health insurance claims of Tk 45.76 crore in 2018 while the pay-outs increased to Tk 57 crore in 2022.
"Your savings are safe if you avail health insurance as it would decrease outpatient bills and, in some cases, even reduce your income tax burden," Hossain said.
Although group health insurance is becoming popular, the demand for the such facility is not growing at the same rate at the individual level.
Around 90 lakh people have opened life insurance policies against the country's population of around 16 crore. Just 10 per cent of these policyholders have health coverage, industry people say.
Syed Mahmudul Muddassir, vice-president for brands and communication at Green Delta Insurance Company Ltd, said many people in Bangladesh slip below the poverty line each year due to healthcare expenditures.
Ala Ahmad, CEO of MetLife Bangladesh, the only foreign insurance company in the country, said they are seeing renewed interest in taking insurance policies for healthcare.
"Corporates can improve employee wellbeing and foster a more productive workplace by providing health insurance in their employee benefits package."
"The financial support that comes with insurance gives employees the confidence to overcome life's difficulties and raises their loyalty for their employers."
Habibur Rahman, a private sector employee, said he had not thought twice before taking his wife and son to hospitals for treatments after they fell sick last year.
"This is because I knew that a major portion of the treatment costs would be covered by the insurance facility of my office."
Emran Hossain, also a private sector employee, says he was admitted to a hospital in the capital recently. "After the admission, I just informed my office about the situation. The rest was taken care of by the insurance company."
He was hospitalised for several days and the bills totalled Tk 86,000. But Hossain had to pay Tk 36,000 from his own pocket.
"Health insurance coverage is very important. Had there been no such support, I would have struggled to pay the bills," he said. 
ABM Haroon, managing director of Samorita Hospital Ltd, said interest in group health insurance has increased since 2015.
"However, insurers are quite frugal in settling claims. As a result, many customers suffer a lot."
In Bangladesh, there are 35 life insurance and 46 non-life insurance companies.
But insurance penetration is dismally low in the country at about 0.4 per cent. As a result, patients have to dip into their savings to pay for three-fourths of medical expenses.