Govt to import 50,000 tonnes of rice from India
Will buy 30 oxygen generator plants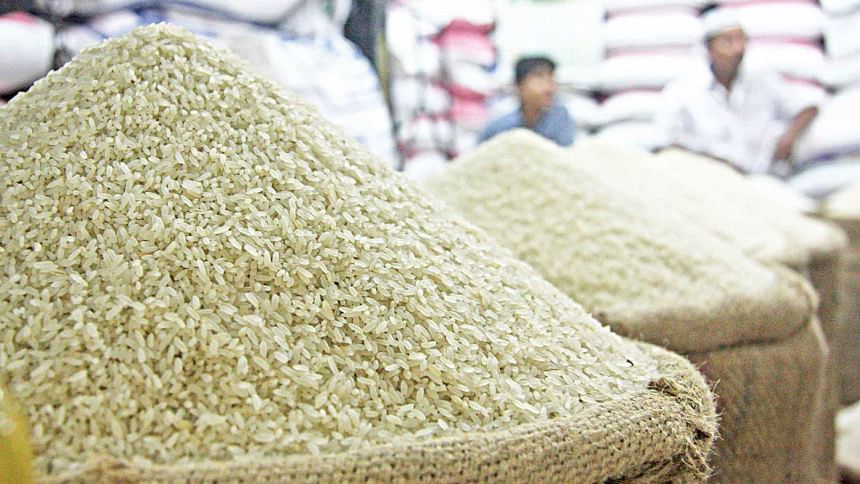 The government is going to import 50,000 tonnes of rice from India at Tk 32 per kilogramme, which is 32 per cent below the wholesale prices of coarse grain in the local markets of Dhaka.
The cabinet committee on purchase yesterday approved a proposal of the food department to purchase 50,000 tonnes of non-basmati boiled rice from Bagadia Brothers Pvt at a cost of Tk 160.22 crore.
The price per tonne is $377, according to a post-meeting briefing. Coarse rice is going for Tk 47 per kg at wholesale in Dhaka. At retail, it was Tk 50 a kg on August 3, according to food traders.
The country's food stock stood at 15.64 lakh tonnes as of August 2, including 12 lakh tonnes of rice.
Rice prices are going up despite a bumper yield of Boro paddy in the just concluded season.
Market players said the hike was for a slow release by farmers from holdings and stocking of middlemen and millers as uncertainty over the Covid-19 crisis lingers.
Due to the uncertainty amidst the pandemic, farmers are unwilling to sell paddy right now, unless they are being compelled to do it, said several farmers.
It is also alleged that a section of seasonal traders and some millers stocked a good amount of rice and paddy this year to make a profit from the lean season.
This was why the supply of paddy at the wholesale markets has been very low.
The committee also decided to buy 30 oxygen generator plants through the direct purchase method in order to fast address shortages for rising coronavirus cases.
At a virtual press briefing following the meeting, Finance Minister AHM Mustafa Kamal raised questions about the opposition of the Centre for Policy Dialogue (CPD) on the increased inflow of remittance through legal channels.
A journalist had sought his comment on a CPD remark at a programme on Tuesday that the government should enhance monitoring on the inflow of remittance of over $5,000.
"We want remittance to come in a legal way. Previously, remittance used to come in both legal and illegal ways," said the minister.
Mentioning that currently remittance inflow through legal ways has increased, he said, "I don't know why they are objecting over inflow of remittance through legal way.''
It is good for the country if anyone sends money following the rules, he said.
Regarding Bangladesh Bank's proposal on increasing the incentive on anything less than $500 sent as remittance, the minister said they have no such plan.