Garlic farmers fret over losses for 2nd year running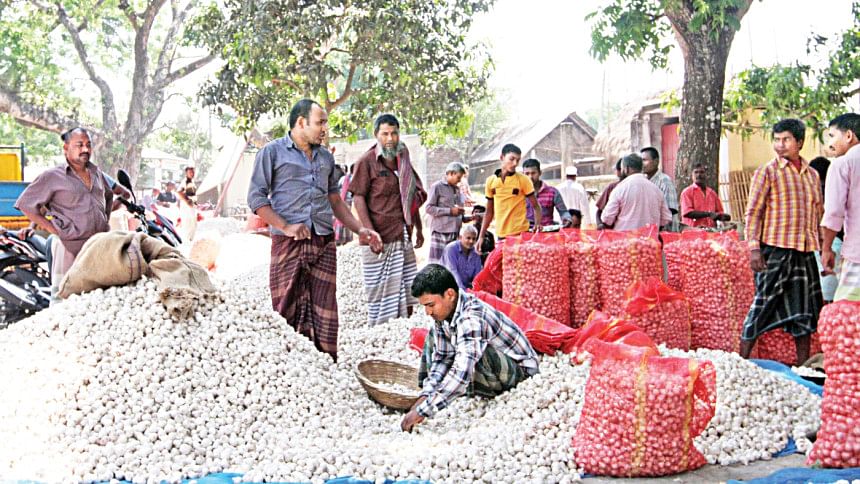 Garlic farmers in the country's northern districts have been left dismayed as the price of the highly-popular cooking ingredient has fallen at wholesale and retail levels due to a supply glut amid the ongoing peak harvesting season.
This comes as a double blow for many growers who had incurred losses last year as well despite receiving higher prices for their produce.
The garlic harvesting season began a couple of weeks ago, according to local farmers and officials of the Department of Agricultural Extension (DAE) in Rangpur and Dinajpur.
Each kilogramme of garlic is currently being sold for between Tk 10 to Tk 25 depending on the bulb's quality and size.
Garlic is being grown on at least 9,039 hectares of land in eight districts of Rangpur this year with a production target of about 92,198 tonnes.
Of the eight districts, the spice was cultivated on a total of 5,530 hectares of land in the Dinajpur, Thakurgaon and Panchagarh districts.
The average production rate per hectare is around 10.20 tonnes.
DAE officials say garlic is produced in all eight districts of the region, but cultivation is comparatively higher in Dinajpur and Rangpur.
So far, 10 per cent of the land being used has been harvested.
With the garlic harvesting season underway, activities at weekly wholesale markets such as those in Kachiniya and Pakethat of Dinajpur's Khansama upazila have gained momentum.
However, the price of garlic is not as high as expected by local farmers, who often refer to the crop as white gold.
Most of the garlic produced in Dinajpur region comes from Khansama upazila.
During a recent visit to the Pakerhat and Kachiniya wholesale markets, this correspondent found that many farmers had brought their produce for sale at local wholesale markets.
Biren Chandra Roy, a farmer in Chirirbandar upazila of Dinajpur, said he cultivated garlic on five bighas of land at an expense of Tk 35,000 per bigha this year.
"Production costs have risen compared to last year due to the increased cost of agricultural inputs," he added.
Roy got around 1.2 tonnes of garlic from each bigha but his hopes of a good profit were dashed when traders at the wholesale market in Kachiniya offered him just Tk 15 per kilogramme.
Having been backed into a corner, he eventually sold his produce at a lower price.
"I faced similar losses last year," said Roy, adding that he had cut down on garlic cultivation this year.
According to a DAE official in Khansama upazila, garlic cultivation in the area has declined compared to last season as farmers face recurring losses.
Around 3,750 hectares of land in Khansama upazila alone were used to grow garlic last year but the acreage has since dropped to 2,950 hectares this year, the official said.
Nur Islam, a wholesale garlic trader in the area, said the garlic market is quite unstable at the moment, which is a major concern for traders.
He went on to claim the falling price is a result of soaring supply in the markets.
"Even we, traders are suffering losses as a result," Islam said.
The situation is similar in Rangpur, where farmers were also found frustrated with the price of garlic.
Nabir Hossain, a garlic farmer of Gadai village under Kaunia upazila of Rangpur, said he cultivated garlic on 40 decimals of land this year.
"A month ago, the price was better but it suddenly decreased," he said.
He sold out his produce at Tk 20 per kilogramme, which was a loss considering production costs.
"I would not suffer losses if the rate was Tk 35 per kilogramme," Hossain said, adding that hoarders will surely profit once the market doubles within a month.
However, farmers have no way to hoard the garlic themselves, said Hasan Ali, another farmer in the area.
Like other farmers, Ali was already forced to sell all of his garlic as he needed money to prepare his land for other crops.
In retail markets, garlic is available for between Tk 30 and Tk 40 per kilogramme.
Hafiz Rahman, president of Kaunia Wholesale Traders, said the price of garlic at the local wholesale markets continued dropping every day, which badly affected farmers involved in its production.
"The price dropped by Tk 10 in the last couple of weeks," he added while urging the government to stop importing the spice in order to reduce supply.