FMCG companies bullish about further growth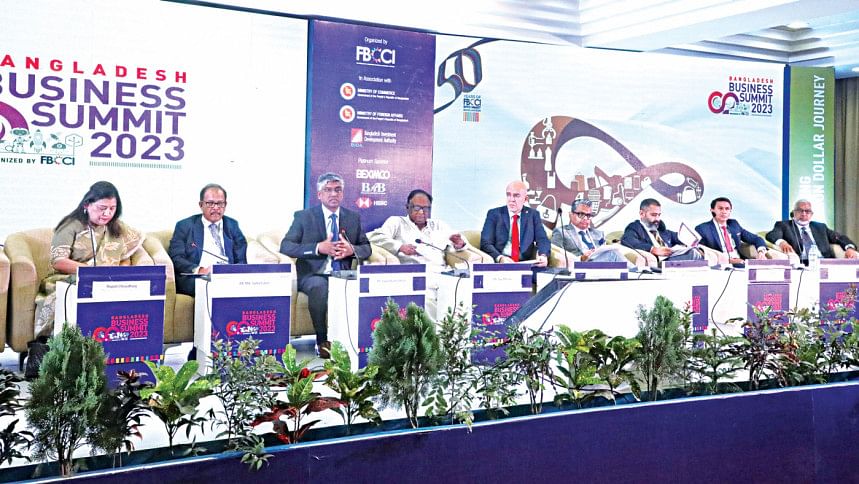 Local and international fast-moving consumer goods (FMCG) companies are bullish about growth opportunities in Bangladesh's consumer goods market on the back of a middle-class set to surge in size.
The number of people belonging to the middle and affluent class is projected to increase from 12 million, or 7 per cent of the population, now to 34 million by 2025, according to a paper of the Federation of Bangladesh Chambers of Commerce and Industry (FBCCI).
"Bangladesh is ready for big brands. And people of this country know luxury brands. It is one of the fastest-growing consumer markets in Asia," said Syed Nasim Manzur, managing director of Apex Footwear Limited.
"People are ready to spend and they are making better choices in how they spend."
He spoke at a discussion styled "Leveraging Growing Middle and Affluent Class for a Vibrant Consumer Goods Sector" at the Bangladesh Business Summit at the Bangabandhu International Conference Centre in Dhaka.
The three-day summit, organised by the FBCCI, aims at showcasing the country's progress and potential to both global and local investors.
The market size of consumer goods in Bangladesh is $3.6 billion with an annual growth rate of 9 per cent, said the FBCCI paper. 
Zaved Akhtar, managing director of Unilever Bangladesh, said Bangladesh would become a trillion-dollar economy at a modest 5 per cent GDP growth by 2040.
"We believe that we would be better than that."
According to Akhtar, there is a lot of headroom in the FMCG sector as per capita consumption of Bangladesh remains lower than comparable markets.
Bangladeshis only spend $23 per capita on FMCG while in India it is $44 and more than $100 in China and Indonesia.
He said the sector has a massive potential to improve the country's export basket.
"Currently, the country's exports in this sector are limited to a few products. With the right policies and investments, the FMCG sector can diversify its product range and enter new markets. There are opportunities for foreign direct investment in the FMCG sector as well."
During his presentation, MHM Fairoz, managing director of Singer Bangladesh, said the size of the consumer durable market for electronic products stood at $2.4 billion and is expected to go up to $10 billion by 2030.
"Air-conditioners were once a luxury product; but today, it is increasingly becoming an essential product owing to rising temperatures."
Fairoz called for stable fiscal and monetary policies, centralised one-stop service, fiscal incentives for the backward linkage industry, and a consistent and long-term budgetary approach. 
Speaking as the chief guest, Commerce Minister Tipu Munshi said the expanding middle class offers huge growth opportunities to the consumer goods sector.
The economic policy of the government has been an enabler in creating a sizeable middle and affluent class, he said.
"There is an immense potential for Bangladesh to become a manufacturing hub for consumer goods."
Nasim Manzur shared some insights on how the consumer goods market is reshaping. 
When BMW launched its cars in Bangladesh, the initial plan was to sell 60 cars in a whole year. "But BMW sold 60 cars in the first three months," he said.
"There is a consumer society out there ready to consume. You can cater to the demand. There is a great room to grow in the premier space."
Manzur said brands, both local and global, want predictable cost structures.
"Bangladesh is also making great strides in this area. For example, we know what the wage increase is going to be year-on-year. But in some competitor countries, the wage may go up by 30 per cent from one year to another year, making long-term investments very difficult."
Rajat Diwaker, managing director of Marico Bangladesh, said the current size and growth of the FMCG sector itself speaks about the single largest opportunity for anyone who wants to do business in the country.
Md Saiful Islam, president of the Metropolitan Chamber of Commerce and Industry, said companies would have to put emphasis on sustainability in order to tackle the challenges stemming from climate change.
"There will have to be an increased focus on recycling."
Naquib Khan, president of the Bangladesh Supply Chain Management Society, said every village has become a small town.
"Food habits are changing. The consumption pattern of Generation Z is different from ours."
"We also need to think about sustainability and social responsibility. We need to help our environment."
Hidayet Onur Özden, chairman of the Turkey-Bangladesh Business Council, said a circular economy is very important because without recycling, a country or firm can't have a sustainable future.
Özden is involved in the recycling business. "From recycling, businesses can make money. This is not only for making the world greener or doing good for our future generations."
Tapan Kanti Ghosh, senior secretary of the commerce ministry, said firms would have to cut costs to remain competitive as competition would intensify once Bangladesh graduates from the grouping of the least-developed countries and becomes a developed nation as duties have to be slashed significantly. 
While moderating the discussion, Rupali Chowdhury, managing director of Berger Paints, said the consumer goods sector is growing at multiple times the gross domestic product. 
She said per capita paint consumption in Bangladesh is one kilogramme whereas it is 25 kgs globally. "So, there is a huge room to grow."