Farmers grow export quality vegetables but don't get buyers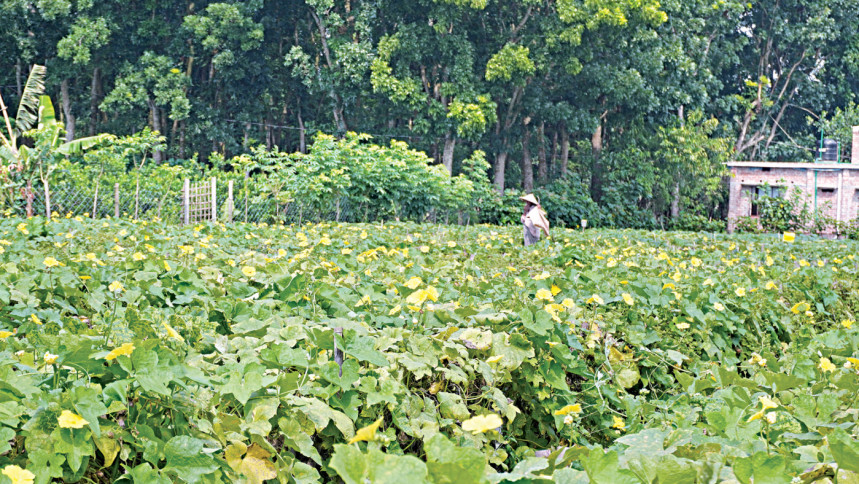 Farmers in Shahbajpur village of Jashore sadar upazila are overjoyed to be producing export quality vegetables but they are disappointed that the produce is selling at home instead of abroad at the same time.
Farmers in the region are growing vegetables following good agricultural practices (GAP) and so, many have received GlobalGAP certification, which allows them to sell their produce in high-value markets all over the globe.
GlobalGAP aims to ensure safe, sustainable agriculture worldwide by setting up voluntary standards for the certification of such products.
"We are producing safe vegetables but we don't have enough buyers even though the yields are export quality," said Oilar Rahman, a farmer of Shahbajpur.
"We can produce enough quantities of pesticide-free vegetables for both export and the local market but we lack demand," Rahman added.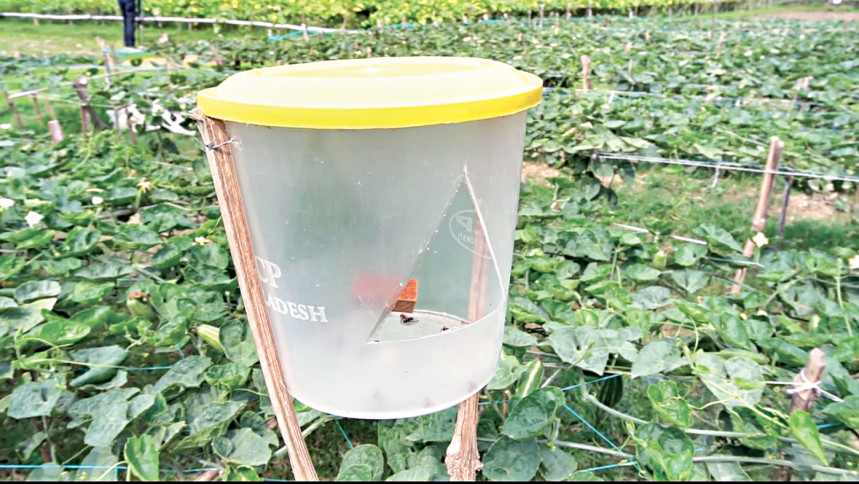 According to Monirul Islam, another farmer of the village, they prefer selling vegetables for export as it earns them an extra Tk 3-5 per kilogramme (kg).
"So, we want the government and private entrepreneurs to arrange for our vegetables to be exported," Islam said.
Like Rahman and Islam, around 48 other famers of Shahbajpur have been eagerly waiting to send their produce aboard ever since receiving GlobalGAP certifications in March for seven vegetables, namely bottle gourd, green chili, papaya, arum, green beans, pointed gourd and spine gourd.
"GlobalGAP certified fruits and vegetables can be sold at super shops in EU and the US at higher prices," said Mahadi Hasan, head of business at Shwapno, a renowned retail brand in Bangladesh.
But even the vegetables and fruits that do manage to make their way abroad are sold in Bangladeshi specialty shops or at very low market value, he added.
ACI Logistics, which owns and operates Shwapno, initiated a project with the support of USAID in 2017 with 200 farmers in Shahbajpur to produce safe vegetables following GAP.
Now, they have some 600 members, 50 of whom have been certified by GlobalGAP for the next one year, Hasan said.
He went on to say that it costs around Tk 32 lakhs to earn GlobalGAP certification for the seven types of vegetables being produced by those 50 farmers.
"We are buying around 700-800 kgs of safe vegetables of different varieties every day from those farmers and sell them at Shwapno outlets," the ACI official said.
"It tookafew years to set up the whole protocol for growing safe vegetables but now we are focusing on establishing links between growers and exporters," Hasan added.
"The price of vegetables exported to high-value markets will be 60 per cent higher than the current prices."
Torup Ali, one of the 50 GlobalGAP certified farmers, alleged that Shwapno buys very small amounts of vegetables considering their production capacity.
"We are producing quality vegetables but not getting the higher prices that they deserve," he said.
However, Hasan argued that Shwapno sells around 70 vegetable items through its 56 outlets in the country and that farmers in Shahbajpur only produce seven of them.
Regarding the procedure for growing safe vegetables, famers say they use less chemical fertilisers.
"We also use pheromone traps and yellow sticky traps for insects," Ali said.
Islam of Shahbajpur said local farmers sprayed pesticides three times a week in the past.
"Now, we follow expert advice and spray pesticides only once a week on certain vegetable fields and not only is this safer, but it reduces costs as well," he said, adding that they stop applying pesticides at least one or two weeks ahead of harvesting.
During a recent visit to the village, this correspondent found a host of growers producing safe vegetables that all want the relevant authority to initiate exports in order to secure better profits.
"We have started working with the farmers and USAID to export the GlobalGAP certified vegetables to the EU and US," said Mohammed Mansur, general secretary of the Bangladesh Fruits, Vegetables and Allied Products Exporters' Association.
"The price would be 30 to 35 percent higher than the current export price if we could export GlobalGAP certified vegetables to high-value markets like Walmart," he added.