Fan sales soar as heatwave continues
The demand for electric fans has increased significantly in Bangladesh as the scorching summer heat has become nigh unbearable in recent times.
However, producers are capitalising on the higher demand by raising their prices, putting more pressure on the general public at a time when the country is facing high inflation due to global economic crises.
The temperature in Dhaka reached a 58-year high of 40.4 degrees Celsius on Saturday, according to the Bangladesh Meteorological Department.
The last time the capital saw such temperatures was in 1965, when 42 degrees Celsius was recorded.
The temperature finally cooled off a bit on Monday, when it hit 38.1 degrees Celsius.
Ashik Abdullah, a resident of Dhaka's Kathalbagan area, said he had to replace the fan he had been using for the last three years as its performance had declined with age.
The heatwave is taking such a toll on me that I had to borrow Tk 3,000 to buy a new fan
"This heatwave is taking such a toll on me that I had to borrow Tk 3,000 to buy a new fan for Tk 3,500," he added.
Ariful Islam, a resident of the Halishahar area in Chattogram, said load-shedding has increased amid the unbearable heat for the past few days and so, he decided to buy a rechargeable fan.
Industry people say the sale of fans, including ceiling fans, table fans and rechargeable fans, has risen by as much as 20 per cent to 190 per cent depending on the type over the past year.
Meanwhile, sellers say prices have grown by about 20-30 per cent in the past week but buyers claim that it has actually increased by at least 50-60 per cent.
Mohammad Farooq, owner of Sohel Electric in Dhaka's Farmgate area, said just two or three fans of different types would be sold each day just 10 days ago.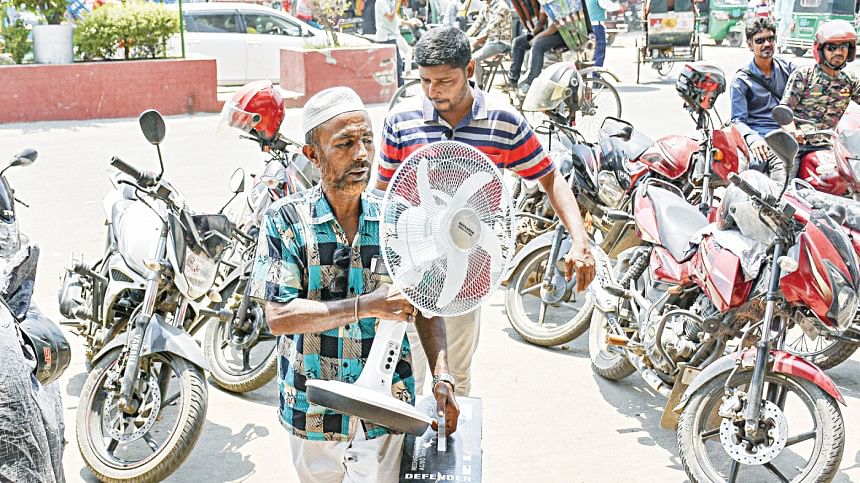 But now, as many as 10 or 12 fans are sold daily while prices have increased by Tk 100 to Tk 200 depending on the type.
Arif Hussain, manager of Amanat Electronics Store in Chattogram city, said one of the reasons for the increased prices is that import costs have risen compared to last year.
Sohel Rana, business head of Walton Fan, said they received orders for seven lakh ceiling fans this year and that demand in this segment is constantly increasing.
Ceiling fans that cost around Tk 3,000 are seeing the highest demand while rechargeable fans priced at roughly Tk 5,500 are popular as well.
"If you compare our sales in the January-March period of last year with the same period of this year, sales of rechargeable fans have increased by 190 per cent," he added.
Rafiqul Islam Rony, director for marketing and sales at BRB Cable Industries, said sales of ceiling fans have increased significantly with customers preferring those priced between Tk 3,000 and Tk 3,500.
He went on to say that sales have increased by a minimum of 20 per cent due to the ongoing heatwave.
The months of April, May and June are the peak season for fan sales as temperatures start to rise from March.
Nearly 70 per cent to 80 per cent of a year's sales come about during this period, industry people say.
Compared to last year, this year's fan sales have increased by 25 per cent, said ‍Touhid Zaman, assistant general manager for public relations at PRAN-RFL Group, which retails fans under its brand Vision Electronics.
Industry people estimate that 50 lakh fans are sold in the country each year ‍and currently, 20 to 25 companies make them.