Even cheaper varieties of fish dearer now
Fuel price hike leads to higher production and transport costs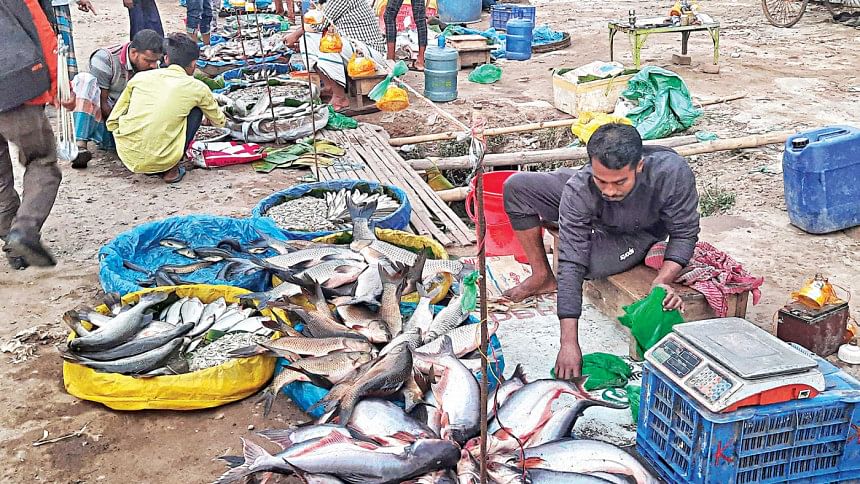 Cheaper varieties of farmed fish, such as climbing gourami, pangasius and tilapia, are major protein sources for the country's lower and lower-middle class but the recent hike in fuel prices has led to a subsequent rise in their production and transport costs.
As a result, these fishes are now pricier with each costing about Tk 50 to Tk 60 more than they did a week ago, making low-income people worried about being able to meet their demand.
Mohammad Imam Hossain, a fish trader based in the Palashi Bazar area of Dhaka, said his farmed tilapia sold for about Tk 200 per kilogramme (kg) yesterday while it was Tk 140 to Tk 160 per kg last week.
Similarly, the price of pangasius has risen to about Tk 170 from Tk 120 per kg.
Of the other varieties, pabda, catfish and climbing gourami are now being sold for about Tk 370-450, Tk 450 and Tk 280-300 per kg respectively, which is an increase of about Tk 40 to Tk 50 from last week.
Rahima Begum, a resident of the Pallabi area in Mirpur, said her family used to eat pangasius once a week while the rest of their meals were comprised of rice and vegetables.
But after the increase in fish prices, she is now trying to ensure her children's need for protein by feeding them eggs twice a week.
Of the total fish produced throughout the country, pangasius accounts for 11.55 per cent, tilapia 9.69 per cent, silver carp 7.3 per cent and catla 7 per cent, according to data from the Bangladesh Fisheries Research Institute.
Traders say that transport costs have risen twice in the last nine months -- first on November 5 and second on August 6 after the government hiked local fuel prices past the international average.
As such, the supply of fish to various markets has decreased and may continue to fall further in the coming days.
Making matters worse, the price of chicken eggs has risen substantially over the past week.
Retailers in Dhaka were selling the once low-cost source of protein for as much as Tk 165 per dozen yesterday while it was Tk 125 for the same amount 10 days before.
Producers claim they had to increase the price for having to spend more on chicken feed ingredients, namely soybean meal and corn, coupled with higher transport costs.
According to the Trading Corporation of Bangladesh (TCB), the price of farm-grown eggs was 28.05 per cent higher compared to a month ago and 54.41 per cent higher year-on-year.
Other daily essentials have also been affected by inflation as the price of plain rice has risen 12 per cent while that of non-branded flour increased 58 per cent, loose soybean oil 37 per cent, bottled soybean oil 33 per cent, lentils 38 per cent and potato 28 per cent over the past year, TCB data shows.
A surge in consumer price was reflected by higher food inflation, which stood at 8.19 per cent in July, slightly down from a multi-year high of 8.37 per cent a month ago. Non-food inflation rose six basis points to 6.39 per cent in the same month.
SM Nazer Hossain, vice-president of the Consumers of Bangladesh, said there is inflationary pressure in the country at the moment and it has affected all sectors.
"If this continues, it won't take long for food and nutrition security to come under major threat," he added.