Electric vehicle sales yet to gain pace
Businesspeople say high prices, taxes to blame for low demand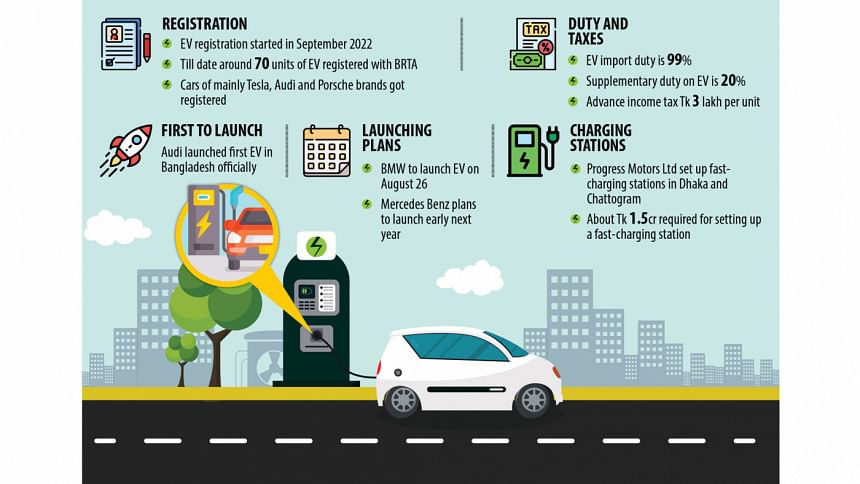 Although Bangladesh is laying the groundwork for gradually adopting electric vehicles (EVs), sales are yet to gain pace because of higher prices, further inflated by an elevated level of import duty and the cost of registration, according to market players.
Still, EVs will one day dominate the local market as the demand for cars run on alternative fuel is rising in line with increasing global awareness about their environmental and economic benefits, they said.
Around 70 units made by global automotive brands such as Tesla, Audi and Porsche have been registered with the Bangladesh Road Transport Authority (BRTA) since September 2022, when the EV registration was introduced.
According to BRTA sources, the "Electric Vehicle Charging Guidelines" have been prepared to provide a framework to establish a wide network of charging stations across Bangladesh.
Sk Md Mahbub-E-Rabbani, director for road safety at the BRTA, said they consider the power capacity of an EV's battery while giving registration while it is the CC for fossil fuel-run cars.
With this backdrop, Executive Motors Limited, the sole distributor of BMW in Bangladesh, is going to introduce the BMW iX3 M Sport on August 26.
The BMW iX3 M Sport represents a paradigm shift in the realm of sustainable mobility, combining BMW's iconic design language and innovative technologies to deliver an exhilarating, emission-free driving experience.
Through this move, Executive Motors is reinforcing its commitment to environmental stewardship and bringing cutting-edge electric mobility to the discerning customers in Bangladesh.
"We are immensely proud to get the opportunity to introduce the BMW iX3 M Sport, the first-ever BMW EV in Bangladesh. This marks a pivotal moment for both the BMW brand and our valued customers in the country," said Ashique Un Nabi, director (operation) of Executive Motors.
He also said Executive Motors is dedicated to pioneering sustainable automotive solutions, and the iX3 M Sport perfectly embodies this dedication.
The BMW iX3 M Sport combines electrifying performance, futuristic technology and the unmistakable BMW heritage, all while promoting a cleaner, greener future for Bangladesh.
"We believe this ground-breaking electric SUV will captivate the hearts of our customers and set new standards in the automotive landscape," he added.
Earlier, Progress Motors Ltd, the country's sole distributor of German brand Audi, said they were the first to officially launch EV sales on January 21 this year.
Fazle Samad, chief operation officer of Progress Motors, said they have delivered 36 units to date.
Progress Motors is retailing the Audi e-tron, a sports utility vehicle (SUV), at Tk 1.86 crore per unit.
The company has set up a fast-charging station in Dhaka and Chattogram. An EV needs 20 to 40 minutes to be fully charged.
Around Tk 1.5 crore is needed to set up such a charging station.
Samad said EVs will be the next big market even though imports have not scaled up due to the complex registration process, lack of charging stations, and higher prices compared to fossil fuel-run cars.
"EVs will dominate the passenger car market as they are eco-friendly and fuel-efficient."
Samad said the National Board of Revenue currently imposes a 20 percent supplementary duty on imported EVs while the customs duty stands at 99 percent.
Besides, an advance income tax of Tk 3 lakh is applicable regardless of prices, he said.
Mercedes Benz Bangladesh has set a target to introduce EVs at the beginning of 2024.
At present, Mercedes Benz retails around seven models in the country, where there is demand for the German automotive brand among premium customers, said Kazi Rezaul Hassan Tushar, head of sales of the company.
Nitol-Niloy Group, the local distributor of Tata Motors, displayed Tata-branded EVs at the latest auto show in Dhaka in March.
However, Abdul Matlub Ahmad, chairman of the Group, thinks the market for EVs will only develop if prices come down to reasonable levels.
"Only some affluent people are purchasing EVs on a whim," he said, adding that the price of EVs should start at Tk 20 lakh to foster demand.
He suggested the government introduce lower import duties at least for the next five years to develop the EV market like other countries.
A senior official of the NBR said the revenue administration has already extended import tariff benefits to hybrid cars and the tariff is lower than conventional vehicles.
"The same policy is applicable for electric vehicles."
He said one of the factors for the higher prices of EVs is their base price is higher than gasoline engine cars.
Price is the biggest concern for consumers not just in Bangladesh but also in developed countries.
The average electric vehicle price in July was $53,469 versus an average price of $48,334 across all vehicles, according to California-based vehicle valuation and automotive research company Kelley Blue Book.
"Besides, the infrastructure for electric vehicles such as charging stations, battery disposal and recycling plants as well as repair and maintenance facilities is yet to be ready for electric vehicles," the NBR official said.
Globally, EV sales are growing at a rapid pace.
The sales of EVs -- including battery electric vehicles and plug-in hybrid electric vehicles -- exceeded 10 million units last year and the International Energy Association's Global EV Outlook 2023 expects the sales to rise to 14 million at the end of this year.
More than half of consumers were considering buying a new or used EV within the next year, according to a survey of Georgia-based System software company Cox Automotive. Just 38 percent of consumers said the same in 2021, reported CNN.