Denim sales plunge for dry spell in Europe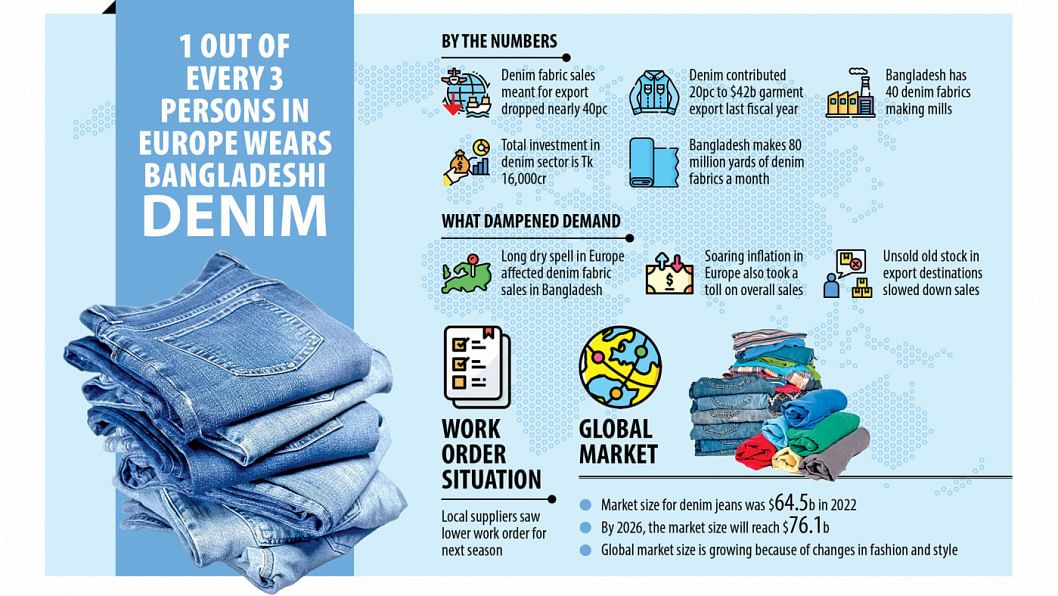 With people in many parts of Europe facing heatwave, longer than usual dry summers and runaway inflation, denim makers in Bangladesh are feeling the pinch. 
The export of denim fabrics and garment items declined by nearly 40 per cent, hitting winter shipment, according to exporters.
International retailers and brands are already putting orders on hold as they have unsold inventory amid a slowdown in sales caused by higher inflation, which reached a record high of 8.9 per cent in July, led by costlier energy.
With robust growth in investment in the denim sector, one in every three European people wears a pair of denim pants made in Bangladesh.
Of the $42 billion in total garment exported in the last fiscal year, 20 per cent was denim products, data from the Bangladesh Garment Manufacturers and Exporters Association (BGMEA) showed.
Usually, the temperature starts falling from June in Europe. But this year, it is still running above 30 degree Celsius in some parts of the continent, hurting the sales of denim fabrics in Bangladesh and exports of the products manufactured from the textiles to European markets, said a design manager of a UK-based multinational garment factory in Bangladesh.
"European buyers have cut a lot of orders for denim items because of a long dry spell in the eurozone."
It came as two-thirds of Europe is under some sort of drought warning, in what is likely the worst such event in 500 years, reported BBC in late August, citing a report from the Global Drought Observatory, which is a part of the European Commission's research wing.
Italy, Spain, Portugal, France, Germany, the Netherlands, Belgium, Luxembourg, and the United Kingdom are under increasingly hazardous conditions, according to another media report. 
During summers, people prefer woven bottoms to denim. The demand for denim goes up during winter.
Local suppliers say old inventory and higher inflation are also responsible for the lower sales of denim items apart from the long dry spell in Europe.
With an estimated investment of Tk 16,000 crore, Bangladesh's 40 textile mills can produce 80 million yards of denim fabrics a month.
But owing to the low demand along with a fall in pressure of gas, local millers have been compelled to cut production in the garment industry by 30 per cent.
Mohammad Hasan, director of Amber Denim, one of the top millers, says local denim producers have slashed production by nearly 40 per cent because of a drop in demand from European customers.
The temperature in Europe remained high in August and September.
"The long dry spell is affecting the export of denim items to Europe. Retailers are also postponing orders as they are cutting expenditures owing to the higher cost of production caused by the Russia-Ukraine war."
The production at Envoy Textiles Ltd, another denim fabrics producer, fell 34 per cent of because the lower demand from international retailers.
Moreover, lower gas pressure, driven by an inadequate local production of natural gas, has also contributed to the falling production, said Kutubuddin Ahmed, chairman of the company.
Usually, Envoy Textiles remains overbooked with orders for more than three months in a row. This year, the firm does not have such a level of orders.
In Europe, retailers and brands are offering as much as 70 per cent discounts on denim products to get rid of overstocks, Ahmed added.
Shasha Denims' monthly export earnings have dropped to $10 million from $15 million, according to its managing director Shams Mahmud.
"Currently, I am not overbooked with orders whereas my mill usually remains overbooked for many months," he said.
Ananta Group's monthly output has declined nearly 20 per cent, said Sharif Zahir, managing director of the denim supplier, which makes 2.8 million pieces of denim products a month.
The global demand for denim items is falling because of the long dry spell and escalated inflation, said Faruque Hassan, president of the BGMEA.
"Buyers are not cancelling orders, but they are putting them on hold," he said.
The global market for denim jeans was estimated at $64.5 billion in 2022 and is projected to reach $76.1 billion by 2026, growing at 4.8 per cent annually, according to Research and Markets, a research firm.
The denim jeans market in the US, the single largest apparel destination for Bangladesh, is said to be $15.8 billion.
Bangladesh has a 24.6 per cent share in the global denim market, behind market leader China's 36 per cent.