Dairy farming sets example in an Ishwardi village
One man's success bringing socioeconomic change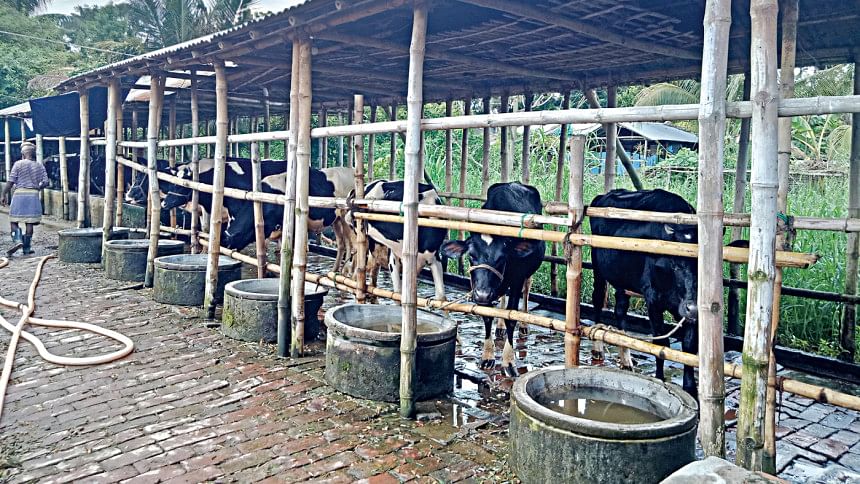 Amirul Islam of Burampur village in Lokhmikunda union under Ishwardi upazila could not continue his academic career beyond the Higher Secondary Certificate (HSC) level due to his father's death in 1990.
But despite his early hardship, Islam has since become one of the biggest dairy farmers in Pabna after having started the business with a single cow in 1994 as per his mother's advice.
Islam now has more than 100 cattle at his farm, which earns him about Tk 20-25 lakh each year.
Other people in the region decided to go into dairy farming in light of Islam's success and now, there are some 100 dairy farms spread across Burampur, Pakuria and other villages in Lokhmikunda union, one of the most remote shoal areas of Pabna.
Islam's success not only benefitted himself but also brought an economic change to the village over the past three decades, earning him the recognition of being a "Dairy Icon" of Bangladesh.
He is also set to receive a national award this year but his journey was not an easy one as there were many struggles along the way.
"After completing HSC, I was bound to leave my academic career to join agricultural work following my father but the shoal land did not produce much profit," Islam said.
"It was then that my mother advised me to buy a cow as the huge amounts of vegetable waste being produced could be used as feed," he added.
Heeding his mother's words, Islam then bought a cow of the Shankar variety for Tk 14,600 and kept it at his house.
The cow gave birth thrice within the year and while one was male, the other two were female.
"When the two cows started giving milk, I was inspired to start dairy farming and then had around 12 milk producing cattle within a few years," Islam said.
Considering how dairy farming was earning him far more than vegetable cultivation, Islam ultimately started planting grass on his 23-bigha land to ensure better nutrition for his cattle.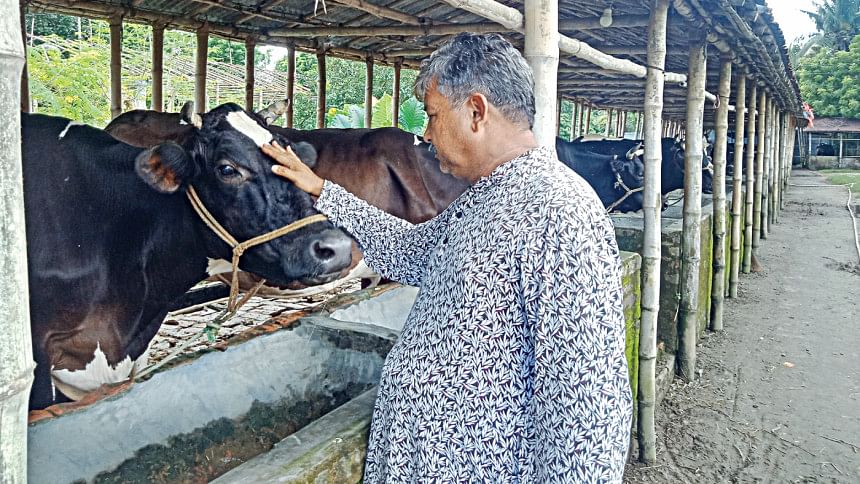 Islam now has 105 cows, 68 of which are producing milk while he sold around 40 of them as meat in the last few months.
"I used to get more than 500 litres of milk every day to earn around Tk 20,000 while I made the same amount from selling 40 to 50 cows," he said.
However, the recent hike in diary feed prices coupled with lower production means that all his earnings from milk are being spent on maintaining the farm.
"So, selling the cows as meat is the only thing that is bringing profit for now," Islam added.
Md Sujon Bishwas, a resident of Pakuria village, said he followed Islam's example and started dairy farming a decade ago. Now, he has four dairy cattle that produce 25 to 30 litres of milk per day.
Like him, more than 100 small and medium sized dairy farms have been established in Burampur and its adjoining villages following Islam, who formed the Pakuria Primary Milk Cooperative in 2006. Moreover, Milk Vita established a chilling plant in Ishwardi upazila centring Islam's dairy business.
Islam then said that Milk Vita decided to set up the chilling centre to collect the 1,600 to 2,000 litres of milk produced daily in the remote area. However, dairy farmers are now unhappy with the poor price offered by the state-owned company.
"We cannot get more than Tk 40-41 per litre if we sell to Milk Vita while we can easily get Tk 60 per litre from other buyers," he added.
District Livestock Officer Dr Al Mamun Hossain said Islam was recognised as a Dairy Icon by the livestock ministry for proving organised dairy farming can bring socioeconomic change.
"Islam started dairy farming from the grassroot level and establish his huge farm on his own. Everything is possible for his proper planning and determination to succeed in the dairy sector," Hossain said.
Other than personal success, Islam inspired others and developed the dairy sector in remote areas to bring socioeconomic change, so the ministry recognised him as a Dairy Icon in 2021, he added.
Islam said dairy farming continues to bring him success and national recognition too.
"I got the Bangabandhu Agriculture Award, cooperative award and livestock award earlier and was also nominated for others," he said, adding that dairy farming brought profit and pride to his life.
Being satisfied with his success in the dairy sector, Islam now plans to work on more scientific ways to use waste from his farm.
"I have established a small biogas plant that produces gas for maintaining my family. If I can use huge amounts of waste for biogas and transform those into electricity, it can be more profitable," he said.
"If I get financial and technical support from government, then I could work for energy production from wastages, which will help the nation," he added.