Cold storages struggling to preserve potatoes for power cuts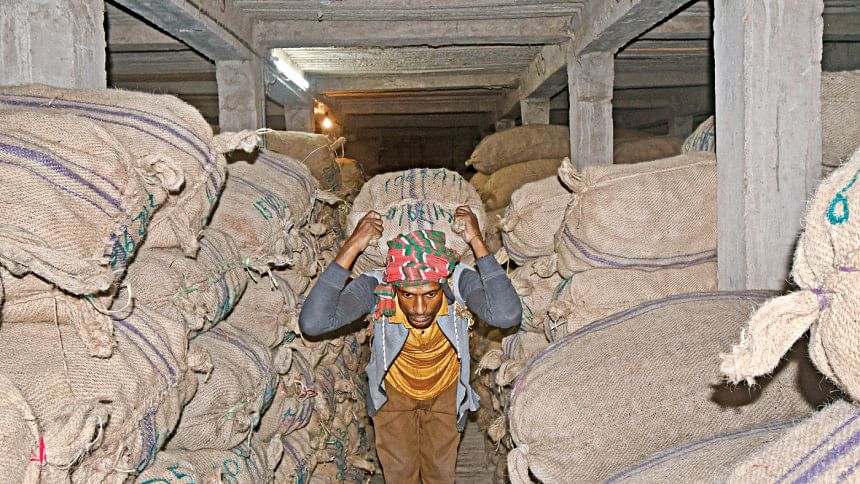 Around 400 cold storages across Bangladesh are struggling to preserve and maintain the quality of vast quantities of potatoes for power cuts over the past two weeks.   
Cold storage owners and farmers are apprehensive of significant damages should power cuts persist.
Furthermore, they are deeply concerned over extra costs associated with running these facilities with generators. This not only impacts profitability but also further burdens traders and farmers.
Also, whenever potatoes get spoiled, it causes price hikes and market crises while preserving seeds becomes challenging.
Around 5 lakh tonnes of potatoes have been stored this year, according to Bangladesh Cold Storage Association (BCSA).
"Due to the dollar crisis, the government is unable to buy coal, resulting in power shortages. However, traders and people have deposited their crops with us," said Mostafa Azad Chowdhury Babu, president of the BCSA.
"To address this issue, we have scheduled a meeting with the owners on June 17. If the load shedding persists, the charge for keeping each sack in cold storages may have to be increased," he said.
"We are observing this situation," he said, adding that the final burden would fall on the consumer. 
The Daily Star spoke to cold storage owners and potato growers in Bogura, Kurigram, Gaibandha and Munshiganj districts.
Cold storage owners have increased the charge for keeping each sack of potatoes from Tk 280 to Tk 310 this year due to the power shortage, said Murad Mondal, a potato grower of Gaibandha's Gobindaganj upazila.
"If damaged, what will people eat?" he asked, stressing on the need for cold storage owners to provide compensation.
Moshiur Rahman, managing director of Gobindganj Cold Storage, said he had two cold storages with 12,000 tonnes of potatoes, including seeds.
He explained that the cooling systems need to be continuously run for three hours to reach a certain temperature.
Afterwards, even if there is no electricity, that temperature can be maintained for three hours, he said. But even this was getting hard to maintain, he added.
Rahman said he requires 18 hours of electricity but receives it for 12 hours to 13 hours for which there was a notable cost difference, as electricity from the grid costs Tk 12 per unit while that of generators cost Tk 25 to Tk 30 per unit.
"We will consider ensuring uninterrupted power to cold storages but we ourselves do not get supplied 100 per cent of the demand," said Aktaruzzaman, deputy general manager of Gobindaganj unit of Palli Bidyut Samity on being contacted.
"As we have started releasing potatoes, now we need electricity 24 hours a day but we do not get it," said Rayhan Kabir Rajeed, managing director of Babar Cold Storage Limited in Kurigram sadar upazila.
He explained that accessing the cold storage repeatedly causes heat to seep inside the facility, causing loss of the required temperature.
Shah Md Abu Hannan, executive director of AHZ Cold Storage in Bogura's Shibganj upazila, confirmed he was facing the same challenges and was having to run generators to preserve 2.36 lakh sacks of potatoes.
"We are getting 20 per cent to 25 per cent less electricity than the demand," said Monowarul Islam Firozi, general manager of Bogura Palli Bidyut Samity-1, on being contacted.
"We can not give extra importance to the cold storages because these are located in a scattered manner," he added. 
In Munshiganj, around 3.86 lakh tonnes of potatoes are stored in 65 cold storages.
Prashant Kumar Mandal Dulal, manager of the Kadam Rasool cold storage in Munshiganj sadar upazila, said he was facing significant challenges with 12 hours of intermittent power cuts daily.
If the situation continues for the next two or three weeks, potatoes will be damaged, he said.
"We are thinking of increasing the charge for keeping a 50-kilogramme sack in cold storages, which is currently Tk 240," he added.
"During load shedding, I keep my cold storage operational with the help of generators but it cannot run continuously for more than three to four hours," said Abdullah Al Foysal, a cold storage owner at Munshiganj town. 
"After three to four hours I have to shut down my cold storage," he said.
"The rent for the cold storage increases according to the electricity price, and if it gets spoiled due to power outages now, it can cause a crisis in the market," said Prabib Kumar Datta, manager of Dhaleshwari cold storage in Tongibari upazila.
"The frequent power cuts are causing sleepless nights and pose a significant risk to farmers' livelihoods," said Salm Uddin, a potato grower of Munshiganj.