Adequate gas can boost ceramics export: entrepreneurs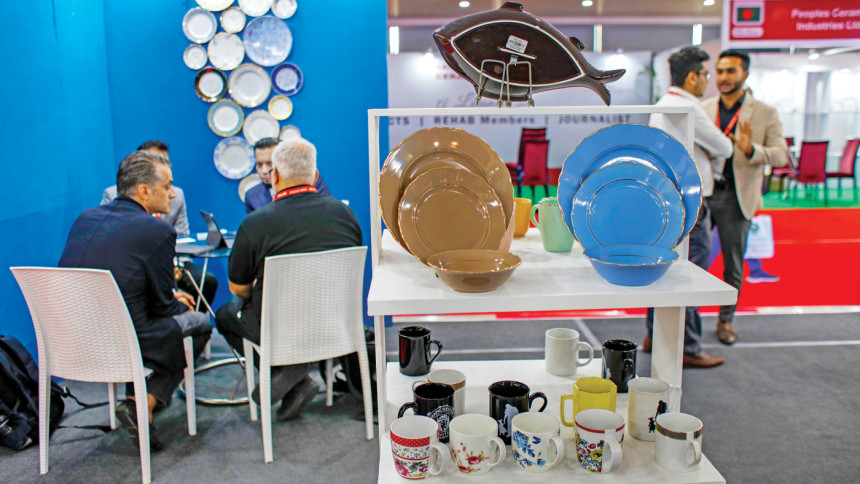 Product output of the ceramics industry of Bangladesh has increased at least 200 per cent while investment 20 per cent over the last decade, according to the Bangladesh Ceramic Manufacturers and Exporters Association (BCMEA). 
"Currently, over 70 firms are producing ceramic products in a full-fledged manner while about 10 years ago, there were only 18 to 20 firms active across the country," said Md Shirajul Islam Mollah, president of the BCMEA.
Annual local market sales amount to around Tk 7,000 crore, he added.
Meanwhile this sector has made an investment of around Tk 15,000 crore and some 5 lakh people are involved with it, he said.
Mollah was addressing the inauguration of a three-day exhibition of ceramics organised by the BCMEA, this being for the third time, at International Convention City Bashundhara.
However, the industry's production is now facing severe disruptions for the ongoing gas crisis, said Mollah, also the managing director of China-Bangla Ceramic Industries.
He went on to say that currently Bangladesh was annually exporting goods worth around Tk 500 crore to over 50 countries.
"If we can recover from the crisis, the ceramic industry will contribute in giving a boost to the country's foreign exchange reserves," he said.
Addressing as chief guest, Commerce Minister Tipu Munshi acknowledged the prevalence of the gas crisis.
"We all know that there is a problem with gas. With gas not being supplied uninterrupted, it is difficult to run the industry. But we're still trying to solve the problem," he said.
Giving assurance to the businesses, he also said the situation would improve by January next year.
An industrial city and technical institute for ceramics need to be quickly established, Mostofa Azad Chowdhury Babu, senior vice president of the Federation of Bangladesh Chambers of Commerce and Industry, said as the special guest.
Moreover, VAT on raw materials and locally produced products need to be withdrawn, he said.
He called for providing major export sectors, including ceramics, facilities and policy support similar to the ones enabled for the garment sector.
The exhibition is showcasing 150 brands of 120 companies from 20 countries.
"I have come to the exhibition to choose some ceramics products for my home decoration," said visitor Shamima Begum from the Bashundhara residential area.
"We usually purchase these kinds of products from showrooms but this exhibition has given a big opportunity to choose products from hundreds of stalls," she added.
Walking with a bagful of brochures and leaflets from the organisers, Gendaria resident Md Tanvir Reza said, "I have collected many companies' contact numbers and brochures to contact them later for my business."
"This exhibition is helping me get a huge number of companies together at a single place," he added.
Among others, Irfan Uddin, general secretary of the BCMEA, and Moynul Islam, senior vice president, also spoke.