'ADB considers US$ 100m grant for Rohingyas in Bangladesh'
Says ADB President Takehiko Nakao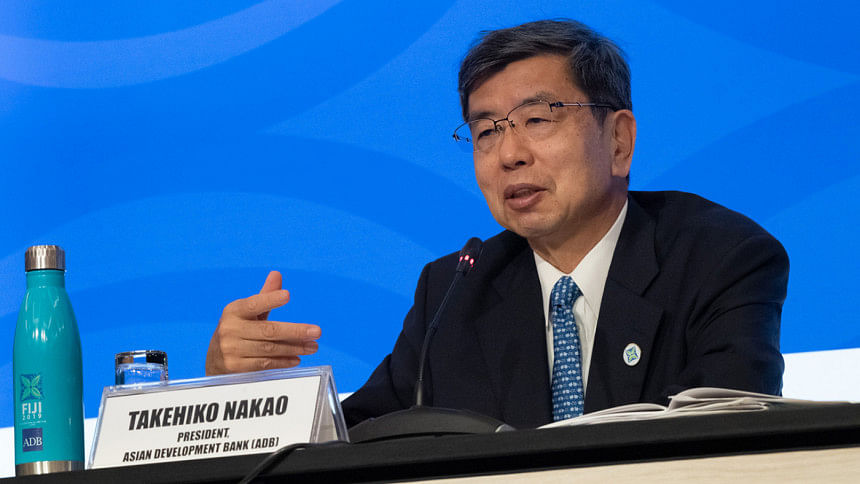 The Asian Development Bank is considering to provide a grant of US$ 100 million to Bangladesh specially for the Rohingya refugees.
"Although Bangladesh is non-eligible for grant, the donors of ADB have considered the US$ 100 million grants specially for the refugees," ADB President Takehiko Nakao said today.
At this moment, we are full-heartedly supporting Bangladesh," he said, while citing the US$ 200 million grant extended to Bangladesh to help the government deal with the influx of Rohingyas as a case in point.
Last year, ADB had provided US$100 million grant to Bangladesh for the refugees from Myanmar, Nakao mentioned.
He said this during a briefing on the sidelines of the 52nd annual meeting of the ADB board of governors, which kicked off yesterday in Fiji.
The ADB will extend its full support to Bangladesh even after its graduating as a non-LDC country, he also said.
At this moment, both concessional and non-concessional loan supports are going on for Bangladesh, Nakao said.
The ADB president also said that Bangladesh Prime Minister Sheikh Hasina wants to partner with ADB regarding railway reforms, port reforms, water projects and education.
The PM is enthusiastic regarding the education of young girls, especially in the area of science, so, under her strong leadership, gender equality and class room condition have improved, Nakao said.
Mentioning that the textile industry has now become very big in Bangladesh, he said the RMG sector has taken international focus for labour condition in the work place following the tragic collapse of a factory there (Rana Plaza tragedy).
Production in textile and garments sector is now much better and more sophisticated, Nakao observed.
The ADB president also hailed the ADB-funded Dhaka WASA project, saying that before the project there were a lot of leakage in bill payment of the water use. "But when the project is implemented, the revenue earnings of the WASA have gone up." 
On March 16 last year, Bangladesh became eligible for graduation from the least-developed country (LDC) category.
The LDC category was introduced by the United Nations in 1971 when there were 25 LDCs. In 2018, the number increased to 47.
So far, only five countries were able to graduate from the LDC group, including Botswana, Cape Verde, Maldives, Samoa and Equatorial Guinea.
Bangladesh is the only country that met all three criteria for graduation including GNI per capita, Human Assets Index, and Economic Vulnerability Index.