Tourism's share 3.02% in GDP
Says BBS's Tourism Satellite Account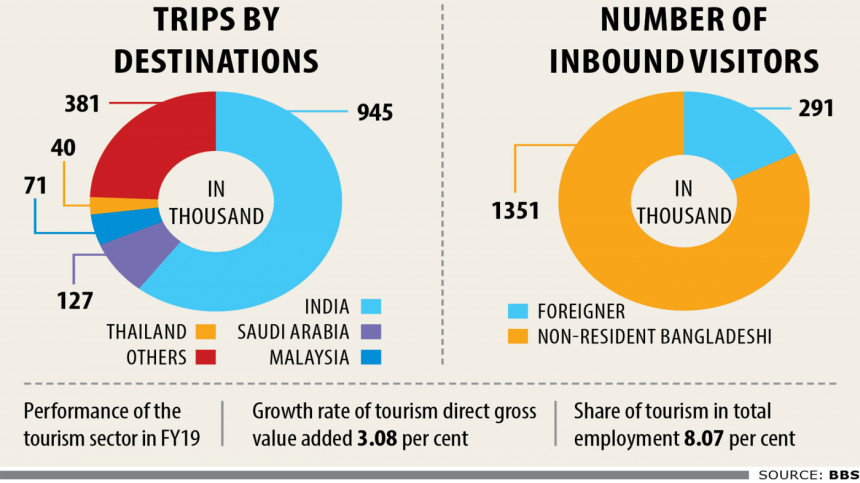 Tourism's contribution to the gross domestic product (GDP) is estimated at 3.02 per cent by the Bangladesh Bureau of Statistics (BBS).
In local currency, this amounts to Tk 76,690.7 crore. The sector also accounted for 8.07 per cent of total employment, according to the BBS's Tourism Satellite Account 2020, which was based on the data of the fiscal year of 2018-19.
The report basically gives an economic measurement of tourism, integrating data about the supply and use of tourism-related goods and services.
Published last Thursday, it is said to have been prepared using international standards and methodological recommendations of the United Nations agency World Tourism Organisation.
The publication presents the structure of the country's domestic, outbound and inbound tourism activities, said Mohammad Tajul Islam, director-general of the BBS.
"In addition to that, this report is also furnished with different macro-economic aggregates related to the tourism sector. Detailed data on tourism consumption and production account of tourism industries are included," he said.
DOMESTIC TOURISM
Domestic tourists spent an estimated Tk 74,959.2 crore.
Some 44.30 per cent of households reported to have embarked on at least one same-day trip with an average of 2.72 participants.
Around 64.14 per cent reported at least one overnight trip with 2.56 participants. The average duration was 3.46 nights.
Of the same-day visitors, the highest 41.26 per cent had gone to visit friends and relatives. Another 20.78 per cent sought health and medical services and 16.69 per cent went shopping.
Most overnight visitors (76.70 per cent) also visited friends and relatives. Around 10.36 per cent sought health and medical services and 4.32 per cent went for a holiday, leisure or recreation.
Nearly all (96.60 per cent) same-day trips were not under any package. The same was for overnight trips (97.13 per cent).
The majority of overnight visitors (52.05 per cent) availed buses for transport, 14.48 per cent rented transport, and only 0.28 per cent air transport.
December accounted for the highest number of the same-day trips (10.68 per cent), followed by August (10.01 per cent) and February (9.85 per cent).
The year's closing month also topped the chart for overnight trips (12.60 per cent), followed by June (10.30 per cent) and January (9.27 per cent).
For same-day trips, Tk 13,458.3 crore was spent. The highest (44.76 per cent) was for shopping, followed by health and medical service.
For overnight trips, the expenditure was Tk 61,501 crore. The highest was on transport (36.02 per cent), followed by shopping (17.82 per cent) and health and medical services (15.76 per cent).
Around Tk 2,260 was spent for each same-day trip whereas Tk 9,071 for overnight ones.
OUTBOUND TOURISM
Some 29.21 lakh Bangladeshi residents are estimated to have gone on visits abroad in fiscal 2018-19.
Every outbound trip comprised 1.87 participants while the duration was 5.76 nights.
The majority (60.41 per cent) was to India, followed by Saudi Arabia (8.12 per cent) and Malaysia (4.57 per cent).
Some 45.11 per cent went to visit relatives and friends, 15.76 per cent for health and medical purposes, and 12.77 per cent for holidays, leisure and recreation purpose.
Dhaka division generated the highest 25 per cent of outbound visitors, followed by Khulna (19.84 per cent) and Sylhet (17.66 per cent). Mymensingh generated the least (0.54 per cent).
For outbound tourism, the expenditure appeared to be Tk 33,686.8 crore, of which Tk 7,494.3 crore (22.25 per cent) was pre-trip expenditure (domestic expenditure for outbound trip).
The outbound visitors spent mostly on health and medical purposes (29.49 per cent), followed by transport (25.28 per cent) and shopping (22.94 per cent).
INBOUND TOURISM
Around 16.4 lakh tourists visited Bangladesh in 2018-19. Some 80.28 per cent were non-resident Bangladeshis while the rest foreigners.
Most (72 per cent) preferred air travel and the rest over land.
The highest expenditure (23.78 per cent) was attributable to food and beverage serving services, followed by accommodation services (18.39 per cent) and road passenger transport services (17.4 per cent).
This segment spent Tk 23,780.3 crore, a majority of which (82.38 per cent) was by non-resident Bangladeshis.