NBR may extend VAT cut on edible oil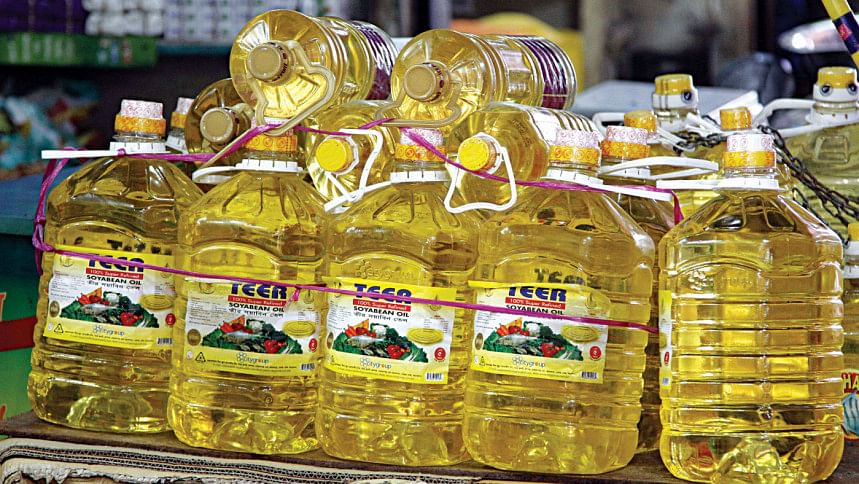 The National Board of Revenue (NBR) is likely to extend a value added tax reduction on edible oil imports and refining for three months to retain current prices for consumers battered by rising costs of essential commodities. 
The revenue administration is working on it and may issue a notification within a couple of days, said a senior NBR official.
On March 16 this year, the NBR slashed the VAT on edible oil imports to 5 per cent from 15 per cent till June 30 to give some relief to consumers amid a public outcry against surging prices, slow delivery by mills, and stockpiling by a section of traders.
Prices of soybean oil shot up over Tk 200 per litre in the local market at one point.
The NBR then extended the timeframe until September 30, which was last Friday.
Retailers in Dhaka city markets sold each litre of loose soybean oil at Tk 160 to Tk 175 and the bottled ones at Tk 185 to Tk 192 yesterday, according to the Trading Corporation of Bangladesh.
Soybean oil is selling at the previous rate, confirmed Monwar Hossain, owner of Yasin General Store in Karwan Bazar. 
The government on August 23 hiked the price of soybean oil for the fourth time this year even though the price of the product in the international market held steady last month.
Bangladesh requires about 20 lakh tonnes of edible oil in a year, according to data from the commerce ministry. Only 2.03 lakh tonnes can be sourced from local producers, with the rest met through imports.
According to Bangladesh Bank, about 5,15,000 tonnes of crude soybean oil was imported in fiscal year 2021-22, about 75,000 tonnes less than that of the preceding year. 
On September 20, the commerce ministry sent a letter to the NBR chairman recommending that VAT rate of 5 per cent on import of crude soybean, refined or crude palm oil should be continued and the VAT exemption facility at the production and business level should be extended till June 30, 2023.
The letter stated that consumers of Bangladesh are not getting the benefits of falling prices of crude soybean and palm oil in the international market because of high prices of dollar.
But the ministry has not got any reply from the NBR, said an official of the commerce ministry.