Mango farmers' hopes shattered
Prices plunge as strict lockdown begins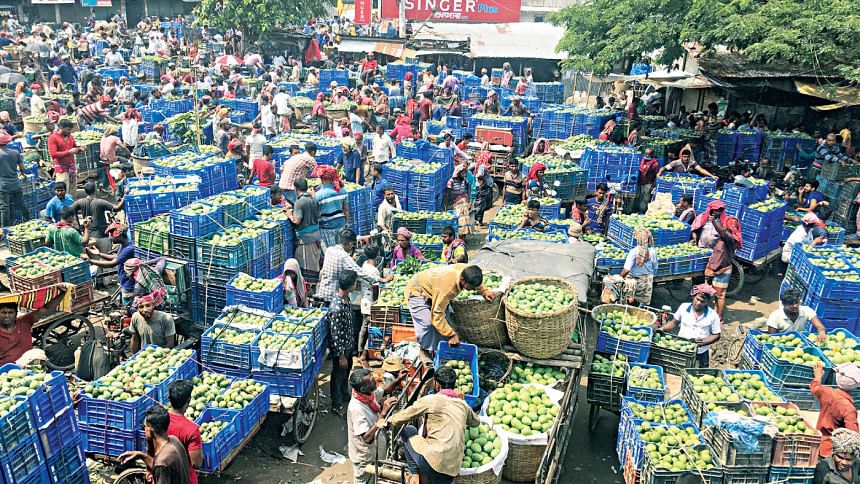 With over 50 per cent of mangoes yet to be harvested, the nationwide lockdown beginning yesterday has upended the normal marketing system, upsetting the already disappointed farmers of Rajshahi region.
Mango prices that were already low over the prevailing lockdown in Rajshahi region dwindled further after the nationwide lockdown, the farmers said.
The mango variety Fazli has appeared in local markets early this week and started selling at Tk 25 per kilogramme against prices of around Tk 40 per kilogramme during the lockdown last year. Fazli prices went down to Tk 17 per kilogramme yesterday.
Quality mango varieties like Himsagar, Khirsapat and Langra that are still available, are selling better yet at lower than normal prices.
Green mangoes of these varieties that sold at above Tk 60 per kilogramme a few days ago went down to Tk 55 per kilogramme. Ripe ones that were sold at Tk 37 per kilogramme two days ago went down to Tk 32 per kilogramme.
At normal times, these varieties would have sold at Tk 80 per kilogramme and above during the end of season, the farmers said.
"All my hopes with mangoes have been shattered this season," said Anwar Hossain Polash, a mango farmer of Rajshahi's Bagha upazila, expressing worries about how he would bear the expenditures of farming and paying off labourers. 
He said a laukhna variety of mango that sold at Tk 17.5 per kilogramme on the last week of June were selling at around Tk 5 per kilogramme at Arpara bazar of Bagha yesterday.
The situation arose as retail markets in districts became devoid of buyers, forcing the wholesalers to cancel orders of mangoes, the farmers said.
The wholesalers who went to the Rajshahi, Natore, Naogaon and Chapainawabganj districts for purchasing mangoes returned homes after cancelling orders ahead of the lockdown.
Consignments of mangoes that were sent to different parts of the country by local farmers and traders remained unsold, they said.
"Mangoes are ripening in the trees and dropping," said Shafiqul Islam, another big mango farmer of Bagha.
"Locals are picking those from orchards and selling at local markets at low prices. If I go to harvest those, I will incur losses from the expenditures for the harvest," he said.
He said he sent 220 maunds of mangoes to Brahmanbaria on Tuesday and all of it remained unsold till yesterday while his consignment of 215 maunds of mangoes in Chattagram last week was sold at lower than expected prices.
The Department of Agricultural Marketing (DAM), however, assured the farmers that transportation of agricultural products including mangoes would remain uninterrupted while government-conducted farmers' markets in Dhaka would remain open for buyers during the lockdown.
"We're observing the situation. If it deteriorates, we will follow the procedures that we did during last year's lockdown in case of spices and vegetables," said Shahnaj Parvin, acting deputy director of the Rajshahi regional office of DAM.
Last year, she said they analysed retail markets at districts and spread the supplies of spices and vegetables among different markets in accordance with the demands analysed by officials.
"We can do the same thing this time," she said, adding that the mango business in online markets was also remaining uninterrupted.
But mango farmers and traders expressed their indifference to the assurances.
"If buyers cannot go to the markets, what will we do by marketing these mangoes? Mangoes perishes quickly soon after the harvest," said Omar Faruk Tipu, a mango trader of Chapainawabanj's Kansat market.
He said the number of people who joined the online markets of mangoes are very few compared to those at the wholesale and retail markets.
This year, fortunes have remained elusive for mango farmers from the beginning, although a drought without rains or severe storms have blessed four mango-producing districts in Rajshahi division with good yields.
In the beginning of mango season in mid-May, the lockdown was imposed in Chapainawabganj. Three other districts followed lockdown from the first week of June as the coronavirus infections were transmitted at the community level.
The DAE officials said mango trees on 83,673 hectares of land in Natore, Naogaon, Rajshahi and Chapainawabganj are expected to yield 8.52 lakh tonnes of mango this year, higher than last year's production of 7.50 lakh tonnes.
Some three lakh farmers are engaged with mangoes worth Tk 2,500 crore while thousands others work in the trade, according to the DAE data.
The DAE officials said, although 82 per cent of mangoes were harvested in Rajshahi till June 30, the harvests in Natore, Naogaon and Chapainawabganj were 60 per cent, 40 per cent and 50 per cent complete respectively.
"We aren't finding buyers even after sending consignments of mangoes to different markets," said Omar Faruk Tipu, one of the 800 wholesalers in Kansat market.
He sent five trucks to Dhaka's Badamtoli market last week and was able to sell only one truck of the mangoes.
"My four trucks loaded with mangoes are still at the market. If I can't sell these within a day or two, all the mangoes will be damaged," he said.
He said he talked with retail buyers from Cumilla, Hajiganj, Narshingdi, and Mymensingh and they all told him that there was no demand in local markets.
"The retail businesspeople were not being allowed to keep their shops open," he said.
Tipu said he had already stopped harvesting and purchasing mangoes four days ago.
Ismail Khan, a mango farmer, said the farmers would count losses if mangoes remain unharvested. He said local businesspeople purchased mangoes on condition to pay the farmers after those were sold off.
Ismail runs an online mango marketing business where some 400 businesspeople were enlisted. He said some 200 traders and farmers were active.
"Online business are becoming popular, but involvement of local farmers is not coming about as expected due to their lack of adaptation to the smartphones and internet," he said.
The farmers said the mango production was good this year despite dwindling prices while the lockdown aggravated the situation.
Shafiqul Islam, a mango farmer of Bagha, said he was able to export at least 10 tonnes of mangoes so far this year although he had preparations to export 100 tonnes.
"Everything is in disarray," he said, adding that if the government authorities were active and controlled the markets, they would have seen more export of mangoes.