ShopUp raises $75m in investment
Records biggest startup fund injection in Bangladesh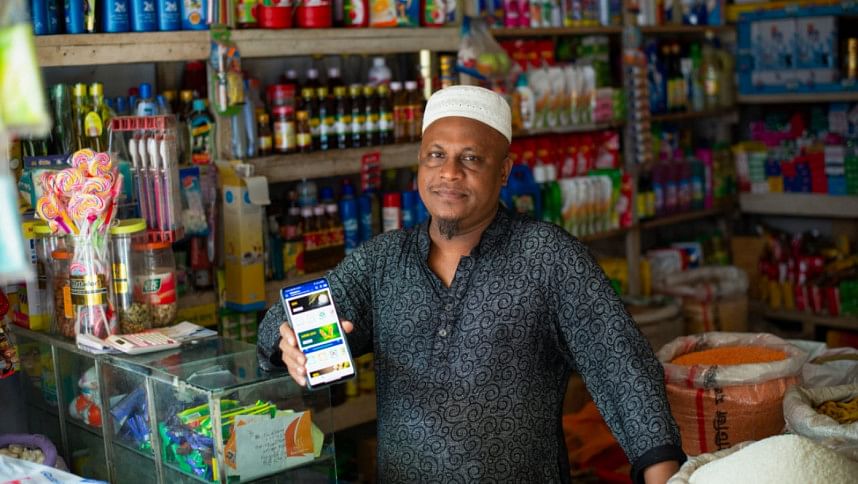 The country's largest business-to-business (B2B) e-commerce platform, ShopUp, yesterday said it raised $75 million or nearly Tk 640 crore in its latest round of fund-raising as it looks to ramp up its operation by bringing small neighbourhood groceries and small retail shops online.
The latest round, termed B financing round, was led by Peter Thiel's Valar Ventures. It also included investments from Prosus -- the investment arm of Naspers, Pierre Omidyar's family office, as well as existing investors Sequoia Capital India, VEON Ventures, and Flourish Ventures.
Series B financing is the second round of funding for a company that is past the initial startup stage and met certain milestones. Investors usually pay a higher share price for investing in the company than Series A investors.
The oversubscribed round is the largest Series B funding for a B2B e-commerce platform in South Asia.
This new round of funding comes only 10 months after the startup announced that it got $22.5 million investment in its series A round. This round brings ShopUp's total funding to over $110 million, including investment in the pre-series A seed round, making it the highest-funded start-up in Bangladesh.
During this round, ShopUp has also increased its ESOP pool by three-fold. An ESOP pool consists of shares of stock reserved for employees of a private company.
"Our mission is to put 4.5 million small retailers in the driving seat of Bangladesh's economic growth," said Afeef Zaman, CEO and co-founder of ShopUp.
"We are building best-in-class infrastructure to support retail operations all over the country, adding new categories to serve the underserved small retailers and launching new financial products to meet the unarticulated needs of the retailers we serve."
Headquartered in Dhaka, ShopUp's funding takes the total amount received by Bangladeshi start-ups to $113 million so far this year, according to data from LightCastle Partners. Of the sum, $109 million came from foreign sources.
With the investment, ShopUp looks to cater to small neighbourhood mom and pop retail shops across Bangladesh, one of the most fragmented retail markets in Asia, with 98 percent of all retail consumption happening through 45 lakh retail shops spread out across the country.
These shops face daily struggles when procuring goods from multiple suppliers, distributors, and wholesalers. Problems such as product unavailability, lack of price transparency and unreliable delivery severely hamper their ability to manage day-to-day businesses.
On top of that, a staggering 73 percent of small retailers sell on credit to end customers, whereas in Bangladesh, only 27.5 percent of small businesses have access to formal financing. Such fundamental barriers have stagnated the growth of these neighborhood mom and pop shops for decades, said ShopUp in a press release.
ShopUp, which already expanded its footprint in all 64 districts, already launched three products -- Mokam, a one-stop wholesale marketplace app; REDX, an end-to-end logistics platform; and Baki, a buy now, pay later (BNPL) product for small retailers.
ShopUp's B2B commerce app, Mokam, helps neighbourhood mom and pop shops by enabling access to the largest catalogue of products with 24-hour doorstep delivery -- all within one single app, the company said.
Mokam has partnered with the country's largest manufacturers, producers and distributors to ensure the best pricing for these products. Additionally, the shop owners can source these products on credit without having to pay upfront by accessing ShopUp's Buy Now Pay Later (BNPL) product embedded within the app.
ShopUp said it opened logistics network REDX for small online sellers in February last year as a new end-to-end third party logistics (3PL) service provider. Within four months, REDX became the largest third party last mile service provider in the country.
Throughout the pandemic, REDX has been playing the crucial role of spearheading the economic growth of small online businesses, delivering more than 50 percent of all 3PL e-commerce shipments across the country, the company added.
ShopUp, which has 400 permanent employees and 5,000 delivery personnel, has witnessed more than 13 times growth in revenue and 11 times growth in the number of total shipments over the past 12 months.
The company opened an office in Bengaluru last year, with a large part of its tech and engineering talent based in India.