Evaly has no money to pay back
Says Commerce Minsiter Tipu Munshi dealing a blow to aggrieved buyers, sellers; Govt has no plans to close Evaly, others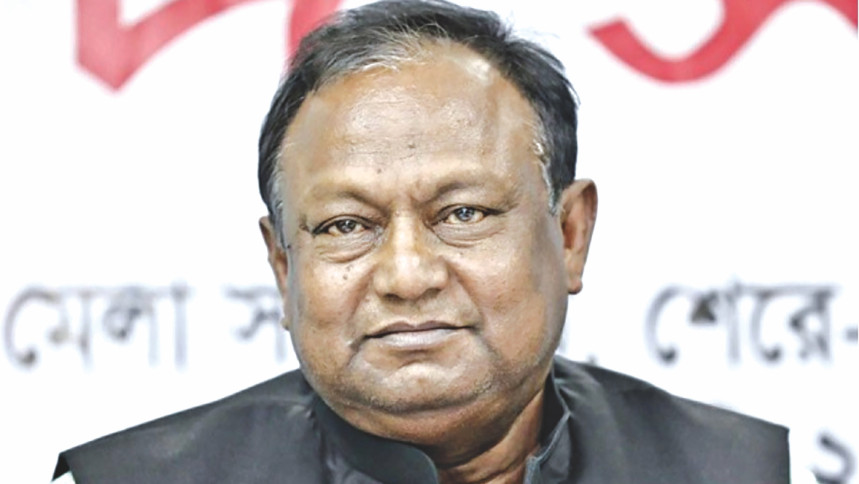 Evaly is unlikely to be able to return the amount it took from customers in advance payment for goods, said Commerce Minister Tipu Munshi yesterday -- in a crushing blow to the rogue e-commerce platform's hundreds of thousands of aggrieved buyers.
"I don't think Evaly has any money -- there is not much scope to recover any money from them," Munshi told reporters after a meeting to review the recent problem in the e-commerce sector.
Home Minister Asaduzzaman Khan, Law Minister Anisul Haque, Information Minister Hasan Mahmud and Inspector General of Bangladesh Police Benazir Ahmed was present at the meeting among others at Munshi's secretariat office in Dhaka.
The platform owes about Tk 700 crore to customers and another Tk 250 crore to vendors, its incarcerated Chief Executive Officer Mohammad Rassel told investigators this week.
"It seems Evaly will not be able to return the money to customers. Because, either Evaly has moved the amount or it has spent most of it on advertisements. It sponsored sports and many other events," Munshi said.
Evaly has run frequent advertisements in print and electronic media, sponsored government activities such as Digital World 2020, the Bangladesh cricket team's tour of New Zealand, and funded Rapid Action Battalion's movie "Operation Sundarbans", among others. It also brought on brand ambassadors like Tahsan Rahman Khan.
The platform, which began its journey on December 16, 2018, barged its way to public reckoning with implausibly deep discounts and aggressively broadcasting them, both of which cost Evaly money.
And Evaly funded such expenses by taking advance payment from customers, many of whom never got delivery of their orders.
It also promised hefty returns to merchants and got them to provide goods on extended credit.
So, the longer Evaly is allowed to continue to operate the way it does, its liabilities towards customers and merchants will only grow bigger as more and more gullible people would be sucked in. Logic dictates Evaly should be shut down.
But the government has no such plans to close down Evaly and the others it has spawned like Dhamaka Shopping, Eorange and others, Munshi said.
Rather, the government will continue talks with the owners of the errant e-commerce business companies to come up with a favourable resolution, he said, adding that sending the top brass of the rogue e-commerce players to prison is not a solution.
Evaly Chief Executive Officer Mohammad Rassel and Chairperson Shamima Nasrin are in police custody since September 16.
The government would take a call on the companies after reviewing their business revival plans.
"If we think they would be able to pay back the money to the consumers and merchants, we may consider those cases with sympathy."
If Evaly is unable to, the government will take actions against the owners according to the laws of the land, Munshi said.
The government also has a plan to form a separate board to run the errant e-commerce companies so that they can pay back the money of the consumers and merchants.
To prevent unsustainable business practices as well as for the proper functioning of the fast-growing industry, the government is mulling over forming a regulatory body for the e-commerce sector as well as Digital Commerce Act.
"Every e-commerce company will have to comply with those," Munshi said, adding that the companies would be given a unique registration number by the e-commerce authority.
The commerce minister also said the consumers have taken a lot of risk by handing over such large sums of money for heavily discounted goods with a deferred delivery.
Such big discounts are very unusual and implausible and the consumers should have been wiser, he said.
But after the introduction of the Standard Operating Procedure for the National Digital Commerce Policy 2018 on July 4, the instances of foul play in the e-commerce sector has come down.
Meanwhile, Commerce Secretary Tapan Kanti Ghosh said the Digital Security Act and Money Laundering Act needs to be amended to some extent for taking action against the owners of the rogue e-commerce players.