Dhaka Bank arranges Tk 520cr for Chandpur Power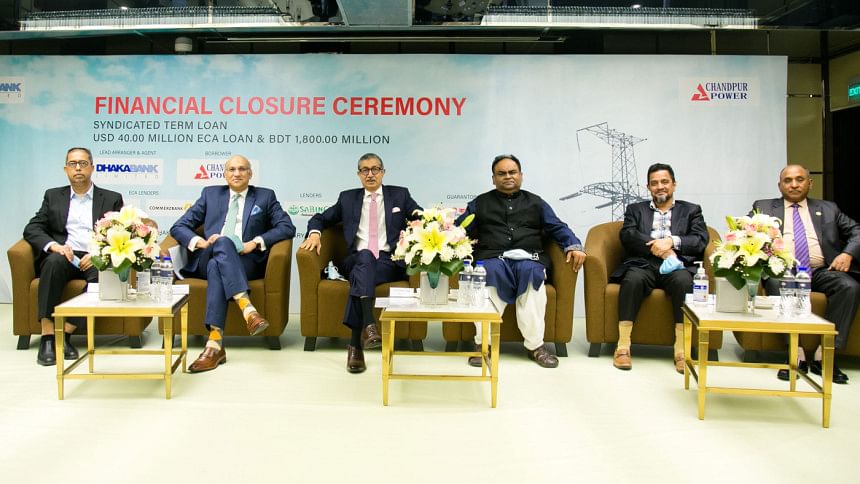 Dhaka Bank Ltd has arranged Tk 520 crore for Chandpur Power Generations Ltd (CPGL), a sister concern of Doreen Group.
The bank got Tk 340 crore ($40 million) export credit agency term loan from two Germany-based banks and Tk 180 crore from syndicated term loan for the project, a press release said. 
This project is a heavy fuel oil-fired IPP power plant of 115 megawatts in Chandpur, which is now under implementation.
Dhaka Bank, who is acting as the 'lead arranger and agent' for this transaction, arranged a financial closure ceremony of the syndicated term loan for the project at Renaissance Dhaka Gulshan Hotel recently.
The bank has provided ECA loan for the transaction under HERMES Cover arranged from the consortium of Commerzbank AG, and AKA Ausfuhrkredit-Gesellschaft mbH of Germany.
Rupali Bank Ltd, Saudi-Bangladesh Industrial and Agricultural Investment Company Ltd (SABINCO), and Sonali Bank Ltd are also participating local financiers in this transaction.
Emranul Huq, managing director of Dhaka Bank, Md Obayed Ullah Al Masud, managing director of Rupali Bank, Ahmed Ehsanul Karim, managing director of the SABINCO, Md Quamruzzaman Khan, deputy managing director of Sonali Bank, Tawfiq Ali, chief representative of Commerzbank AG representative office in Bangladesh, and Stefan Rajmann, vice president for export & agency finance at AKA in Frankfurt, attended the programme.
Tahzeeb Alam Siddique, managing director of CPGL, and Mostafa Moin, chief executive officer of Doreen Power, were also present.