PM urges countrymen to keep up achievement
ERD honours PM at LDC graduation ceremony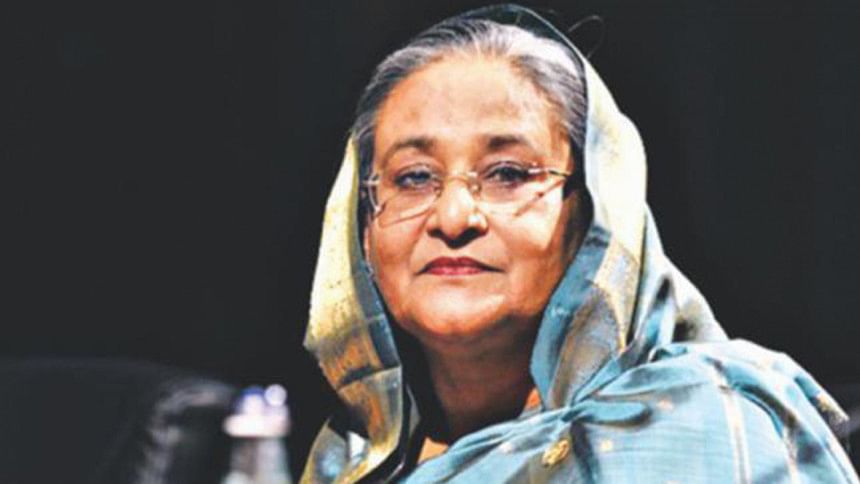 Prime Minister Sheikh Hasina today urged the countrymen to keep up the achievement dedicating Bangladesh's graduation to a developing nation to the countrymen as she was accorded a grand reception for her stewardship for the landmark development.
Read More: From LDC to Developing Nation: Celebration starts today
"This achievement has been possible as we worked together . . . it's the achievement of the people as they are the main strength (for the graduation)," she told a grand reception at Bangabandhu International Conference Centre here this morning.
The premier added: "I want this achievement to continue and it is not lost in any way."
The premier congratulated the people of all classes and professions in view of the achievement as she was accorded the reception for her stewardship to Bangladesh's eligibility for graduating from the group of Least Development Countries (LDCs).
Coinciding with the reception she also opened a weeklong countrywide programme to celebrate Bangladesh's graduation.
The prime minister said the graduation proved again that people of the country could achieve everything they wanted and this achievement will have to be retained so that this journey did not stop.
Economic Relations Division organized the reception with Finance Minister Abul Maal Abdul Muhith in the chair while United Nations Under Secretary General Fajita Manual Katua Utau Common spoke on the occasion.
A written message of UNDP Administrator Achim Steiner was also read out at the function where ERD Secretary Kazi Shafiqul Azam delivered the welcome address.
UN secretary general Antonio Guterres , World Bank president Jim Yong Kim, Asian Development Bank president Takehiko Nakao, USAID administrator Mark Green and JICA president Shinichi Kitaoka have sent separate video messages on the occasion.
Ministers, premier's advisers, lawmakers, politicians, chiefs of three  armed services, diplomats, representatives of development partners, business community leaders, senior journalists, educationists, writers, artistes and literatures, senior civil and military officials joined the function.