Denim exports to US almost stagnant
Bangladesh remains 3rd largest supplier to US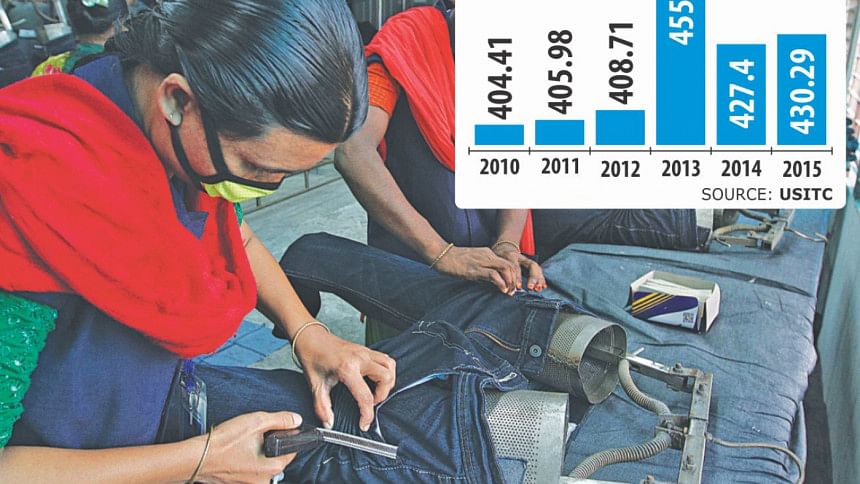 Bangladesh's denim shipments to the US, its single largest export market, have remained stagnant for the last seven years, hovering around the $400-million mark.
In 2010, Bangladesh exported $404 million worth of denim products to the US, and since then it peaked at $455 million in 2013, after which it started sliding, according to data from the United States International Trade Commission.
Denim exports to the US in 2015 stood at $430 million, and in the first half of 2016, the figure reached $186.30 million.
Exporters blamed the slow growth on the growing popularity of overdyed fabrics and higher imports from the US's neighbouring country Mexico.
"Denim shipments to the US were supposed to be higher but for some reasons it did not increase as much as we had expected," said Kutubuddin Ahmed, chairman of Envoy Group, a major producer and exporter of denim.
One of the reasons is the growing popularity of overdyed fabrics, he said.
Overdyeing is a process where the fabric is either dyed for too long or dyed a second time. It is most often used on denim to add an overtone of colour to the indigo.
In recent years, the US has increased denim imports from Mexico due to competitive prices and shorter lead-time, said Mostafiz Uddin, managing director of Denim Expert.
Besides, American retailers get duty benefits for sourcing from Mexico. Bangladeshi garment imports are subjected to 15.62 percent duty upon entry to the US, while Mexico's wares get duty-free access. Moreover, the US itself produces a lot of denim garments, he said.
"Although the US does not produce a lot of garment items for export, the American manufacturers, especially those in Los Angeles, make a huge quantity of denim products."
Another important reason for the slow growth of denim exports is that the US retailers purchase low-cost denim products in bulk from China, said Mostafiz, who is also a major exporter of denim from Bangladesh.
In 2016, US apparel industry's sales increased 3 percent to $218.7 billion, according to NPD Group, an American market research company with operations in 20 countries.
Since 2013, the US apparel market has struggled to go beyond the 3 percent sales growth, it said.
"The apparel industry is being pushed and pulled in different directions by consumers who are demanding something different and looking to less-traditional buying channels to find it," said Marshal Cohen, NPD's chief industry analyst. Meanwhile, after a downward trend in the last four months of 2016, Bangladesh's denim exports to the US started increasing from January this year.
In January, Bangladesh exported goods worth $537.6 million, up 30.3 percent from the previous month, according to data from the US Department of Commerce.
In 2016, Bangladesh's total exports to the US stood at $5.91 billion, down 1.5 percent from a year earlier.
But, in recent months things are turning around, according to Ahmed of Envoy Group.
"Now we are receiving a lot of work orders from the US buyers, who previously bought denim from Mexico," he said. Despite slow growth in denim exports, Bangladesh still remains the third largest supplier in the US market.
Only China and Mexico supply more denim to the US than Bangladesh. The share of Bangladesh in the US denim markets is 12.03 percent, while that of China and Mexico is 26.04 percent and 25.40 percent respectively.
The wide consumption of denim by fashion connoisseurs globally has created a new opportunity for Bangladesh, according to local manufacturers.  Bangladesh presently has around 30 denim producing factories that have about $1 billion of investment locked in.